Aldi Shoppers Can't Wait To Grab Its Returning Easter Cheeses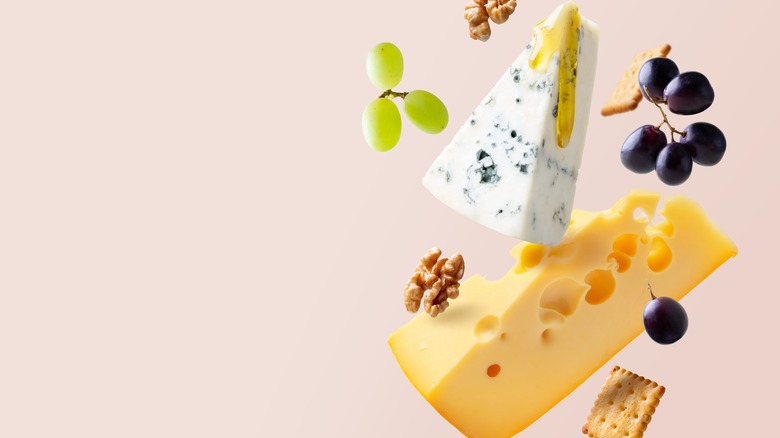 Eirene Fagus/Shutterstock
Legend has it that there are people out there who would be content to spend Easter Sunday dining exclusively on Peeps. For everyone else who observes the holiday, something a little more refined — but still plenty cute and sweet — is in order on April 17. Maybe that something is a savory tart with spring vegetables, a classic shrimp cocktail, or a plate of paprika-dusted, chive-sprinkled deviled eggs. Better yet, maybe it's something that looks impressive to guests but requires next to zero effort in the kitchen. 
Those who shop at Aldi know that the discount supermarket chain stocks up on all kinds of ready-to-eat Easter treats each year, from recognizable chocolate bunnies to ice cream-shaped Easter eggs. But Aldi's Easter offerings aren't limited to sugary confections. In 2020, the store stocked its shelves with a trio of adorable Easter- and spring-themed cheeses, and according to the Instagram account @adventuresinaldi, they're back on the shelves for the third year in a row, just in time for the holiday. Shoppers are already planning their Easter cheese plates and charcuterie boards!
Sweet to look at and to eat
Aldi's England-imported Emporium Selection cheeses include a Wensleydale with lemon and honey, an aged English cheddar, and a Wensleydale with raspberry and white chocolate. The latter two come in egg shapes, while the first is molded in the likeness of a baby chick. The Instagram post from @adventuresinaldi shows the 5.3-ounce cheeses lined up on the shelf above a $3.99 price tag — not bad. Judging from the comments, shoppers are eager to repurchase the returning limited-time cuties. "Wow the lemon and honey sounds amazing," one user wrote, while another said they were excited to try the aged cheddar.  
With their notes of sweetness, we could picture these festive cheeses arranged among things like grapes, crackers, and marmalade. On the opposite end of the charcuterie spectrum, we could see them nestled among salty antipasto bites of salami, prosciutto, and olives. Either way, they're sure to bump up the cuteness factor of any Easter snack plate.