How Michael Symon Keeps Chronic Pain At Bay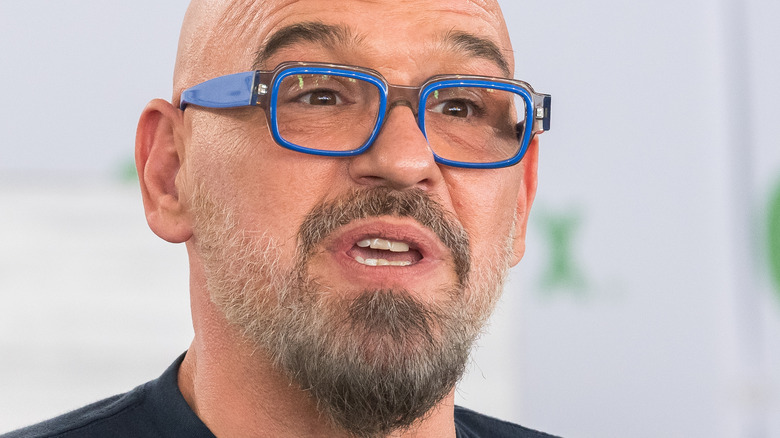 Jason Koerner/Getty Images
While he might live to cook, James Beard Award-winning chef, best-selling author, and food television personality Michael Symon appreciates that food can be more than just an ingredient to curb hunger. Even though he has mastered cooking competitions and served a myriad of guests at his many restaurants, the dishes served at his home table tend to have a particular slant. Although he might have an affinity for his carnivore side, the well-versed chef appreciates that balance is a component of his lifestyle. As seen in his recent cookbooks, Symon has learned to manage his chronic pain with the concept "Fix It with Food."
In 2019, the "Iron Chef" spoke to Salon about his struggle with both external lupus and Rheumatoid arthritis. While he sought medical treatment to help alleviate the pain, the celebrated chef looked to his passions, food and cooking, as a method to better manage his chronic ailments. During a 30 day reset, Symon removed any foods that could cause inflammation. According to a Harvard study, some inflammatory foods include refined carbohydrates, red meat, fried foods, and sugary beverages. For the former co-host of "The Chew," his trigger foods are dairy and sugar. By removing those foods from his diet, he found that he felt less pain from his conditions. His lifestyle change sparked the idea for his cookbook and a variety of easy to create recipes that any home cook can master.
Michael Symon offers simple advice for anti-inflammatory eating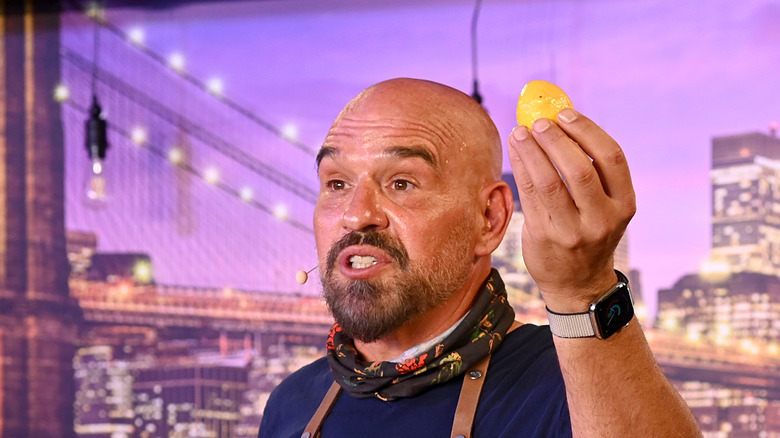 Dave Kotinsky/Getty Images
While many people have cooked along with Michael Symon, the chef has some simple food advice when it comes to balanced eating, reducing inflammation, and feeling well. In a 2019 interview with The Arthritis Foundation, he commented that he would prefer to treat his ailments with less medication. Instead, he turned to food specifically stating, "I started playing around with my diet to see if I could reduce the aches and inflammation through diet." Although he admits the lifestyle modification is not a cure, it does help to maintain him feeling better. He also appears to stretch, as seen in a recent Instagram post of his yoga routine with the caption, "Don't always want to do it .. but always do .. #goodroutines #goodday."
Still, the celebrity chef recommends that each person goes on this food journey for themselves. As he told Shondaland, he found the foods that are his triggers and those items can cause the inflammation. However, he admitted, "Life is all about balance." Although he has not completely thrown things like ice cream out of the freezer, he does enjoy some of his trigger foods in moderation. In the end, the idea of "Fix It with Food" isn't a magic fix-all but a way to appreciate how and why food impacts health, which seems to be Symon's recipe for success.