Costco Now Carries This Popular Seasoning As A Dip And Fans Are Divided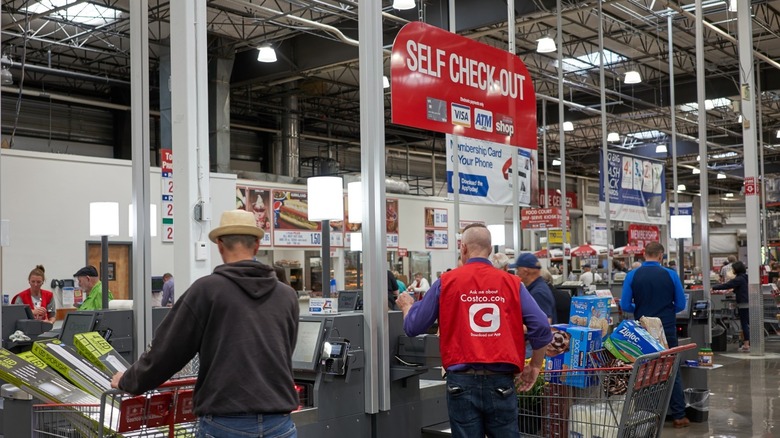 Tada Images/Shutterstock
Trader Joe's may not have realized it had a hit on its shelves when it first released its Everything But The Bagel seasoning in 2017 — but it wasn't long before the product's star power made itself known. As Kitchn writes, the mixture — which the TJ's website says is composed of white and black sesame seeds, poppy seeds, dried minced garlic, dried minced onion, and sea salt — "became a cult-favorite practically overnight," and it has pretty much retained that status in the years since. The seasoning even swiped the title of "Favorite Overall Product" from the grocer's highly touted mandarin orange chicken in Trader Joes' 2019 Customer Choice awards (via SheKnows).
Several other grocery chains have hopped onto the Everything But The Bagel Train, too, not only with their own versions of the seasoning but with other products inspired by the mixture, as well. In fact, Costco fan Instagram account @costcobuys recently spotted a new Everything But The Bagel Seasoning-flavored item in stock at the beloved big-box retailer, which they alerted their fellow Costco shoppers about earlier this week. "Everything but the bagel dip & spread is my new favorite from Costco," they declared in the caption of their post. But while the Instagrammer was clearly enthusiastic about dip, it appears that not everybody is quite as impressed with this Costco find.
Some shoppers were disappointed by Costco's new Everything But The Bagel Dip & Spread
Costco's 31-ounce containers of La Terra Fina's Everything But The Bagel Dip & Spread have caught the eyes of a number of shoppers since landing in stores, including those of @costcobuys, who spoke highly of the product's quality on Instagram: "This is a delicious combo of seasoning blend and cream cheese with a hint of onion," the Instagrammer explained, adding that the dip runs for $8.59 and is "perfect for bagels, veggies, pita chips, and more!" Their excitement for Costco's spreadable version of the popular everything bagel-inspired seasoning was matched by many in the comments section. "This is sooooooooo delicious! So many possibilities..." user @hollyscheuerle wrote. "Had a sample of this dip it's yummy," shared another Instagrammer, though it seems that their experience wasn't exactly universal.
"I was very disappointed in this," commented @thatsnotenoughforwingsdad, who explained in a follow-up comment that they "didn't think it tasted good." Another Instagrammer by the name of @starunq3 was disappointed as well. "Not good. Wasn't a fan," they said. Neither shopper divulged any further information about what it was, specifically, that turned them off from Costco's new Everything But The Bagel Dip & Spread. However, Costco promises "satisfaction on every product." If you purchase this item and end up unhappy, you may be able to return it for a full refund.