Dunkin' Wants To Give You Free Coffee For A Year. Here's How To Enter
pancha.me/Shutterstock
Do you want a year's worth of free coffee? Of course you do, otherwise you have the questionable habit of reading news on sweepstakes that you have no intention of entering. This week, Dunkin', whose latest collab has nothing to do with donuts, announced along with cosmetics brand e.l.f. in full caps on Instagram that one person will win a giveaway of "FREE @dunkin COFFEE FOR A YEAR." The brands didn't specify whether "free coffee" spans any caffeinated drink on the Dunkin' menu or only plain brewed coffee; either way, the prize includes more.
The winner of the giveaway will also redeem a Dunkin' Classic Stack Vault, which is the complete collection of makeup and beauty products that emerged from Dunkin's recent collaboration with e.l.f. These include eyeshadow, putty primer, lip gloss, and other products inspired by the sights and scents of Dunkin' donuts and coffee beverages. What's more, the Stack Vault is hard to come by: The Inventory writes that when the Dunkin' x e.l.f. products first dropped, they sold out right away. And when a second round came to market, shoppers ran it out of stock again. 
How to win the Dunkin' coffee giveaway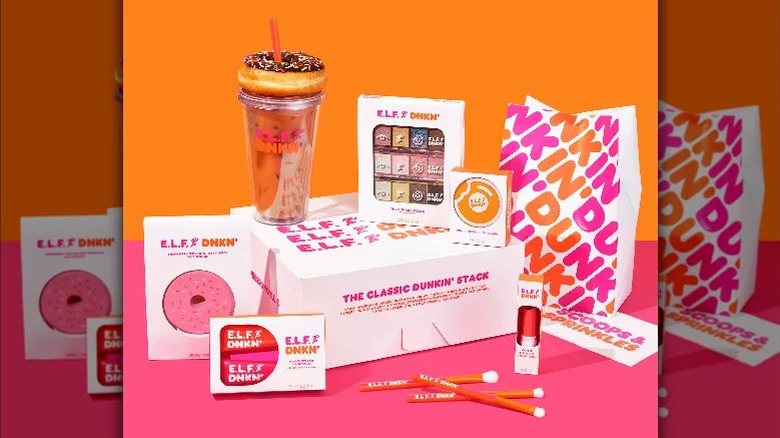 e.l.f.
Entering the Dunkin' x e.l.f. giveaway is relatively simple. You have to follow both brands' Instagram accounts and tag two or more friends in the comments — though you're incentivized to tag as many people as possible since each tag counts as one entry. You get a bonus entry if you share the post to your story and tag the companies' accounts. Hopeful entrants have until the end of the day on April 10, and the winner will receive a notification in their DMs shortly after.
As for the prize, the coffee part makes sense. After all, Dunkin' declared itself a beverage brand back in 2013 in order to expand beyond donuts and compete with companies like Starbucks, per Forbes. But the brand's connection to beauty products may elude some consumers. However, donuts and makeup are indeed related. Dunkin's partnership with e.l.f. could have been inspired in part by Hailey Bieber's "glazed donut skin," a highly shiny look achieved by moisturizer and glowy makeup. The model's trend could also explain why the Dunkin' collection sold out as quickly as it did. Even if you don't want to look like a donut, you could still wind up with lots of free coffee for an equal amount of effort.