The Ultimatum Made A Major Change To Those Love Is Blind Wine Glasses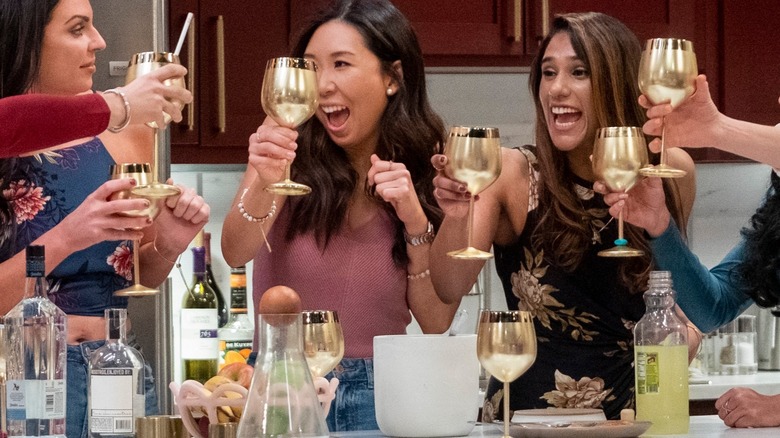 Netflix
Just when we thought we could all go back to our lives after binging Season 2 of "Love is Blind," they create another show to suck us back in. The creators of the show recently released another Netflix reality show for us to obsess over: "The Ultimatum: Marry or Move On," which will also be hosted by Nick and Vanessa Lachey. Instead of singles trying to find love "sight unseen," this new show features couples that have reached a breaking point where one of them wants to get married, and the other one isn't so sure (via the official trailer).
In order to test their relationship, each partner picks someone new to be in a "trial marriage" with and at the end, they can either marry their original significant other, or explore a new relationship (via the official trailer). We can sense the impending drama already that could potentially be even juicier than "Love Is Blind." Plus, to ensure the show is just as successful, the production team has carried over the iconic metallic wine glasses from LIB, but with a slight change.
The wine glasses are silver instead of gold
Although the cast members were supposed to be the focal point of the show, another unexpected star emerged from the show: the signature "Love is Blind" gold wine glasses that the contestants drank from. Although LIB creator Chris Coelen told Variety that the gold glasses were featured throughout the show because "It's a very authentic, really true following of these people's journeys..." it turns out they also had a practical purpose. While it was frustrating to not know what the contestants were sipping on, they chose that glassware so they could splice different clips together without having inconsistent amounts of drinks in the final scene (via Today).
The glasses are back in the new show, but this time they are silver instead of gold. "We think the goblets are a subtle but fun way to tie the elements of each show together," Coelen told Today. LIB fans have already taken notice of this continuity, one fan tweeted, "The @LoveisBlind spinoff, 'The Ultimatum' is going for a silver aesthetic ... do you think they just spray painted the gold goblets?" Another fan tweeted, "Watching #TheUltimatum and the true stars of this show were the stainless steal [sic] glasses."