Why Lucy Hale Calls Herself A 'Hummus Connoisseur'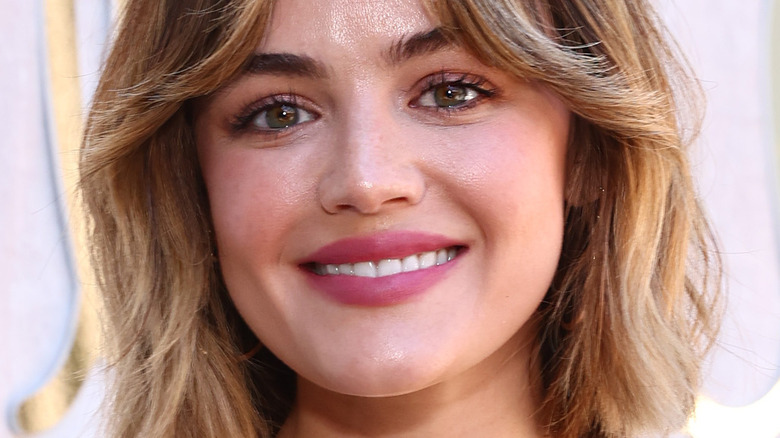 Emma Mcintyre/Getty Images
"Pretty Little Liars" star Lucy Hale has plenty of credentials: actor, producer, singer. But there's one you might not know — hummus connoisseur, according to Us Weekly. While there's probably not a certificate she can show to prove her hummus expertise, we're going to take her word for it. Hale, of course, isn't the first or only person to love hummus. Creamy, tangy, garlicky, and rich in protein, fiber, and unsaturated fats (per Prevention), hummus is a savory, popular dip to pair with pita or crunchy vegetables. It is also great as a sandwich spread, in deviled eggs, or, of course, for making falafel, per Spoon University.
While no one knows exactly when hummus was invented, according to Britannica, its main ingredient, the chickpea (also known as the garbanzo bean or the Bengal gram) dates back more than 10,000 years and has been eaten by humans for centuries in India, Africa, and Central/South America. Tahini, the sesame paste used in hummus, also appears in 13th century Arabic cookbooks. While many cultures — Greek, Arab, and Israeli — claim their ancestors were the first to create hummus, its true origin has been lost to history, per BBC.
Hale can surely tell you that at its most basic, hummus is chickpeas, tahini, olive oil, lemon juice, and garlic, blended together into a thick, velvety purée, per MasterClass. Of course, there are many variations and add-ins to make basic hummus a little bit extra, and Lucy Hale is here for them.
Lucy Hale likes a variety of hummus flavors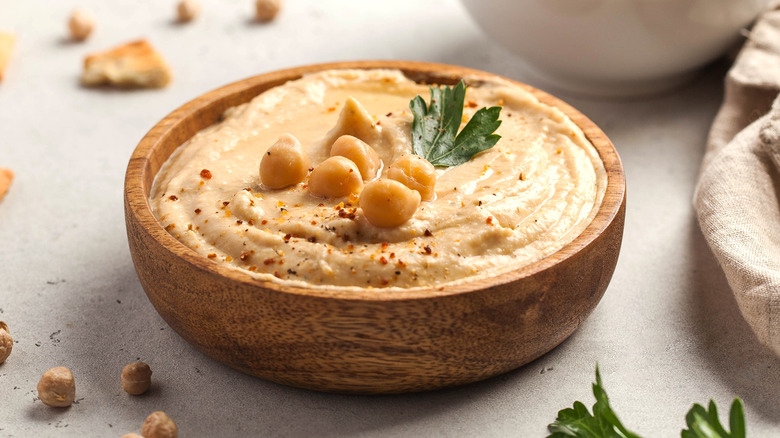 Kabachki.photo/Shutterstock
Actor Lucy Hale told Us Weekly in 2014, "I consider myself a hummus connoisseur." In a YouTube video she made for Harper's Bazaar's Food Diaries series, the star shared what she eats in a typical day. At breakfast, Lucy favors toast with almond butter, sashimi at lunch, and pho or soup at dinner. Hale is also really into snacking. Her go-to treat? "Hummus. Any kind of hummus," the "Katy Keene" star effused. She likes her hummus with pita, as well as celery hearts and carrots.
We think hummus makers should seek out Hale for a collab. The lady loves her mashed chickpeas. In the Harper's Bazaar video, she ticks off her favorites. "Red pepper, original, pine nut, garlic. They even have Thai curry hummus!" Hale exclaimed. "And taco-inspired hummus." Curry and taco flavors, you say? Per Hale's recommendation, an organic Thai Coconut Curry Hummus from Hope Foods boasts a unique flavor palette with turmeric, shredded coconut and jalapeños. Sabra also once made a taco-inspired hummus, but it looks as though it's no longer on the brand's list of offerings. The internet, however, generously produced a few recipes for DIY taco hummus. These start with the hummus ingredients, including chickpeas, olive oil and lemons, but swap out tahini for grocery store taco seasoning or a blend of spices like oregano, chili powder, and cumin. Check out this simple one from Betty Crocker, or this one from Emily Bites. We're with Lucy; hummus is amazing!