How Sarah Lancashire Prepared For Her Role In HBO's Julia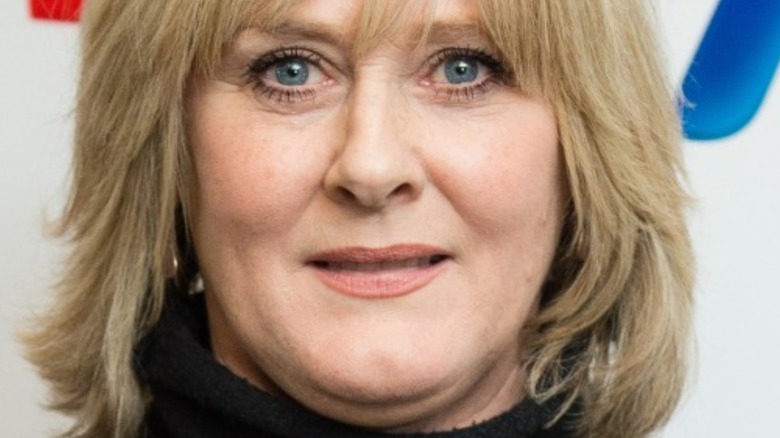 Jeff Spicer/Getty
Many people may have been introduced to Julia Child in the acclaimed 2009 film "Julie & Julia," which told the story of a soon-to-be culinary icon discovering her love for French cuisine. HBO's new series "Julia" focuses on when she returned to the U.S. in the 1960s and how her hit TV series "The French Chef" came to life (via Vulture). British actress Sarah Lancashire had big shoes to fill (literally) taking on this role, especially because much of her knowledge of Julia Child came from the marketing for the aforementioned film. In fact, the "Happy Valley" star planned to take a break from acting in 2019 until her agent gave her the script for "Julia" (via Vanity Fair).
After her audition, the showrunners quickly decided that the show could not go on without Lancashire. "The body language and the essence of [Child] is so masterfully conveyed by Sarah, and she moves back and forth between the pathos and the comedy with complete ease," showrunner Chris Keyser told Vanity Fair. Although it appeared that Lancashire fit into the role with ease, she spent a lot of time studying every nuance of the iconic chef before filming.
Sarah Lancashire studied Julia Child's writing to capture her essence
Although it may be easy to assume that Sarah Lancashire used Meryl Streep's portrayal of Julia Child as inspiration, she admitted to Radio Times that she had seen "Julie & Julia" when it first came out, but she didn't rewatch it to help develop the character. "[W]hen I am developing a character, any character, it's first and foremost informed by the writing; by the raw material," Lancashire explained. The British actress studied the letters that Julia Child wrote to her friend Avis DeVoto to understand her word choice and the rhythm of her distinctive voice (via Buffalo News). Lancashire admitted to Vulture that Child's voice is not easy to mimic. She worked with a vocal coach before discovering her own approach: "I was left with no alternative than to find a parallel that was suggestive of her voice and had all the eccentricities and musicality of her."
The final elements of Julia Child left to capture were her mannerisms in the kitchen, and luckily, the "Last Tango in Halifax" star learned a lot from spending time in the kitchen with her mother, who was a very skilled cook. Child is known for being somewhat goofy in the kitchen, but Lancashire wanted to portray her confidence. "I look at her and see an eccentricity and wonderful unself-consciousness but an absolute truth in what she's doing," she told Vulture. "She knew how to play to her audience very well."