Reddit Is Divided Over Aldi's Unicorn Crème Cookies
In its most recent, whimsical dessert release, Aldi has introduced colorful, unicorn-themed sandwich cookies. The new Fruity Marshmallow Flavored Unicorn Crème-Filled Cookies hit shelves the week of March 2 at the popular grocery store chain, according to Instagram account CandyHunting.
The Benton's brand cookie retails for $1.99 per 15.25 oz package and will be available only for a limited time, per Aldi Reviewer. The sandwich cookies themselves resemble a Golden Oreo, but the filling is a pastel shade of fruity, fluffy marshmallow. Aldi is no stranger to unicorn desserts and this item is one of several unicorn-themed items that Aldi has sold. For example, Sundae Shoppe Unicorn Cones feature a colorful raspberry-vanilla frozen filling on top of a wafer ice cream cone. However, it seems that the newly released magical and multi-hued sandwich cookies were met with mixed reviews from Aldi customers, particularly on social media sites like Reddit.
Redditors react strongly to Aldi's newest treat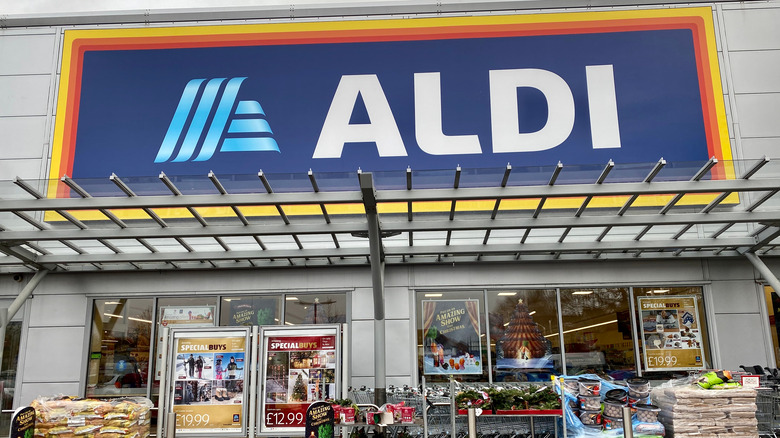 Brookgardener/Shutterstock
Fruity Marshmallow Flavored Unicorn Crème-Filled Cookies bring a mystical element to the Aldi store shelves, but not everyone is wild about the product. Aldi just swept the product of the year awards, but some Redditors say the taste of the cookie didn't impress them. "I hated them!" one reviewer wrote. "I threw them out, tasted much different than what I was expecting. Another commenter was put off by the smell of the cookies. "Omg my daughter loved these, but the smell made me nauseous. Couldn't even try them," they said. One review merely said, "I did not like these!!"
But the feedback isn't all negative. The product attracted a few fans who were on board with the taste and appearance of the cookie. One commenter said that the magical cookies "taste like funfetti oreos with birthday cake frosting." Another simply wrote, "Love these."