Easy Peanut Butter Fudge Recipe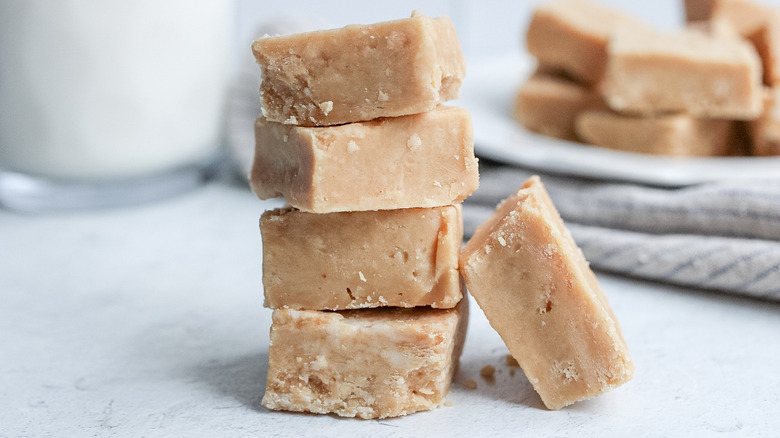 Jessica Morone/Mashed
If you have a soft spot for fudge recipes, then we have the perfect dessert for you to try out. This tasty peanut butter fudge is a step outside of traditional chocolate variety, and it definitely should hit a sweet spot for peanut butter lovers. Aside from the fantastic taste, there are several other thing that make this recipe a no-brainer to try. These easy peanut butter fudge bars take just a few minutes to complete — and the less work, the better, right? As another bonus, they only require a few ingredients, making them super affordable.
Recipe developer Jessica Morone came up with this delicious recipe that makes a great after-dinner sweet treat. "My favorite thing about this recipe is how quickly it comes together and how little effort it takes. In less than 10 minutes, it is basically done and just needs to be refrigerated to set," Morone shares. While some fudge recipes can be a bit tedious and require close monitoring, Morone intentionally made hers as easy as possible. "My inspiration was really just to make an easy fudge recipe that didn't require boiling sugar or using a candy thermometer," she explains. If you, too, would like to avoid using a candy thermometer but still want to enjoy homemade fudge, then this recipe won't let you down!
Gather the ingredients for peanut butter fudge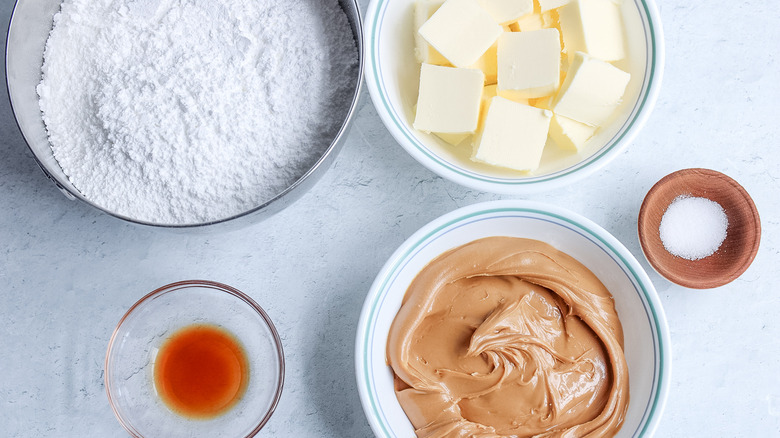 Jessica Morone/Mashed
Once you are ready to get started, you will need to make a shopping list and head to the grocery store. Pick up some unsalted butter, creamy peanut butter, vanilla extract, salt, and confectioner's sugar. Believe it or not, that's all you need to make this easy peanut butter fudge!
Line a baking sheet and heat butter and peanut butter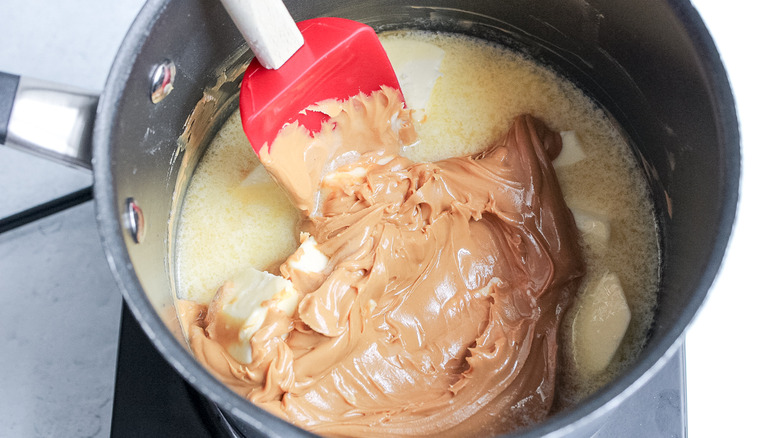 Jessica Morone/Mashed
For this recipe, you will need an 8-inch square baking pan. Once you take the pan out, line it with parchment paper to help prevent the fudge from sticking to the bottom. Then, set the lined pan the side for the time being.
Next, select your favorite large saucepan and measure out the butter and peanut butter. Add the two to the saucepan, and turn the heat to low. Be sure to whisk often and continue cooking until the mixture melts and is thoroughly combined. "The butter and peanut butter melt together pretty quickly, after about 3 minutes if you use low heat. You don't need it to get to boiling or anything like that; it's done once they are both liquids," Morone shares. Once done, remove the pan from the heat.
Whisk in the vanilla extract and salt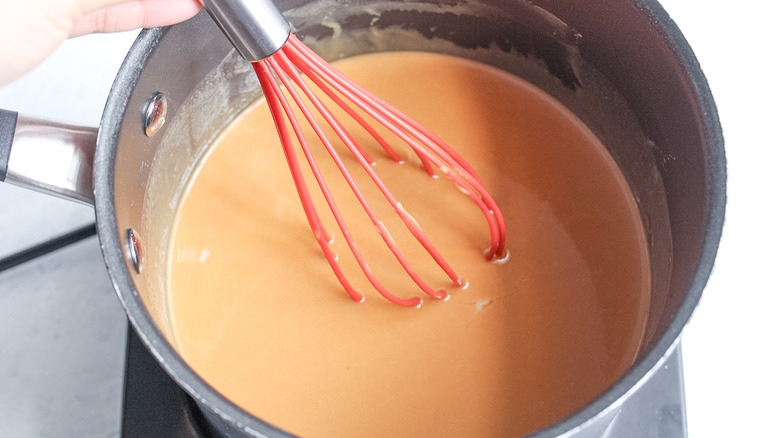 Jessica Morone/Mashed
This is one of the easiest steps in the recipe. Simply add the vanilla extract and salt with the peanut butter mixture and mix to combine.
Add the powdered sugar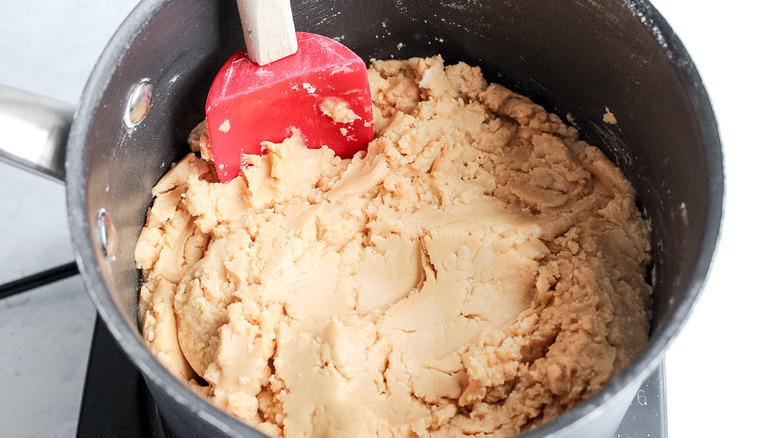 Jessica Morone/Mashed
The last thing you will need to add to the peanut butter mixture is powdered sugar. Be sure to mix well to combine the powder with the rest of the ingredients. The consistency of the mixture should be thicker and more fudge-like.
Press the fudge into the baking dish and refrigerate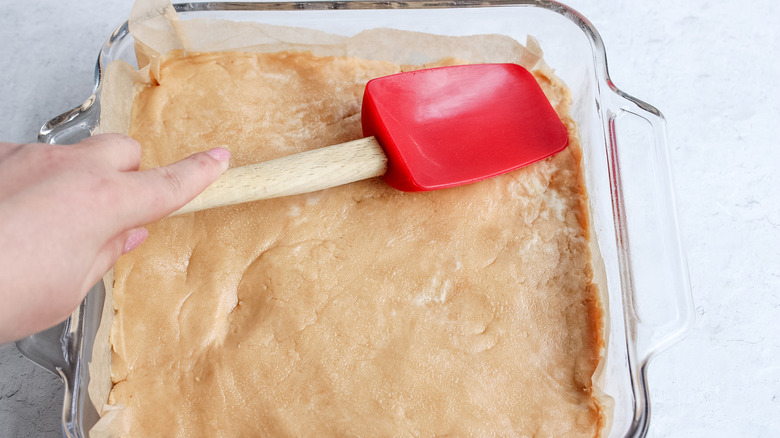 Jessica Morone/Mashed
Grab the baking pan you prepared in step one and pour the peanut butter mixture into it. Using a spatula, press the fudge down evenly into the pan.
Cover the fudge and pop the pan the fridge for about three hours. Just double-check to be sure it's firm when you take it out. "You refrigerate the fudge after it is in the pan so that it sets and is easy to cut," Morone notes.
Cut and serve the peanut butter fudge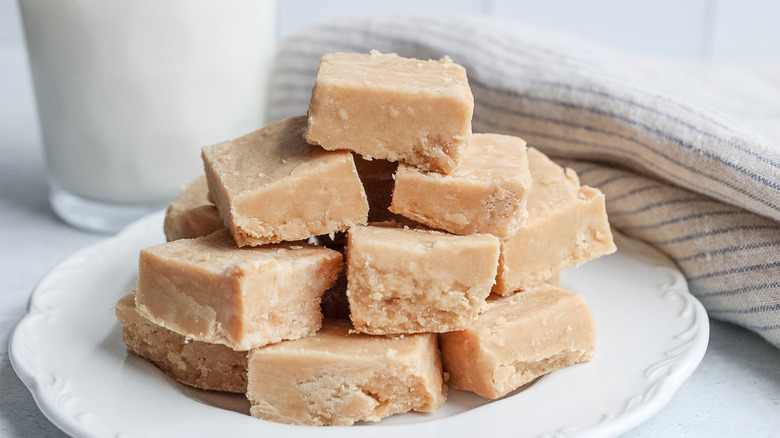 Jessica Morone/Mashed
The last thing you need to do is cut the fudge into squares. This recipe makes 25 servings. "You can serve this as soon as it is set and ready to cut up. It's great on its own, or maybe with a glass of milk. Peanut butter fudge also makes a great gift for peanut butter lovers," Morone shares.
This stuff is so good, you likely won't have much left. But if you do, it keeps for quite some time. "Leftovers of this last a while, up to a week if you put it in an airtight container at room temperature, or about two weeks if you refrigerate it," Morone says. 
Easy Peanut Butter Fudge Recipe
This easy peanut butter fudge comes together quickly and without fuss, making for the perfect simple dessert!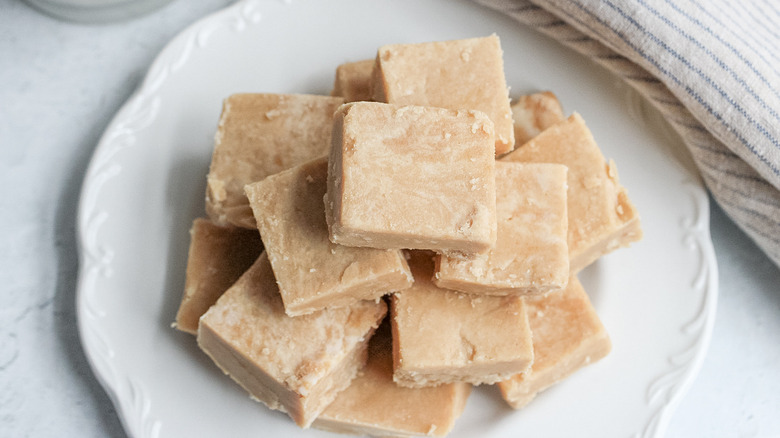 Ingredients
1 cup unsalted butter
1 cup creamy peanut butter
2 teaspoons vanilla extract
¼ teaspoon salt
3 ½ cups powdered sugar
Directions
Line an 8-inch square baking pan with parchment paper. Set aside.
In a large saucepan, add the butter and peanut butter. Heat on low, whisking often until the mixture is melted and thoroughly combined. Remove the pan from the heat.
Whisk in the vanilla extract and salt.
Add the powdered sugar and stir together until the mixture is well combined.
Press the fudge evenly into the prepared pan with a spatula.
Cover and refrigerate the fudge until firm, about 3 hours. Then cut into squares and serve.
Nutrition
| | |
| --- | --- |
| Calories per Serving | 193 |
| Total Fat | 12.7 g |
| Saturated Fat | 5.7 g |
| Trans Fat | 0.3 g |
| Cholesterol | 19.5 mg |
| | |
| --- | --- |
| Total Carbohydrates | 19.1 g |
| Dietary Fiber | 0.5 g |
| Total Sugars | 17.6 g |
| Sodium | 26.4 mg |
| Protein | 2.4 g |