The 'Healthiest' Easter Candy May Pleasantly Surprise You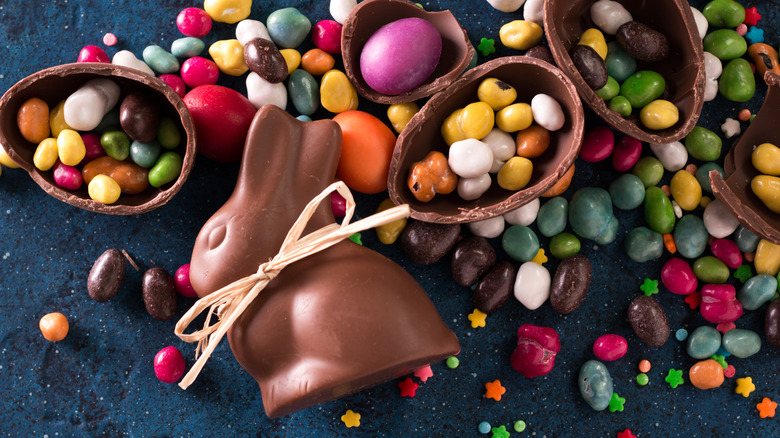 id-art/Shutterstock
Well, folks, it's happening: Easter is just around the corner, meaning we have yet another candy-centric holiday on our hands. Marshmallow Peeps and jelly beans line store shelves as far as the eye can see. (And just when you were really starting to get into the groove of those New Years' Resolutions you set in January, too.)
As anyone who's tried to watch what they were eating could probably tell you, it can be difficult navigating holidays when you've got health goals you're trying to stick to, especially when said holidays put an emphasis on special treats and meals. Between brunch, dinner, and all those yummy, festive sweets, you could easily find yourself consuming more than 5,000 calories on Easter Sunday, says Good Housekeeping. And while refraining from eating your yearly chocolate bunny and a few handfuls of pastel-colored M&Ms can help cut down on that number, culinary nutrition expert Jessica Levinson, RDN, CDN, told NBC News in 2018 that going candy-less on Easter can ultimately be a hindrance to our diets. "If we restrict ourselves and don't have any of the candy, then we feel deprived and we may end up overdoing it at some point," she explained.
The registered dietitian suggests practicing moderation on Easter — though that's not to say that we can't make some healthier choices with our sweets, as well. So, which seasonal candy offers the most promising nutritional value?
These peanut butter treats are unexpectedly low in sugar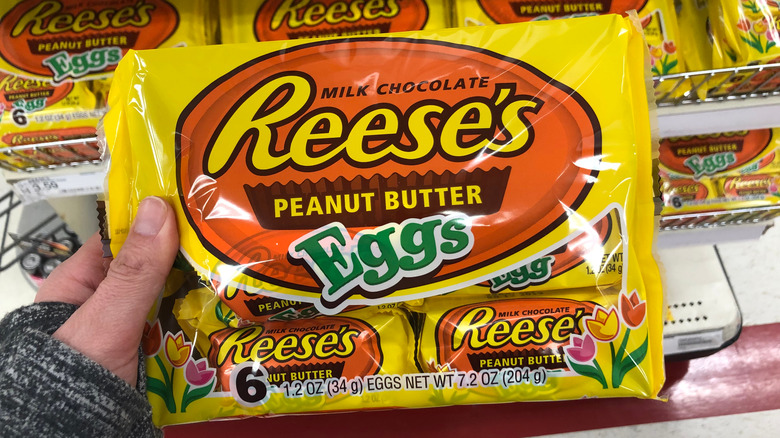 melissamn/Shutterstock
Just because Peter Cottontail likes to nosh on carrots doesn't mean you have to stick to veggies on Easter Sunday, too. It's perfectly acceptable to enjoy a few of your favorite candies while celebrating the holiday. And if you're planning on reaching for Reese's Eggs when you get your Easter basket, here's a bit of good news. At 90 calories and eight grams of sugar apiece, the seasonal (and slightly superior) take on the ever-popular Reese's Cup made the top of NBC News' 2018 list of healthiest Easter candies.
Additionally, Bonnie Taub-Dix, MA, RDN, CDN, explained to Cooking Light in 2019 that eating protein along with something sweet can help prevent the dreaded sugar crash. Therefore, even if you do feel a slight tinge of guilt when ripping open the treat's iconic yellow and orange packaging, go ahead and brush that notion right out of your head and continue with your snacking.
Tootsie Easter Egg Shaped Pops, Russell Stover Coconut Cream Eggs, and Cadbury Creme Eggs are also promising choices, per NBC News, while Lindt's Milk Chocolate Bunnies and Brach's Tiny Jelly Bird Eggs rang in with the least nutritional value. However, the outlet's health and nutrition editor, Madelyn Fernstrom, PhD, explained that calorie count should be the least of your concerns. "The most important thing when you pick a candy is that you choose one that you really want to have — that will be the most satisfying," she said.