Taco Bell Finally Confirmed The Date Of The Mexican Pizza's Return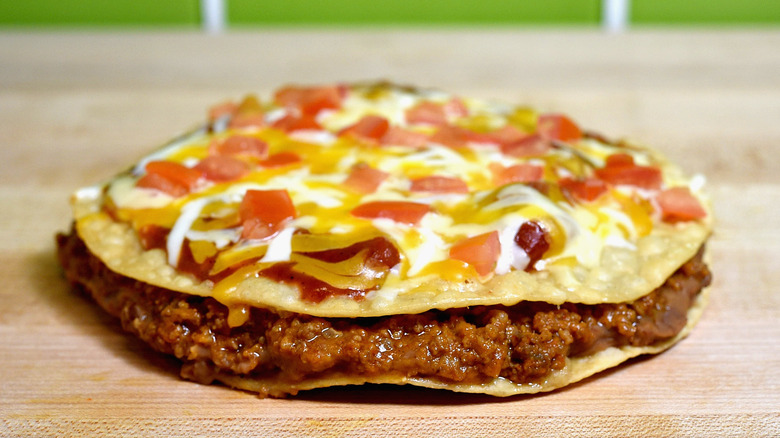 Joshua Blanchard/Getty Images
The year 2020 will go down in history as a true dumpster fire of a year and people had a lot to deal with. On top of everything else going on, Taco Bell took away one of the public's small comforts by discontinuing the ultra-beloved Mexican Pizza. Ever since then, people have been clamoring to find out if and when the Mexican Pizza would be back at the fast food joint, already.
After months worth of rumors that Taco Bell is bringing back its Mexican Pizza, the restaurant has finally released a return date for the delish dish. You may officially rejoice. The chain announced the news via a pair of social media posts featuring recording artist Doja Cat, who excitedly proclaimed, "I brought back the Mexican Pizza, by the way!" during a performance at Coachella (via The Orange County Register). In the Instagram post, Taco Bell offered the video of Doja Cat, along with the caption, "You know we had to give @DojaCat the news first." Really, it was the least the chain could do, since the singer uploaded a song only weeks ago about her love of the menu item.
How fans feel about the Mexican Pizza's comeback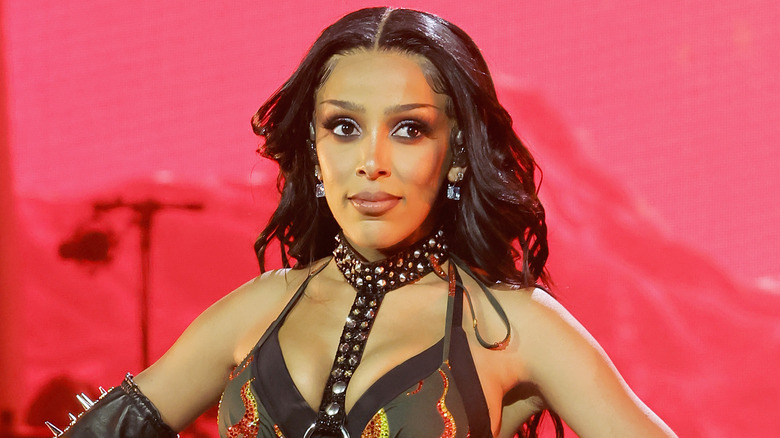 Kevin Winter/Getty Images
The Mexican Pizza will officially return on May 19, according to Taco Bell's Instagram post. Although Doja Cat certainly had a hand in the menu item's reemergence, there's little doubt that everyday consumers played the biggest role. Taco Bell recognizes the influence of their customer base in this decision, encouraging them on Twitter to use hashtags like #Giveaway and #IBroughtBackTheMexicanPizza.
Comments on the Instagram post indicate that fans are thrilled. One user commented, "Shut up and take my money." Another Instagrammer commented, "Yass thank you!" noting that they haven't gone to Taco Bell since the chain pulled the item from their menu. Instagrammer joswole_ would like some sort of promise that the Mexican Pizza is here to stay, saying, "Now don't you ever take it off again. I've dealt with enough trauma in my life, I don't need anymore."
While others are plenty thrilled about the Mexican Pizza's return, they're using the social media posts to plead the case of other discontinued menu items, like the Double Decker Taco and churros. In particular, one person said, "Ok now bring back baja gorditas, the volcano menu, and pintos n cheese." One thing at a time, folks. One thing at a time.