TikTok Is In Awe Over This Cottagecore Japanese Strawberry Shortcake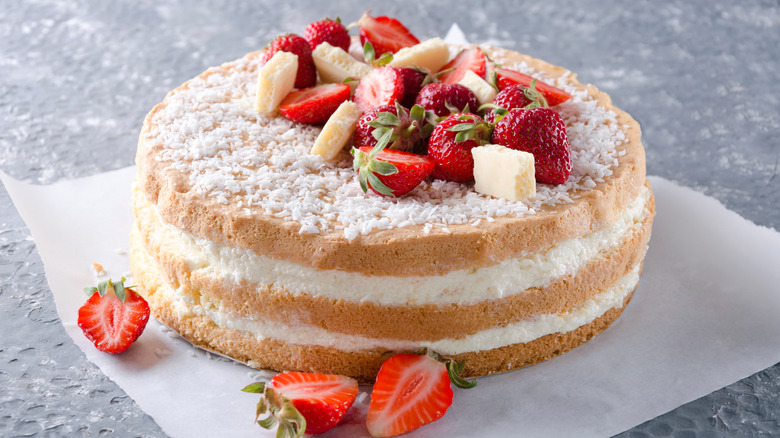 Piece of Cake/Shutterstock
Without a doubt, TikTok has gotten a lot of people into cooking over the last couple years. When the pandemic first hit, many of us were stuck at home with nothing better to do than bake viral three-ingredient cloud bread and learn TikTok dances while our creations were in the oven. Fast forward to the present, and plenty of recipes are still getting attention on the platform. Whether you want to try your hand at homemade pizza rolls, Buffalo chicken taquitos, or Baked By Melissa's green goddess salad, TikTok can show you how to whip up an impressive meal.
With that being said, you don't actually have to cook to enjoy food TikTok. You can simply sit back, relax, and scroll through hundreds of soothing and satisfying recipe tutorials, from cookie-decorating videos to elaborate sandwich demonstrations. And if you do decide that you're ready to roll up your sleeves and head to the kitchen, one recent viral TikTok will let you have your cake and eat it, too. 
The cake-decorating video we could watch again and again
TikToker Michelle Lu creates all sorts of beautiful baked goods on her @sweet_essence_ channel, which has nearly 995,000 followers. Her latest project, a Japanese strawberry shortcake, has caught more than 3.6 million viewers' attention. Within the short TikTok video, Lu mixes up, bakes, stacks, frosts, and decorates a simple but stunning strawberry-studded cake that's straight out of the cottagecore aesthetic.
Cottagecore romanticizes rural minimalism, vintage patterns, and nature, says Insider, and Lu's cake totally fits that mold with its rustic presentation and little springs of fresh thyme on the frosting. In her caption, Lu describes the cake as her favorite, and fans can definitely see why. Viewers were in utter awe, showering the baker with compliments. Others begged Lu to share her recipe — and fortunately Lu was kind enough to post another TikTok with instructions, advising viewers how to properly whip the cream and layer the ingredients. Finally, several fans thanked Lu for inspiring them. One even commented, "I wanna be a baker now."