The Best Toaster Ovens Of 2022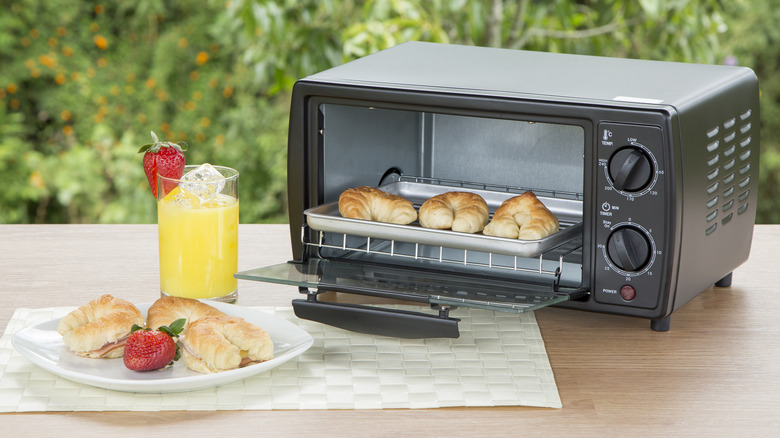 Luis Echeverri Urrea/Shutterstock
We may receive a commission on purchases made from links.
A toaster oven is the kitchen device you didn't know you needed. Sure, you have a regular, full-size oven and maybe even a little stand-up toaster. But if you don't have a toaster oven, you are missing out. These hybrid appliances are so much greater than the sum of their parts; toaster ovens can help create a whole host of dishes. Want to bake a pie in the middle of summer without heating up your kitchen? Toaster oven. Want to warm up your leftovers or cook a frozen pizza but don't want to wait for your standard oven to heat up? Toaster oven. Maybe you've been considering an air fryer but don't want to commit to yet another device cluttering up your counter. You're in luck, because many toaster ovens now come with an air fryer function built in.
It is time to ditch that sad, two-slice toaster taking up valuable kitchen space and upgrade to a device worthy of your counter. To help you in this quest, we have compiled a list of the best toaster ovens of 2022.
How we selected our products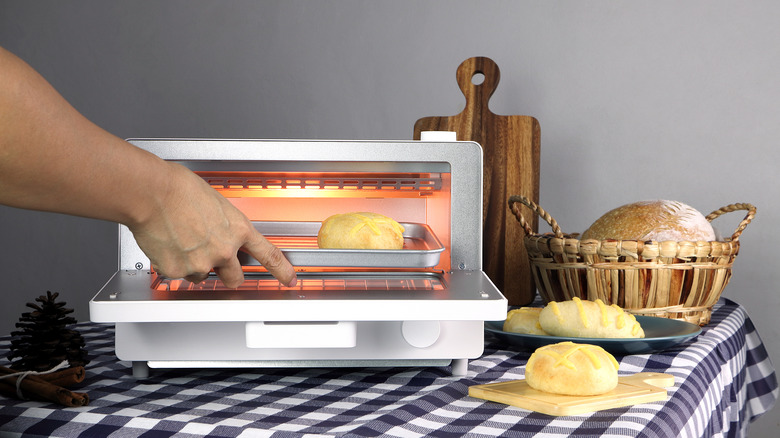 Enjoy The Life/Shutterstock
To determine what the best toaster ovens of 2022 were, we looked at factors ranging from features to performance. We made sure that whatever toasters made it onto this list first and foremost made excellent toast. The toast should be golden brown and crisped to perfection — not burned on one side but still bread on the other. We also wanted to make sure that the toaster ovens utilized their footprint well. We understand that not everyone has the space for a large boxy appliance on the counter. Even small toaster ovens can take up a lot of space, so we made sure that even those with small footprints had a large enough interior capacity and capabilities to make them worth keeping. All our ovens had to be able to fit at least a small pizza.
We also took into account what features different toaster ovens offered, whether they were good for baking, if they had an air fryer option, and how much users were paying for these extra features. We looked at professional and user reviews and compared all the available information before settling on our picks.
Best overall toaster oven
The best overall toaster oven doesn't have everything, but it does have most features. The Breville Mini Smart Oven comes with a small footprint and big possibilities. At 15 pounds, it is a hefty machine, but that means it can handle a lot. The toaster oven takes up a 17 by 12-inch rectangle of space, which isn't as large as many competitors, but the interior is still large enough for an 11-inch pizza.
While it can't do everything — it doesn't have an air fryer option, for example — it does come with eight different settings from cookies to reheating, from pizza to broiling, and yes, toasting. From these heat settings, temperatures and cooking time can be adjusted. The toast setting lets you choose the number of pieces of toast and how dark you want them. Commenters on Bed Bath & Beyond confirm that it toasts beautifully, with others commenting on how well it bakes. The rack is also adjustable, so it can be positioned appropriately for your needs, and friendly markers label which height is ideal for which kind of cooking. Plus, the interior of the oven is coated with a nonstick coating, making cleanup scrub-free. If you are looking for a good overall toaster oven that meets all of your tiny oven needs, this is the one for you.
Purchase the Breville Mini Smart Oven from Amazon starting at $151.20.
Best budget toaster oven
This budget toaster oven is best for the toaster oven novice, or for someone who doesn't want or need all the tech that comes with more expensive options. Whatever your reason, if you're looking for a budget-friendly toaster oven, the Hamilton Beach Toaster Oven and Pizza Maker is for you.
At just around $60, this Hamilton Beach model comes with all your toaster oven basics. It is large enough to fit four slices of toast or a 9-inch personal pizza. One Amazon reviewer found that it makes an excellent toast, along with its other functions. Another reviewer noted that while they had to add extra time to what was recommended, the food came out perfectly. Not too shabby, if we do say so. However, the time, temperature, and setting are all controlled by rotary dials, which can lead to uneven cooking due to a lack of precision. While this doesn't offer the ease or accuracy of some of the digital interfaces, the dials are easy to work with and self-explanatory. You also don't need to worry about the technology breaking.
Purchase the Hamilton Beach Toaster Oven and Pizza Maker from Amazon starting at $62.99.
Best splurge
Breville certainly knows how to make a toaster. What the Breville Mini Smart Oven lacks, the Breville Smart Oven Air-Fryer Pro more than makes up for. While Breville toaster ovens are available in smaller sizes, if you are looking to splurge, it is better to go big. This toaster oven features one full cubic foot of space inside — large enough for nine slices of bread or a 14-pound turkey. It can even fit a standard 12-cup muffin tray.
This toaster can also do just about anything. The 13 cooking settings (which display on the LCD screen) include standards such as toast, air fry, broil, and bake, but also throw in surprising options such as proof and dehydrate. We would be hard-pressed to find something this toaster oven doesn't do. It comes with a built-in fan for convection cooking and an overhead light. Breville is knows for its precision and cooking ability, and this toaster oven is no different. The people at Breville have really created a superior product, and they seem to know it, as this toaster oven costs $399.95. It is a lot of money for a small appliance, but considering it does the job of at least three others, we think it is worth the splurge.
Purchase the Breville Smart Oven Air-Fryer Pro from Breville starting at $399.95.
Best toaster oven-air fryer combo
Not everyone is looking to spend $400 on a toaster oven-air fryer combo. Luckily, there are slightly less teched out options available. The Ninja Foodie Digital Air Fry Oven was the clear choice to us for the best toaster oven with an air fryer. With more than 17,000 reviews on Amazon and a 4.6 rating, it would be hard to overlook this option. It costs around $200, which is more than our best overall Breville pick, but comes in around half of what our splurge option retails for. Plus, if you were going to get an air fryer anyway, this saves space and money.
It might not save as much space as you'd like, though, as this toaster oven is a tank. Measuring at 15 inches by 19 inches, it is one of the largest toaster ovens we have picked. Despite its footprint though, it is only 6 inches tall. It is an unconventional design, which means that you won't be baking any tall cakes or turkeys in this toaster oven. That being said, this design is likely what allows it to air fry as well as it does. Reviewers on Amazon and Best Buy gave this toaster excellent reviews, with many noting the excellent crisp of the air fryer functions. To compensate for this odd design making cleanup potentially harder, Ninja built the bottom panel to open to allow for easy access. 
Purchase the Ninja Foodie Digital Air Fryer Oven from Amazon for $199.99.
Best toaster oven with convection
Convection settings offer a host of benefits to the cook. The foods cooked with convection turn out crispier, cook faster, and cook more evenly. Who doesn't want that? All of this is done by a fan with an additional heating element that helps move the hot air around during the cooking process, not unlike an air fryer. If you want to try convection cooking but aren't ready to replace your whole kitchen oven system, we recommend getting a toaster oven with a convection setting.
The Cuisinart Chef's Convection Toaster Oven is the best on the market. This oven is powerful. At 1800 watts of power, it can reach up to 500 degrees. It offers the coveted convection function and has a shockingly spacious interior. As you can probably tell by this point, we judge based on how much pizza a toaster oven can hold; this one has enough room for a 13-inch pizza and even comes with a pizza stone. Reviewers on Cuisinart's website loved this toaster, giving it more than four stars. There were a few complaints that alerts could be louder; we feel that if this is the worst thing they can say, we can listen more carefully in exchange for crispy, perfectly cooked pizza.
Purchase the Cuisinart Chef's Convection Toaster Oven from Amazon for $299.88.
Best style
Toaster ovens aren't exactly inconspicuous; they are huge hunks of metal that sit on your countertop. If you are looking for something with a little more pizazz, then may we direct you to the Galanz Large 6-Slice True Convection Toaster Oven? It has all the features you want in a toaster oven but comes with a cute retro design and color options. We especially enjoy the light blue color.
The Galanz toaster oven comes in under $100, making it a good bang for your buck. While it lacks the bells and whistles of other toasters, it does offer heat and darkness settings, as well as pre-set baking functions (including convection). The consumer reviews are generally favorable. The oven comes with the typical bottom tray that allows crumbs to be cleared easily. The big concern is that since the controls are all rotary dials, the heat isn't always as accurate and can lead to some burning. Still, if your main objective is to get a stylish toaster oven, this is easily the best option, given the affordable price and abundant options it offers.
Purchase the Galanz 6-Slice True Convection Toaster Oven from Amazon for $89.99.
Best toaster oven for small kitchens
For those who have limited kitchen space and don't need to toast six to nine slices of bread at a time, the Cuisinart Deluxe Convection Toaster Oven is the best choice. Unlike the Cuisinart Chef's Convection oven, which takes up nearly an entire cubic foot, the Cuisinart Deluxe only takes up just over half a cubic foot. But what it lacks in size it more than makes up for in features.
The interior of the toaster fits a 12-inch pizza and offers the coveted convection oven feature. While it comes with an LCD screen, the product states it is easy to use; Amazon reviewers back this up. There is one knob to switch between the different modes on the screen. Other options such as the clock, timer, and temperature are selected by simply hitting a physical button. As an added bonus, the toaster oven is highly rated as easy to clean and has excellent reliability ratings that are synonymous with the Cuisinart brand. Plus, it makes excellent toast.
Purchase the Cuisinart Deluxe Convection Toaster Oven from Amazon starting at $176.95.
Best large capacity toaster oven
At the opposite end of the spectrum, if counter space conservation isn't your concern and you want the largest capacity possible, we recommend the Oster Convection Countertop and Toaster Oven. This toaster oven sports a unique French door design reminiscent of upscale bakery-style ovens. While this feature adds some versatility, reviewers on Amazon warn that the doors can swing back and cause a risk for burns.
The Oster Convection Countertop Toaster Oven certainly lives up to its large capacity claims. Its footprint alone is nearly 24 by 18 inches. At two feet long, it's going to need a lot of counter space. The oven is also over 15 inches tall. It comes with two racks that double the cooking space, allowing the oven to hold two 16-inch pizzas. It also comes with convection functions, as well as an interior light. The reviews are generally positive, with comments on its versatility and usability.
Purchase the Oster Convection Countertop Toaster Oven from Amazon starting at $162.18.
Best breakfast station
If you are looking for true versatility and an all-in-one toaster oven, the Nostalgia Retro Family Size Breakfast Station is the option for you. This is a toaster oven like no other because it is so much more. The base of this machine is that of an average, four-slice capacity toaster oven, but that's the only average thing about it. The top of the toaster oven is a grill for making eggs and breakfast sausage and the left side features a full fledged coffee maker. It doesn't just make you toast; it makes your whole breakfast. The advantages don't stop there, though. The toaster oven's tray, wire racks, and griddle are all removable, making cleanup a snap.
This maker does come with some downsides, though. While you can make more things with it, you have less versatility with the toaster oven itself. Two knobs on the side control the time and allow you to switch between modes. You can't control the temperature or set it to cook specific items (like pizza). There are also some concerns about the longevity of the product, with some reviewers saying it didn't hold up well to regular use. Still, reviewers liked it as a camping option or for times when a full kitchen isn't available.
Purchase the Nostalgia Retro Family Size Breakfast Station from Amazon for $83.90.
Best toaster oven for cooking meats
Cooking meat is very different from baking. While most of the toaster ovens listed here are excellent for cookies and pizza, only one truly excels for meats. The NUWAVE Bravo Air Fryer Toaster Smart Oven is pitched as a 12-in-1 toaster oven option. It heats from both the top and bottom and offers features like convection and air frying. The toaster oven comes with 12 different settings, but what set this oven truly apart are the features specific to cooking meat.
This toaster oven comes equipped with a stainless steel rack and a grill pan. It also comes with a temperature probe to ensure that your meat is cooked to perfection. The settings include grill, roast, and slow roast, with a special button for searing. While this toaster oven certainly can cook vegetables and baked goods, meat is clearly where it brings its A-game. You might think that with all the juices and crumbs coming from these that clean up might be a pain. Not so. The grill pan is nonstick and can be wiped down with a wet cloth. For a deeper clean, both the grill pan and crumb tray are dishwasher-safe. 
Purchase the NUWAVE Bravo Air Fryer Toaster Smart Oven from Amazon for $189.99.