How An Air Fryer Brie Hack Can Majorly Upgrade Your Charcuterie Board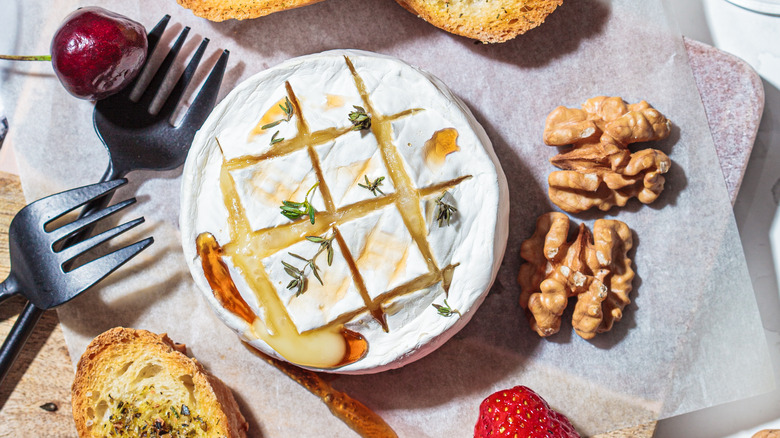 Nina Firsova/Shutterstock
Building the perfect charcuterie board is like painting — but with cheese, fruits, veggies, crackers, nuts, and, of course, charcuterie on a platter instead of paints on a canvas. You want the creation to look visually appealing enough to rest at the center of a table during a dinner party and star in your guests' Instagram stories. Because they are full of different flavors and textures, charcuterie boards can be a light snack, happy hour appetizer, or tasty starter for any holiday.
Though meat and cheese platters often appear lavish, they don't have to be expensive or tiring to make: It's all about having fun and being creative. Depending on the occasion, you can add out-of-the-box elements, like cookies, candy, or edible flowers, and use small bowls to serve your favorite dips, such as peanut butter, hummus, or even hot sauce. Out of ideas? Visit Pinterest, type "charcuterie," and have fun. If there's one single (and easy!) way you can majorly upgrade your next cheese board, however, it's with one of the trendiest kitchen appliances of the decade: the air fryer. 
Use your air fryer to make baked brie easier and faster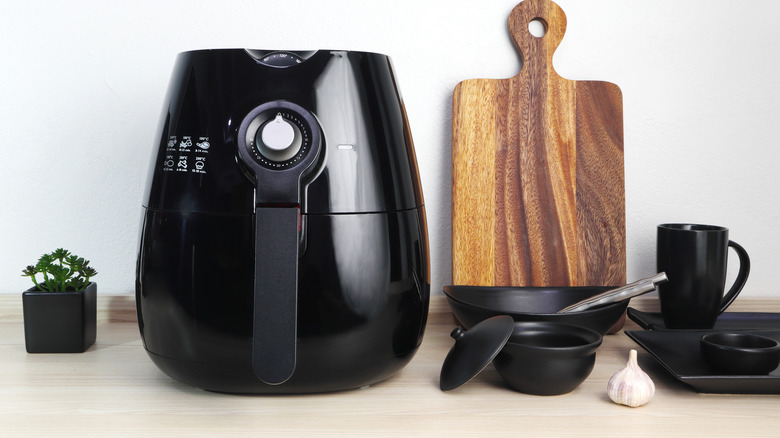 Enjoy The Life/Shutterstock
The famously creamy French cheese known as brie can impress palates at any party, as its buttery flavor goes well with any sweet spread or savory topping, from fig jam to toasted nuts. When heated until oozing and melty, it's especially hard to resist. A typical baked brie recipe calls for using an oven, which can be a struggle for people who prefer to save their oven for more time-consuming projects. That's where the air fryer comes in.
As Kitchn explains, air fryer baked brie cooks at around 375 degrees Fahrenheit for just 10 minutes — the perfect amount of time for you to check RSVPs and pick the wine you'll serve your guests. Once the cheese is soft and gooey, take it out and enjoy it with delicious toppings as usual. This is the time to become an artist: Slash the top to showcase the warm cheese, then add toppings like apricot preserves and mint leaves, toasted hazelnuts and maple syrup, rosemary and honey, and more. From there, keep elevating your charcuterie game. Add captivating details (like folded salami that looks just like a rose!), and don't forget utensils, especially a cheese knife to serve the baked brie your guests won't believe was air-fried.