The Worst Mountain Dew Flavor, According To 23% Of People
Though it's newer to the scene than some other classic sodas, Mountain Dew is a household name that's enjoyed a cult following since its 1964 induction into the PepsiCo family, per its website. The brand has long catered to young, energetic audiences, which is why you're more likely to see the citrusy green refreshment marketed toward skateboarders and extreme sports fans — the brand even sponsors its own Dew Tour that includes daredevil feats of BMX biking, snowboarding, and more — than, say, young adults with an interest in high fashion like this 2012 Diet Coke commercial. The brand even shortened its name to Mtn Dew and has recently bolstered its campaign toward young gamers and Esports leagues, per Esports Insider.
The standard Mountain Dew soda continues to hold its own among the young and sugar-crazed, many of which pay regular visits to the soda's Subreddit. However, that may not be the case for some of the brand's newer flavors. A Mashed poll that comprised nearly 600 respondents and seven flavors revealed what's hot and what's not in the world of Dew. 
Major Melon hits the bench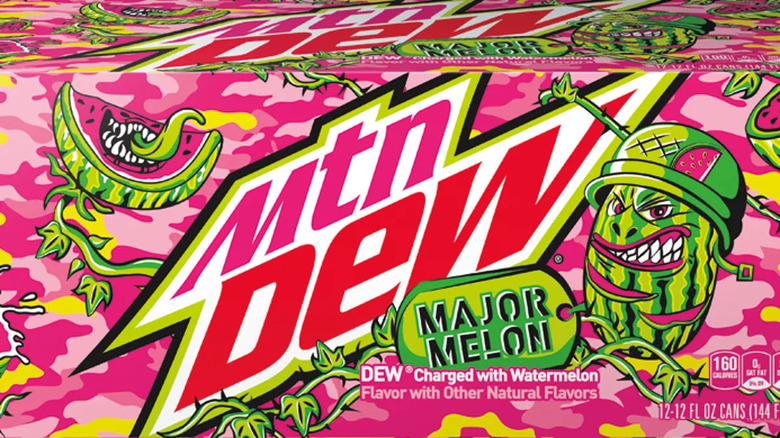 Mtn Dew
According to the 594 U.S. respondents of the Mashed poll, OG lemon-lime has dipped from the best Mountain Dew flavor to the fourth-best — 11.45% of people would pass on it. They'd rather reach for a bottle of Baja Flash, which was rated the worst Mountain Dew flavor by a comparatively small 7.41%, making it the top-rated flavor among our pollsters. Brand new to the game, Best Products reports that the piña colada-inspired newbie hit shelves in the summer of 2021 as part of the brand's 100 Days of Baja campaign and tastes like pineapple and coconut.
Next on the least-bad flavor list is Baja Blast at 9.09%, a Taco Bell mainstay that boasts a shock of lime and tropical fruit. Baja Punch, a dark orange tropical flavor that was released alongside Baja Flash, is the next fallback at 9.43%. Further down the ranks is Voltage, a raspberry citrus and ginseng number that 16.67% of pollsters deemed the worst. Participants were even less impressed with Dew's cherry-flavored Code Red, but it missed last place by a hair. According to our poll, 23.23% of people think Major Melon is the absolute worst Mountain Dew concoction. The newest member of the brand's permanent lineup is packed with watermelon flavor, per the brand's website, but according to our poll and a strongly worded Reddit comment, the flavor is "sickeningly sweet."