The Hilarious Peanut Law Boston Still Has On The Books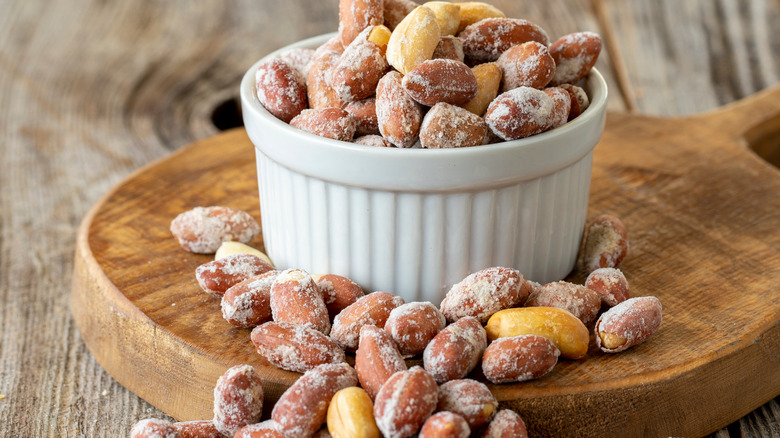 Enez Selvi/Shutterstock
You're at Sunday Mass in the middle of the sermon. As everyone goes quiet during the homily, a somber and reflective period as the priest speaks from behind the podium, you suddenly hear a faint crunching sound. It sounds muffled, hushed as if whoever is making the noise doesn't want to be heard. There's a sudden crack that echoes throughout the church, and just as everyone turns around to look, they see someone in the far back quickly trying to shove a plastic bag of something into his pocket. Are those peanut shells on the floor?
History is full of weird laws regarding food. For example, Arizona has some pretty strange rules regarding potluck dinners being thrown outside of "noncommercial social events" (via VICE). In Tennessee, your inner cowboy will be disappointed to learn that you can't catch your fish dinner with a lasso (via Times News). In Pennsylvania, you can't buy more than two cases of beer at a time unless it's from an "official beer distributor" (via Kahane Law Offices). It seems even when it comes to enjoying a snack, the long arm of the law is still there, no matter how utterly bizarre it is.
In Boston, Massachusetts, there's one particular law that revolves around Sunday Mass and your consumption of a certain shelled legume.
You can't eat peanuts during a service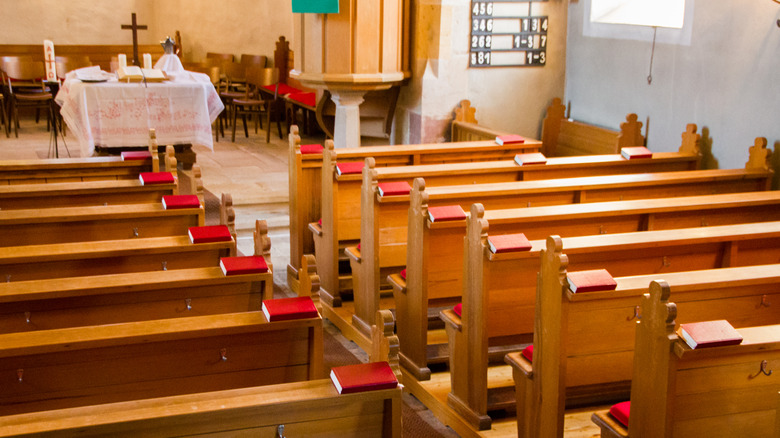 Little Adventures/Shutterstock
According to NewsBreak, among laws regarding public snoring and playing the fiddle, Boston has a law prohibiting eating peanuts in church. Granted, your parents and grandparents probably told you that eating during a Mass was forbidden, but it would seem in Boston that such a matter was serious enough to make it illegal. While there are some who believe that eating in church is no big deal — for example, Crosswalk believes that offering food during the service shows the hospitality and warmth of a church — there are those who see it as disrespectful to do so during such a holy and respectful event.
Wait a second, you may say. I've heard of something called "church nuts." What is that all about? According to Food & Wine, in Rocky Mount, North Carolina, you can find the Englewood United Methodist Church and its unique way of combining food with serving its parishioners and the community. The church sells "church nuts" — fried peanuts — to help raise money for the church and for certain community events. Other churches in North Carolina also sell fried peanuts, making it something of a friendly rivalry. 
It would seem that some places hold different ideas about food and church than others. But maybe have a snack before going to church, just to be on the safe side — and never forget that peanuts aren't actually nuts.