How Beef Wellington Really Got Its Name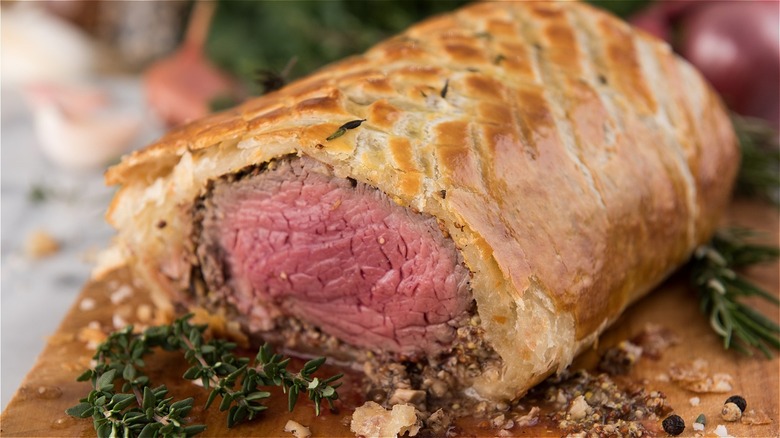 Anna Hoychuk/Shutterstock
Beef Wellington is a classic British dish known for its full-bodied, multi-layered taste and tender, melt-in-your-mouth character. Its recipe is among the most iconic in culinary history — a succulent beef tenderloin filet coated with mushroom duxelles and pâté and wrapped in a buttery, flaky puff pastry. It's one of Gordon Ramsay's most notable specialities; he even teaches a MasterClass course on how to whip up this hearty meal at home. And the one and only Julia Child featured a famously arduous recipe for Beef Wellington in her 1970 cookbook "Mastering the Art of French Cooking, Volume Two" (per Wall Street Journal).
Over the years, home cooks all around the globe have prepared Beef Wellington for their families. According to fork+plate, this decadent menu item was enjoyed by Presidents Kennedy and Nixon. So, where did the term Beef Wellington come from? It's certainly fun to say, and as you may have guessed, its namesake is indeed a real person.
Beef Wellington is named after Arthur Wellesley, Duke of Wellington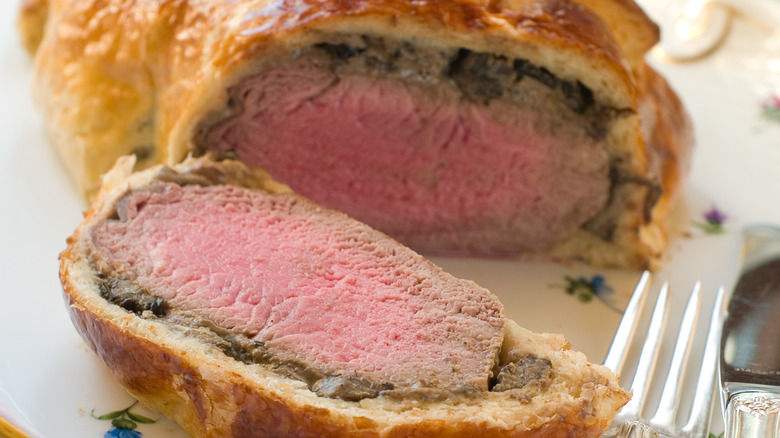 Wiktory/Shutterstock
The origins of Beef Wellington are as rich as its flavor. The recipe was named after a man by the name of Arthur Wellesley, the first Duke of Wellington, who is best known for defeating Napoleon Bonaparte at the Battle of Waterloo in 1815 and later serving as British Prime Minister, according to History. But why this specific duke?
There are a few different theories about how this dish came to be, according to Gordon Ramsay Restaurants. For one, culinary historians are skeptical that it was created for the duke himself but rather renamed in his honor. After all, Beef Wellington's recipe is nearly identical to that of the French filet de boeuf en croute. Some folks even believe that a hunk of Beef Wellington resembles a Wellington boot — a type of footwear brought into vogue by the fashionable duke in the early 19th century (per English Heritage). Other legendary foods that were named after real people include Caesar salad (Italian-American restaurateur Caesar Cardini), nachos (Mexican chef Ignacio "Nacho" Anaya), German chocolate cake (British-American chocolatier Sam German), and peach melba (Australian opera singer Nellie Melba).