'The Official Burrito Of Flavortown' Is A Meaty Colossus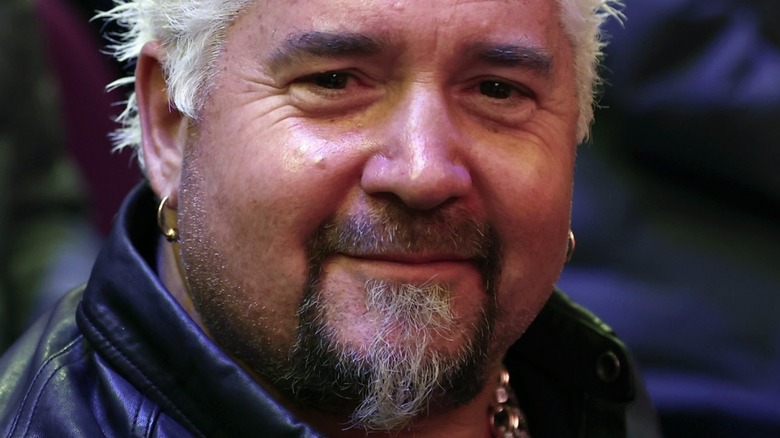 Arturo Holmes/Getty Images
Guy Fieri likes a challenge and he is doublee-dog-daring us –well sort of — to try what he has dubbed "the official burrito of Flavortown." The host of "Diners, Drive-ins and Dives" is always on the lookout for the best eateries and dishes. Over the years, we've watched Fieri nosh down on a huge seafood Totem pole; on a peanut butter burger; and a duck tongue taco; and these aren't even the wildest foods he has eaten. Of course, per Eater, the celebrity chef did admit in a podcast interview he doesn't always like everything he samples, but he also noted he doesn't like every song on the Rolling Stones album either. What? 
Mick Jagger clearly needs to call Fieri and set him straight, or maybe the "Jumpin' Jack Flash" singer can join the spiky blond hair chef for one of those official burritos of Flavortown that Fieri shared in a video on TikTok. It could be a "gas, gas, gas." In fact, over 1.2 million people have already viewed the video which features a burrito maker creating a truly meaty colossus for the ages, and the responses range from weighing the consequences of eating one of these monstrosities to stepping up to the challenge. 
It could give you the meat sweats
Guy Fieri's Flavortown TikTok account shared a video of a burrito maker from the Mexican food restaurant, Sayulitas, located in Las Vegas. And it is so big and has so much meat in and around it; it gives us the meat sweats just thinking about it. And just from looking at it, you can see it's more than enough burrito for two hands to handle. We aren't 100% certain which kind it is, but based on the menu it sounds a lot like the "Pacman" burrito, which features tocino (Spanish for bacon), carne asada, guac, sour cream, cheese, Mexican salsa, chipotle sauce, and fries. Only, it is also wrapped in bacon, which sounds like the menu's Bacon Wrapped burrito. But regardless, Flavortown followers are definitely down for this meaty meal, showing their love with 83,000 likes and a lot of chitter-chatter. 
One fan boldly declared, "I would eat the entire thing in one sitting." Naturally, Flavortown responded with two very direct words: "Do it." Unfortunately, we still haven't seen a proof video of the hungry fan actually making good on the boast, and as big as that burrito looks, we aren't holding our breath that we will. Still, another TikToker was all of us, writing, "My stomach is telling me yes but my heart is telling me no." We definitely feel that comment.