How To Make An Oaks Lily, The Official Cocktail Of The Kentucky Oaks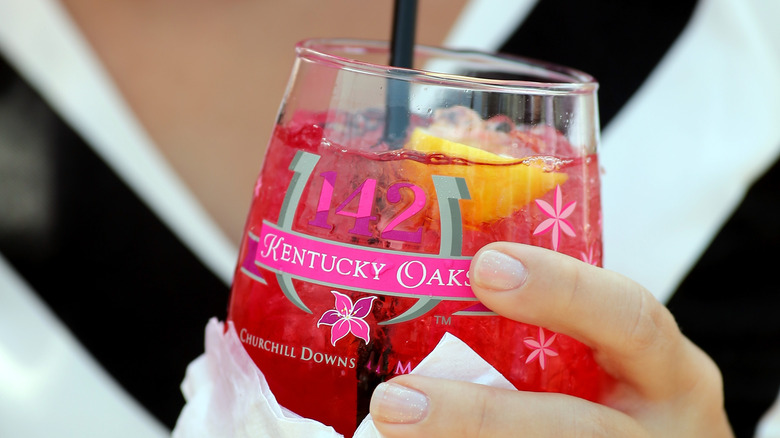 Michael Reaves/Getty Images
Get your floppy hats, bowties, and fascinators ready! Each May, as spring is in full swing in the U.S., people from all over the world travel to Louisville, Kentucky to watch 20 horses and jockeys race to the finish line. The tradition has been embedded in American culture since it began in 1875, according to the event's official website.
Many Americans have heard about — and perhaps even watched — the Kentucky Derby. Some also may have, at one point or another, sipped on a refreshing mint julep, the derby's official drink made from a tasty blend of bourbon, fresh mint, and simple syrup. But what about the Kentucky Oaks? The Kentucky Oaks is the premier annual race for three-year-old Thoroughbred fillies held at the Churchill Downs racetrack the day before the Kentucky Derby. Like the Derby's characteristic julep, the Oaks also has its very own signature cocktail to kick off the exciting weekend ahead, and it's named for the garland of stargazer lilies draped over the neck of the winning filly, according to Taste of Home. So how can you whip up a batch of Oaks Lily cocktails for you and your most debonair comrades?
The Oaks Lily is a simple, fruity, colorful cocktail
Whether or not you're in the heart of Louisville as a spectator of the iconic derby, you can still sip on an Oaks Lily to celebrate the joys of springtime (or horses) with friends. The Kentucky Derby website offers the official recipe for the brightly colored, tart flavored libation, which takes just a few minutes to fashion. To make an Oaks Lily, you'll need to gather a handful of liquid ingredients: 1 oz vodka, 1 oz sweet and sour mix, ¼ oz triple sec, and 3 oz cranberry juice.
The preferred vessel for the Oaks Lily is a stemless wine glass, but feel free to use any drinkware you have on hand. Fill the glass with crushed ice, pour in the vodka, sweet and sour mix, triple sec, and cranberry juice, and stir well, until the festive cocktail becomes a lovely shade of pinkish-red. To top everything off and add a pop of color, toss in a few blackberries and garnish the rim with a fresh lemon wedge. Off to the races!