Giada De Laurentiis Says This Lemon Ricotta Pound Cake Is Her 'Fav'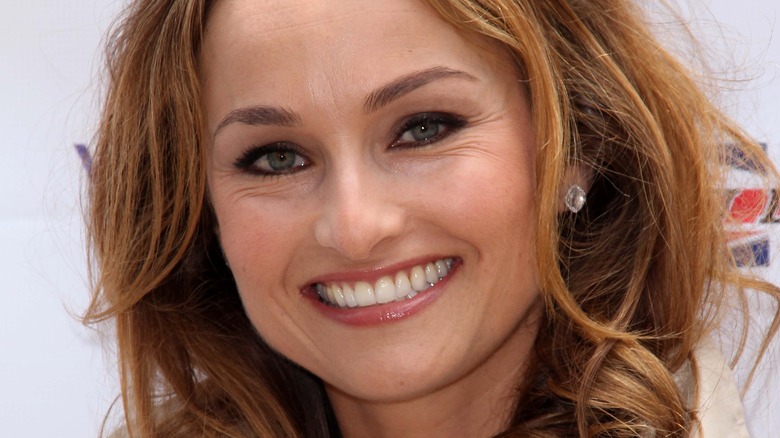 s_bukley/Shutterstock
If you have a sweet tooth, then you're the type of person who always leaves room for dessert. While a sweet treat can be the best way to finish off your evening, your final course has to be something that complements the rest of your meal. Sometimes that may be a rich and heavy dessert, like a chocolate lava cake, and other times it has to be a treat that's light and refreshing, like fruit and ice cream. If you're looking for the latter, then a lemon-based dessert is always a great go-to.
The tart citrus fruit is a key ingredient in so many tried-and-true favorites, from Mom's famous lemon bars to your go-to lemon meringue pie recipe. Not to mention, bright and zesty treats are the perfect way to celebrate the warm days of spring and summer. If you are a huge fan of lemon recipes, then you may be inspired by Giada De Laurentiis' lemon ricotta pound cake, which happens to be the Food Network star's "fav," she revealed on Instagram. If it's good enough for Giada, it's good enough for us!
De Laurentiis' lemon ricotta pound cake isn't too complicated
In a recent post on the Giadzy Instagram account, De Laurentiis' team shared a recipe video of her lemon ricotta pound cake. Airy, moist, and drizzled with a beautiful glaze, we're hoping that this cake tastes as good as it looks. The only way to find out? To bake it, of course! After preheating the oven to 350 degrees Fahrehnheit and lining your pan with parchment paper, you can begin mixing the batter, according to the Giadzy website. The simple mixture of butter, sugar, and ricotta cheese is combined with eggs, lemon zest and juice, and vanilla extract, followed by the dry ingredients.
At this point, you'll have to wait 2 hours before you can eat your delicious concoction, as it bakes for an hour and cools for another. In the meantime, you can work on whipping up your lemon glaze, which requires just three ingredients. Poke a few holes in your pound cake before drizzling on your glaze, and voila. While this may not be a traditional pound cake in the sense that the four main ingredients each have the same weight, per Allrecipes, it does look especially moist from the ricotta. De Laurentiis noted on Giadzy that the Italian cheese is a mainstay in her lemon recipes, which explains the reason she adds ricotta to her lemon almond muffins.