Robert Irvine Is Now On Cameo, And The Support Is Pouring In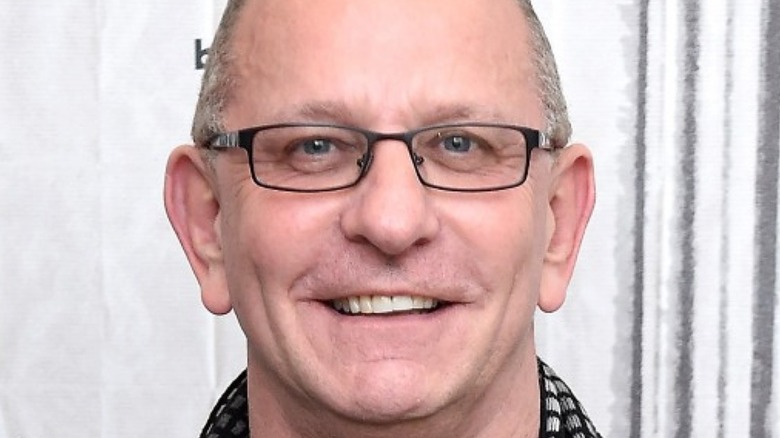 Gary Gershoff/Getty
What do celebrity chef Maneet Chauhan, actor Lou Diamond Phillips, and reality star Caitlyn Jenner all have in common? Each is available via Cameo to record a personalized video message for anyone willing to pay a fee (via Money). So, for example, if you want Chauhan to record your mom a happy birthday message, it will set you back about $100. Same with Lou Diamond Phillips. Then there's Caitlyn Jenner, from whom a message will set you back $2,500.
Cameo is a service by which one can arrange for a celebrity to record a personalized video message. All you have to do is sign up and write up a brief description (there's a 250-character limit) of the message you're looking for. The celebrity has a week to respond, although some celebrities promise "24-hour delivery," and all reserve the right to refuse a request. Your obligation to pay arises when you've received your personalized video message. 
In addition to Chauhan, a number of celebrity chefs and famous foodie personalities have joined Cameo. The latest is Robert Irvine of "Restaurant Impossible" fame, who took to Instagram on April 27 to announce he's available for all your personal messaging needs, which announcement is accompanied by an earnest-sounding video message detailing why you might want to pay Irvine's $250 fee (via Cameo). It's too soon to tell how many are lining up for an Irvine Cameo, but if the support coming from Instagram is any indication, it would appear demand is high.
Robert Irvine makes a compelling argument as to why you need his Cameo
"Heard all the cool kids were on @cameo ... and me," Robert Irvine posted to his Instagram feed on April 27, accompanying his charmingly self-effacing message with a pre-recorded message teasing some of the possibilities. For example, Irvine would be happy to offer, in addition to the usual birthday messages, his own volume-enhanced advice on recipes, business, working out, and motivation, in general. Although he doesn't say so, it's entirely possible Irvine might be persuaded to provide a bit of insight into what the cameras don't show on "Restaurant Impossible."
It appears that fans and followers are fully supporting Irvine's latest venture, raining heart emojis, thousands of likes, and the Instagram comment-equivalent of love letters all over Irvine's Instagram post. "Already there!!" wrote one enthusiastic Irvine-phile. "You're the only man I would allow to YELL AT ME!!" another chimed in. "How awesome!!!" added another. 
One fan even seemed to be making their own highly-specific request for what they want in their own Irvine Cameo, leading with, "What do you make for breakfast, lunch, and dinner? Who washes the dishes? Who cleans the house?" before following up with such nuggets as, "How do you all fit in exercise and a healthy and strong mentality? How do stay consistent seven days a week?" and "How do you stay on course long term?" Now, if they could just fit all that into 250 characters.