TikTok Is Doing A Double Take Over This Uncommon Breakfast Recipe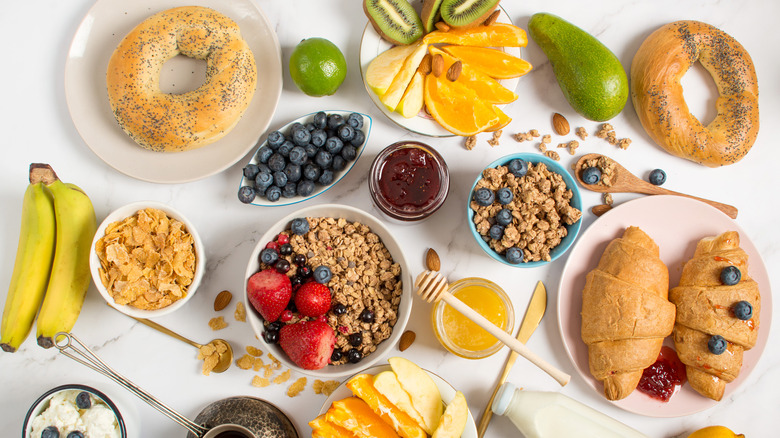 Margarita0192/Shutterstock
There's no end to snackable content on TikTok, which is why viewers can sit in front of the app for hours without realizing that huge swaths of time have passed. It's hard to get bored, because there's a TikTok community for just about every type of person, from skaters to crafters to dancers to animal lovers and everyone — literally everyone — in between. Of all the TikTok coteries out there, though, cooking tutorials enjoy one of the app's largest viewership. 
Many TikTok chefs have reached celebrity status, and there's always a new recipe or cooking hack going around that often makes it to the kitchens of professional chefs. (Remember when J. Kenji Lopez-Alt sang the praises of TikTok's baked feta pasta on his YouTube channel?)
This week, breakfast fanatics were treated to an innovative take on the most important meal of the day from Vivian Aronson (also known as TikTok chef @cookingbomb), and fans are into it — but some think it might be better for lunch.  
If pigs in a blanket and French toast had a baby
Like many breakfast recipes, @cookingbomb starts her TikTok tutorial with bread, cheese, meat, and eggs. But instead of bacon or sausage links, the dish calls for hot dogs. The user starts her "easy breakfast hot dog rolls" recipe by placing a piece of American cheese on a slice of fluffy white bread, then adding a hot dog and rolling it up "like a spring roll." 
She then slices it in half to reveal a tri-colored cross-section and repeats the process until she has enough segments to cover the bottom of a medium-sized baking dish. The next step, which involves mixing a couple of eggs with some milk seasoned with salt and pepper and pouring it over the hot dog rolls, evokes a savory version of French toast. She pops the dish in a 350-degree-Fahrenheit oven for around thirty minutes, and the end result closely resembles Thanksgiving stuffing with its golden-brown bread that rises slightly above the pan. She finishes it off by squeezing on some ketchup and Kewpie mayonnaise.
Commenters seemed intrigued by the recipe, which seems loosely inspired by Chinese sausage buns (or Lop Cheung Bao), but several of them thought it might be better suited for lunch or dinner. Others didn't agree. "Anytime of the day is good," wrote one user. "I wish you were my mother," wrote another, clearly jealous that @cookingbomb's kid gets to be the beneficiary of her recipes.