How Giada De Laurentiis Really Feels About Her Daughter Being An Actor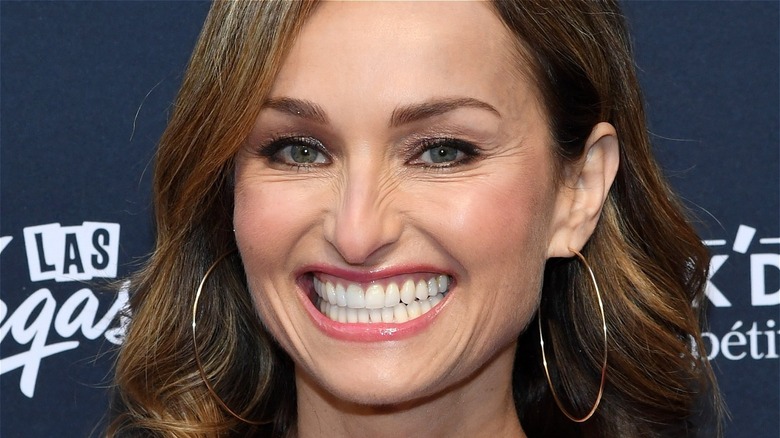 Ethan Miller/Getty
Giada De Laurentiis is one of Food Network's most notable stars, having appeared on the channel since 2002. But before she got her reputation as the network's resident Italian-American chef who puts a literal twist on lemon spaghetti, De Laurentiis explored a career in film. The granddaughter of movie producer Dino De Laurentiis, the "Simply Giada" host tried her hand at acting but quickly gave it up due to being shy. "I didn't like any of it ... it just wasn't my thing," she told Milk Street. Even after making the decision to pursue a career in food, De Laurentiis' family still encouraged her to give the film industry a try. "I think they hoped I would change my mind about culinary school," she told Time. Spoiler alert: she didn't. After giving movies one last attempt at her family's request, De Laurentiis jetted off to Paris to attend Le Cordon Bleu.
As we now know, the restaurateur did end up working on screen as the host of a number of Food Network shows over the course of the last 20 years, and, more recently, took a behind-the-scenes role as the executive producer for the Hallmark film "Always Amore." Now, it appears that her 14-year-old daughter, Jade, has her sights set on a career in the "family business," as well. The celeb chef revealed to People that her only child has aspirations of becoming an actor, though it might be some time before we see her on the silver screen.
Giada De Laurentiis isn't quite ready for Jade to start acting professionally
While Giada De Laurentiis never found her calling in the film industry, her daughter, Jade, seems to have been bitten by the acting bug. "That girl has been bugging me to allow her to do auditions for off-Broadway shows for years," she told People, noting that her daughter has a sense of self-confidence that she herself lacked in her youth. The 14-year-old even tried to convince her mom to give her a role in her Hallmark movie "Always Amore," but the celeb chef didn't cave – though not because she doesn't have faith in her daughter's career aspirations. Rather, she wants Jade to enjoy her youth before appearing professionally on stage. "It's important to be a child. It only happens once in your life," the celeb explained.
De Laurentiis said that she and her ex-husband, Todd Thompson, aren't allowing their daughter to pursue a professional acting career until she is at least 15. However, as fans of the "Giada At Home 2.0" host likely already know, the teen is no stranger to the camera. Jade has been making guest appearances alongside her mom for several years and seems to have learned quite a lot. In fact, during one instance when the mother-daughter duo shared the screen for a YouTube video, it was Jade that was doling out advice to her mother to help improve her on-camera presence. It looks like showbiz runs in the family, after all.