Giada De Laurentiis' Puts A Literal Twist On Lemon Spaghetti With This Ingredient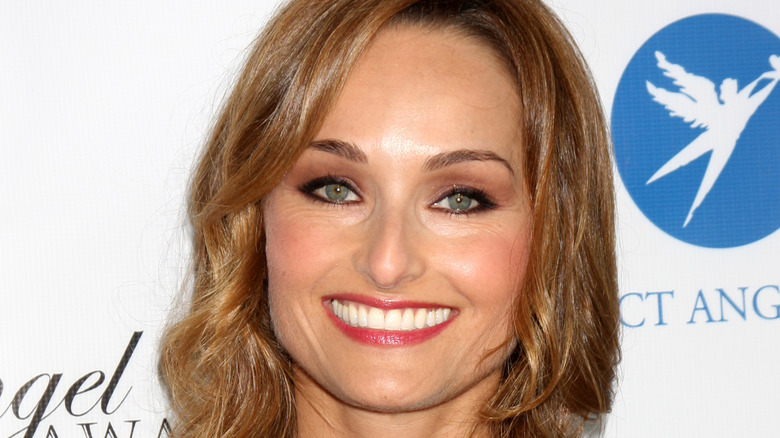 Kathy Hutchins/Shutterstock
When it comes to Italian cooking, Giada De Laurentiis is a wealth of advice, recipes, and product recommendations. For example, De Laurentiis' ultimate secret ingredient is mascarpone cheese because it can be used in sweet and savory dishes. Most of the celebrity chef's tips are simple additions or swaps, so when she's got a hack for lemon spaghetti, we're all ears.
We think that Giada De Laurentiis' lemon spaghetti is one recipe that stands above the rest and, lucky for us, she recently posted an Instagram video with a little "revamp." Instead of spaghetti as the pasta, De Laurentiis subs in fusilli lunghi.
Never heard of fusilli lunghi? Recipetips describes it as "long, twisted, corkscrew or spring-like shaped pasta strands that are hollowed through the center of the strands." The pasta brand De Cecco says that fusilli lunghi is a "simple spiral shape" and recommends serving it with parmesan cheese or a tomato or vegetable-based sauce. De Laurentiis' lemon pasta has plenty of cheese, so if this is your first time trying fusilli lunghi, her recipe is a safe bet to let that pasta shine.
What twists do fans put on De Laurentiis' lemon spaghetti recipe?
In the Instagram video and recipe on her blog, the "Everyday Italian" host keeps this pasta recipe simple. She makes a sauce with olive oil, parmesan cheese, and lemon juice. In the end, she tops the pasta with a bit more lemon zest and cheese, and the blog site suggests garnishing the dish with basil.
The comment section of the Instagram post is flooded with love for lemons, and fans are also sharing their own twists on this recipe. One user said, "I add grilled shrimp – delicious and my kids love it," and another wrote, "I love this method. I use nutritional yeast and add a random green and eat this like 3 times a week."
Another fan expressed love for the pasta, saying, "This is my baby's (and mine) FAVORITE PASTA. We make it a little differently- we add basil pesto & fresh garlic." And while fusilli lunghi looks like it would make a pasta night extra fun, you can make De Laurentiis' lemon spaghetti with any type of pasta you have on hand.
Love lemon pasta dishes? Try this recipe for lemon butter pasta with chiles or make a cold lemon capellini salad to bring to your next potluck.