The Story Behind The Unexpected Toppings At This Black-Owned Pizzeria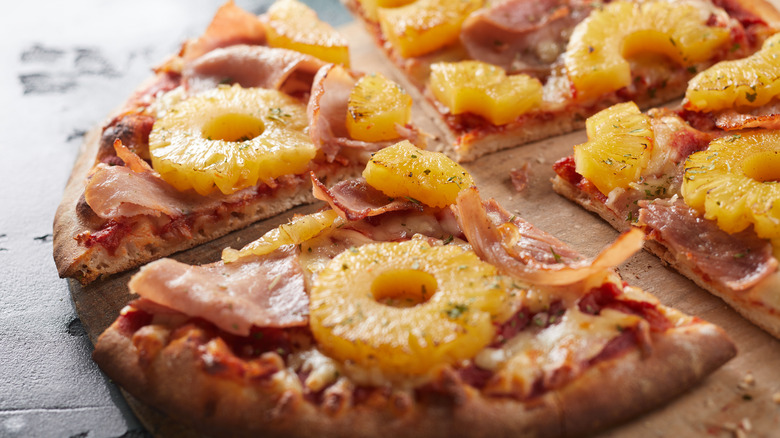 stockcreations/Shutterstock
Brooklyn has been a battleground in the quest to create some of NYC's best slices of pizza for some time. As Thrillist points out, the presence of pizza joints in the borough, like L&B Spumoni Gardens and Di Fara, dates all the way back to the mid-20th century. While longstanding restaurants continue to make the list of the best pizza shops in New York, that doesn't mean there isn't room for innovation.
A more recent arrival to the Brooklyn pizza scene that is making waves for its avant-garde menu is Cuts & Slices. Though you can find garlic knots and slices with extra cheese on the menu at this Bedford-Stuyvesant pizza shop, some of the toppings don't quite resemble the typical Italian American options that may come to mind when you think of a Brooklyn pie. The unique spot is cooking up some inspired pizza slices all thanks to its owner, and diners are here for it.
Cuts & Slices offers pizza toppings like oxtail and chopped cheese
Randy Mclaren is the owner of Cuts & Slices, and he's no stranger to creating a little buzz. According to Black-Owned Brooklyn, Mclaren owns a sneaker business with an impressive roster of clientele including Rihanna, Fabolous, and some well-known athletes. In 2018, inspired by the hand-tossed pies he grew up eating, Mclaren opened his pizza shop. The Cuts & Slices menu he created incorporates some Caribbean influence. "I'm Trinidadian. I grew up eating West Indian food. I get a little creative," Mclaren told Eater.
Those creative pizza toppings include options like curried oxtail, jerk chicken, and shrimp. Other out-of-the-box slice options include a chicken and waffles combination and a chopped cheese slice. If you're not familiar with chopped cheese, First We Feast describes it as a New York "bodega specialty" sandwich made by grilling ground beef, peppers, onions, and seasoning, then chopping the ingredients, covering them with cheese slices, and piling them onto a toasted hero or a roll. 
The NY Daily News reports a number of celebrities have eaten at Cuts & Slices including athletes and musicians, and the shop has quite the social media following with over 100,000 followers across its platforms. Over on TikTok, rapper Jadakiss even went so far as to call Cuts & Slices some of the best pizza in the world.