Easy Tartar Sauce Recipe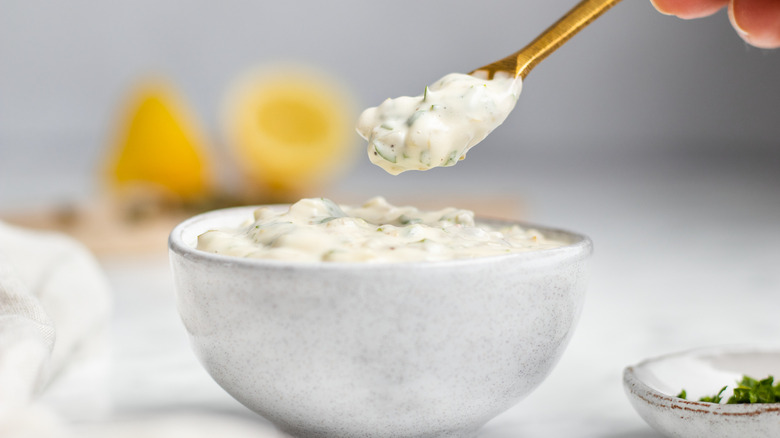 Catherine Brookes/Mashed
Picture this: You've just fried up some fish, and when you reach for an accompanying condiment, you opt for ketchup instead of tartar sauce. The horror! While it's not actually a crime to eat fried fish without tartar sauce, it might as well should be. There really is no better complement to the wonderful flavors of juicy, flaky, and succulent fried fish, and recipe developer Catherine Brookes of Blue Sky Eating definitely agrees. Thanks to her easy tartar sauce recipe, you can make the creamy sauce right in your own kitchen, so you'll never have to settle for dipping fish sticks in ketchup ever again. "I love the combo of the slightly sour pickles and capers with creamy mayo in this sauce," Brookes says. "You might not typically think to combine these ingredients together, but the result is delicious."
It's true; you likely won't wake up one morning with a hankering to combine mayo with capers and pickles, but after following this easy recipe, that could easily change. "The flavor is creamy, savory, [and] salty — with a bit of tangy sourness from the pickles and capers," Brookes describes. With a sauce that covers several flavor profiles with so few ingredients, what more could you ask for? Rev up your fryers, batter up your favorite fish, and whip up this easy tartar sauce for an optimal dipping experience. 
Gather the ingredients for this easy tartar sauce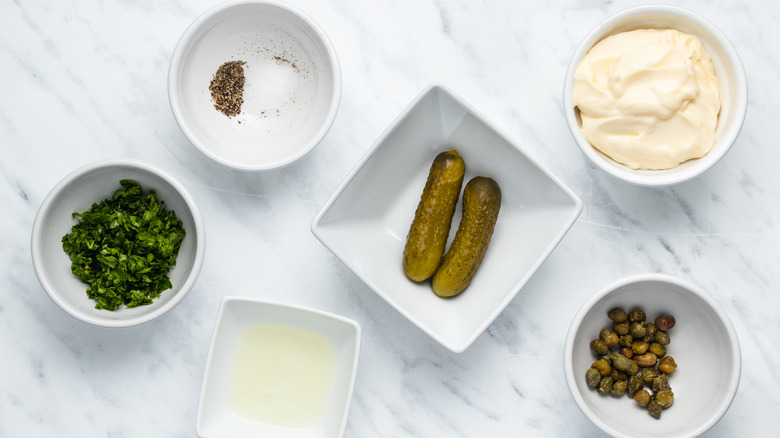 Catherine Brookes/Mashed
It's incredibly easy to make tartar sauce at home, and you'll only need a handful of ingredients. This recipe calls for mayonnaise, fresh lemon juice, capers, pickles, parsley, and salt and pepper to taste.
Brookes uses (adorable little) gherkin pickles in her version, though she notes that it's completely fine to use another kind of pickle (such as dill or bread and butter) instead. Whichever kind you use, you should have about ¼ cup of chopped pickles.
Chop up the pickles and capers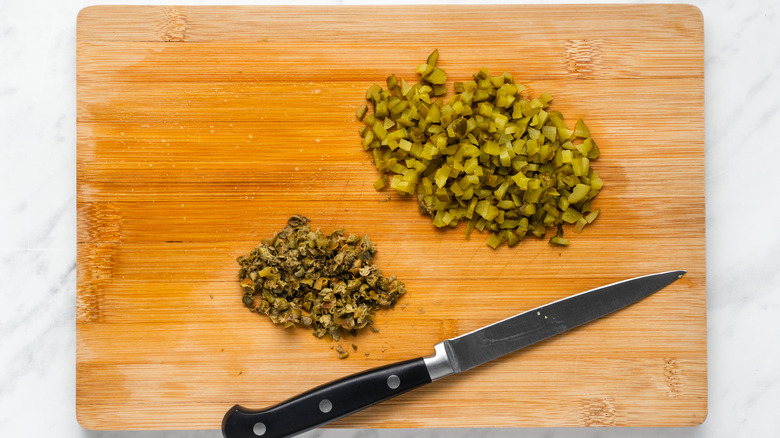 Catherine Brookes/Mashed
Before you can get to mixing, you'll need to do some chopping. Simply grab a cutting board and knife and finely chop up both the capers and the pickles. If your parsley is not already chopped, here's your chance to do that, too.
Combine all of the ingredients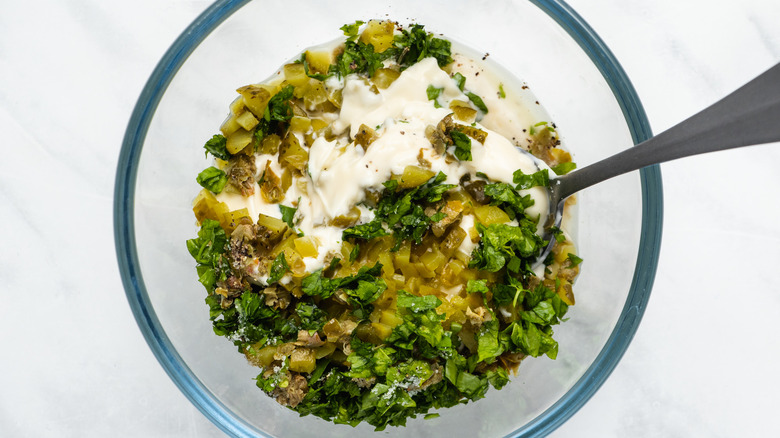 Catherine Brookes/Mashed
Now that your ingredients are chopped, you can actually make the sauce. In a mixing bowl, add the mayonnaise, lemon juice, the chopped capers and pickles, and the chopped parsley. Give everything a good stir, then give the sauce a taste. Add salt and pepper to taste. 
Serve and store the tartar sauce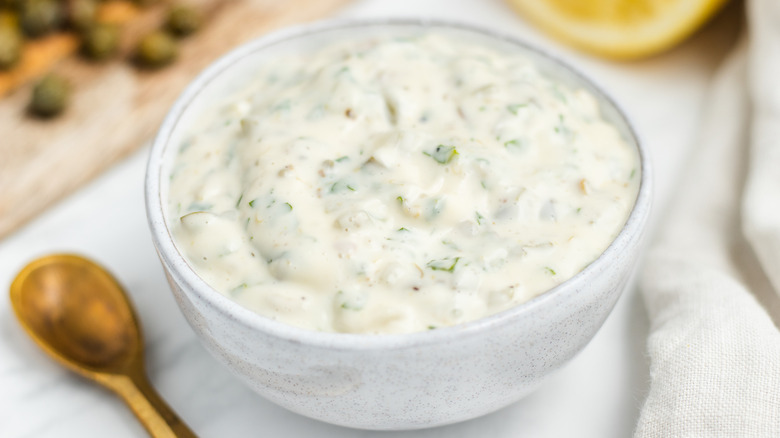 Catherine Brookes/Mashed
Just like that, you're ready to serve and enjoy the tartar sauce. Either transfer it to a serving bowl to enjoy immediately or store it in a jar in the fridge for up to a week.
As for serving suggestions, we've already stressed how fried seafood is the way to go. "In the U.K., we traditionally serve this sauce with fish and chips," Brookes notes. "It goes perfectly with crispy battered cod!" That said, there's nothing stopping you from enjoying this sauce with fresh vegetables, slathering it on a sandwich (a la McDonald's Filet-O-Fish), or even dolloping some onto a baked potato — with a sauce this good, the possibilities are endless.
Easy Tartar Sauce Recipe
Salty and sour meets rich and creamy. This simple tartar sauce is the perfect complement to fried fish, but it is just as delicious with a whole host of dishes.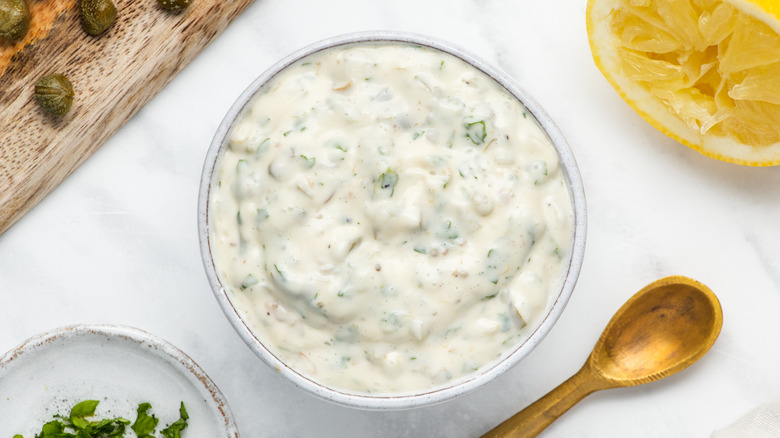 Ingredients
¾ cup mayonnaise
1 tablespoon fresh lemon juice
1 tablespoon capers
2 gherkin pickles
2 tablespoons fresh, finely chopped parsley
Optional Ingredients
salt and pepper, to taste
Directions
Finely chop the capers and pickles.
Add all ingredients to a medium bowl and mix well.
Add salt and pepper to taste.
Transfer to a serving bowl to serve immediately, or store in a sealed container in the fridge for up to up to 1 week.
Nutrition
| | |
| --- | --- |
| Calories per Serving | 204 |
| Total Fat | 22.3 g |
| Saturated Fat | 3.3 g |
| Trans Fat | 0.0 g |
| Cholesterol | 11.3 mg |
| | |
| --- | --- |
| Total Carbohydrates | 0.9 g |
| Dietary Fiber | 0.4 g |
| Total Sugars | 0.3 g |
| Sodium | 499.4 mg |
| Protein | 0.2 g |