Instagram Is Impressed With Geoffrey Zakarian's Sunday Soufflés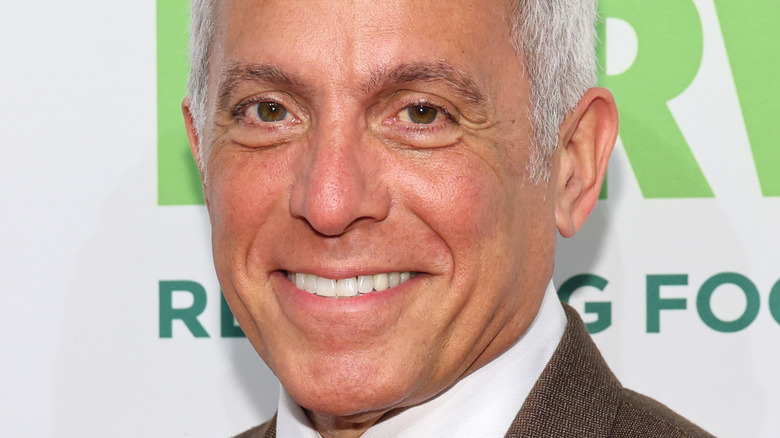 Dia Dipasupil/Getty Images
Even if you've never had a soufflé, chances are you've heard of them. Soufflés are a French dish that can be savory or sweet and are made with a base of whipped eggs that poof up and rise in the oven. A cheese soufflé is light, airy, and has a deeply umami flavor, while chocolate or Grand Marnier soufflés are popular restaurant desserts known for their fluffy texture. There are a lot of mistakes everyone makes when baking a soufflé, which gives the showy dish a reputation for fanciness and fussiness. One look at chef Geoffrey Zakarian's towering strawberry soufflés on Instagram, for instance, might scare you off of ever trying to make them yourself. Still, they look so delicious, you might be tempted.
Zakarian captioned a recent post, "Sunday Strawberry Soufflé Days," which depicts him confidently removing six ramekins filled with towering pink strawberry soufflés from his oven. Zakarian dusts each perfectly golden soufflé with powdered sugar before, we presume, serving them to a few very lucky guests. Fans in the comments of his Instagram post seemed entranced by the dessert, and some were even daring enough to want to try to make it at home.
Fans were begging GZ for his soufflé recipe
Some brave foodie fans weren't too intimated to see if they could try out GZ's strawberry soufflés for themselves. "I would love to make them! Recipe?" Inquired one fan. Luckily, Zakarian has actually dropped the recipe for his favorite dessert on Instagram reels, showing fans how to make raspberry soufflé. His strawberry version, meanwhile, is very similar and can be found on QVC. 
Even those who didn't plan on making Zakarian's soufflé recipe seemed impressed by his sky-high desserts. Fellow chef Michael Symon commented, "Just gorgeous," while "Master Chef Junior" winner Logan Guleff said, "Perfect." Comedian Chelsea Peretti asked for an invite with the question, "address?" and television star Carla Hall chimed in, "Wheeeeeee #height." With nearly 30,000 likes on his post at the time of writing, it seems like there are plenty of people who are interested in trying Zakarian's summery strawberry twist on the classic soufflé.