Wendy's App Holders Need To Know About Its Drink Freebie Deal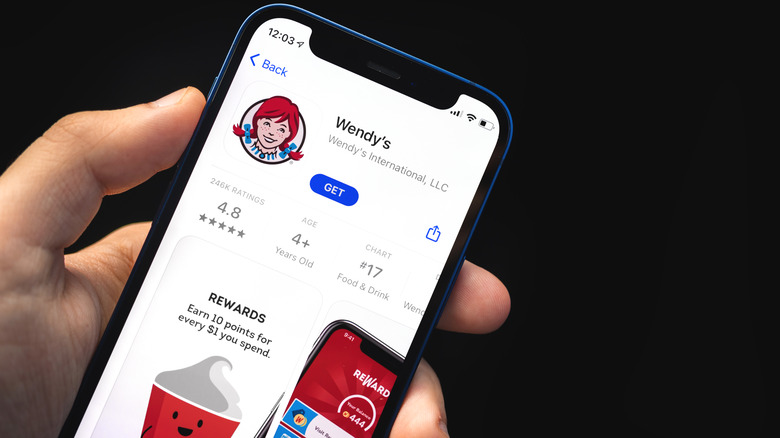 FellowNeko/Shutterstock
If you frequent a particular fast food chain, you probably have its app on your phone. Not only do these platforms allow you to order ahead so your food is ready when you arrive, but some also let you collect points for rewards programs each time you order. Perhaps the biggest perk of using a fast food chain's app, though, is the savings. In the most bizarre fast food promotion of all time, for example, the 2020 Whopper Detour deal let Burger King customers get a 1-cent Whopper when they ordered via the BK app while near a McDonald's. On the more predictable side, the McDonald's Fry-day deal of 2021 gifted customers a free medium fry with any app order over $1. Awesome, right?
Now, fellow burger chain Wendy's has an exciting new deal for its app users that's running through the end of May. While customers might already find the free drink to be a pretty sweet deal, the app offer will also be benefitting a special cause.
This Wendy's freebie benefits children in the foster care system
May is National Foster Care Month, and Wendy's is doing its part with its latest drink deal. According to Chew Boom, throughout the entire month of May, customers can get a free drink of any size with any order placed through the Wendy's app. For each free drink ordered, Dr Pepper and Coca-Cola will donate to the Dave Thomas Foundation for Adoption (DTFA), for a total donation of up to $500,000.
DTFA was founded in 1992 by Dave Thomas, the same man who opened the first Wendy's. This non-profit helps raise awareness for the foster care system and to date has aided in more than 12,000 adoptions across the U.S. One of the foundation's main programs is Wendy's Wonderful Kids (WWK), which hires adoption professionals. An evaluative study published in 2018 found that children involved in WWK are 1.7 times more likely to be adopted than those who aren't, while children with mental disabilities involved with WWK are 3 times more likely to be adopted.