Spicy Mayo For Sushi Recipe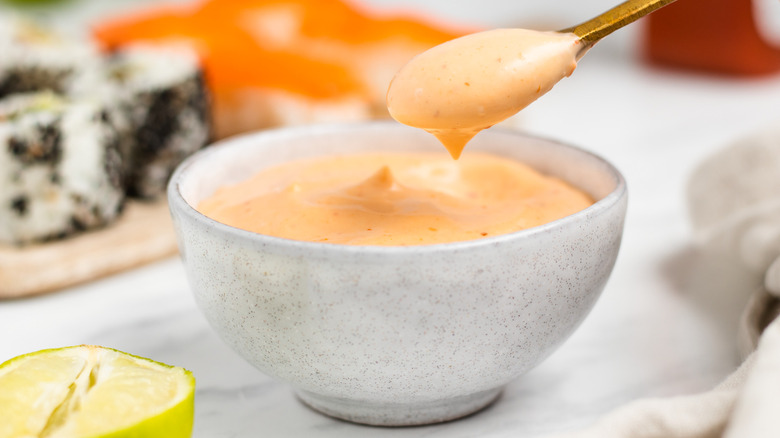 Catherine Brookes/Mashed
If you're looking for the perfect sauce to drizzle on sushi, you can't go wrong with spicy mayo. Sure, soy sauce and wasabi are great additions to a bite of sushi (and are perhaps more traditional), but we're talking about the sauce that you slather right on top of the roll, offering a pop of color. You want a bit of creaminess, you want some saltiness, and you definitely want a little spice. Spicy mayo will deliver on all three. Whether you've bought a simple California roll from the grocery store for lunch or you made a homemade tuna roll, this spicy mayo recipe will help bring those flavors to life. 
Recipe developer Catherine Brookes of Blue Sky Eating crafted this recipe, and she loves how easy it is to make it in your own kitchen. "The best thing about this sauce has to be how totally easy it is to whip up," she raves. "[It takes] just three basic ingredients that you most likely already have in your fridge [or] cupboards." No one likes bland sushi, so do yourself a favor and elevate your favorite roll with this spicy mayo, pronto! 
Gather the ingredients for spicy mayo for sushi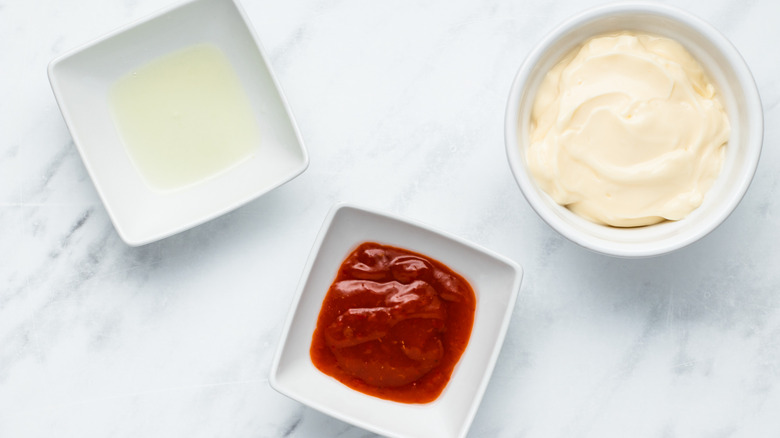 Catherine Brookes/Mashed
As Brookes mentioned, this recipe requires only three ingredients, and it's very possible that you won't have to venture out to a grocery store to acquire them. To make spicy mayo, all you need is mayonnaise (duh), Sriracha, and (preferably fresh) lime juice.
Whisk the ingredients together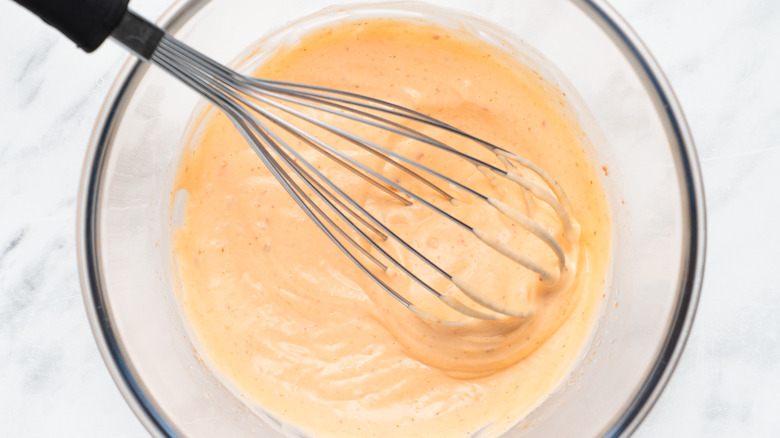 Catherine Brookes/Mashed
This may not come as a surprise, but the only step in this recipe is to simply mix the three ingredients — mayo, sriracha, and lime juice — together in a bowl. That's all it takes! Do use a whisk to ensure everything comes together evenly, but there isn't a special trick other than that. 
Serve and store your spicy mayo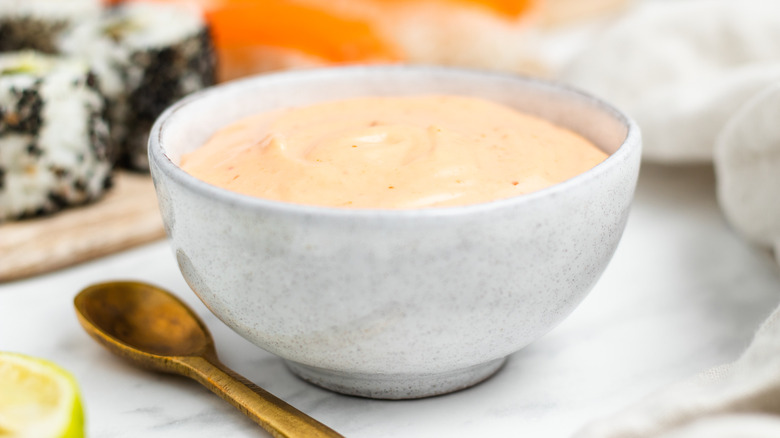 Catherine Brookes/Mashed
Once you've mixed all of the ingredients together, you're ready to serve (or store) the spicy mayo. If you want to serve it with sushi, Brookes has a couple of recommendations: "My favorite has [to be with] salmon and avocado rolls," she says.
And, if you thought that you could only enjoy spicy mayo with sushi, you'd be sorely mistaken. There are a number of ways that you could enjoy this sauce, and the simplest option, according to Brookes, is "in a sandwich with cold meats," as you would with regular mayo. "I think it would also be great for dipping chips [or fries] into," she adds. But why stop there? Use this spicy mayo as a dip for fresh vegetables or drizzle it onto some ramen.
As for leftovers, you can store this sauce in the fridge for up to a month, so you can rest easy knowing that your sushi rolls have a flavorful companion waiting for them at home.  
Spicy Mayo For Sushi Recipe
This creamy condiment comes together with just three ingredients, offering a spicy, tangy, and salty punch to sushi — and a whole lot of other foods.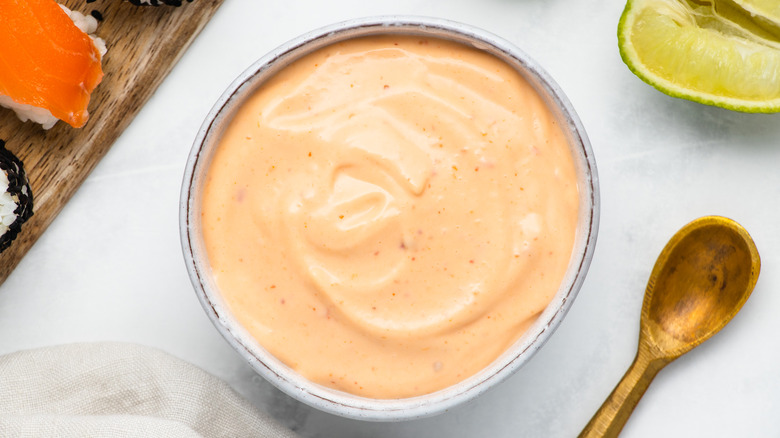 Ingredients
½ cup mayonnaise
1 ½ tablespoons Sriracha, or more to taste
2 teaspoons fresh lime juice
Directions
Add the mayonnaise, sriracha, and lime juice to a mixing bowl.
Whisk the ingredients together.
Transfer the spicy mayo to a serving bowl or container with a lid.
Spicy mayo will keep in the fridge, kept in a sealed container, for up to 1 month.
Nutrition
| | |
| --- | --- |
| Calories per Serving | 134 |
| Total Fat | 14.8 g |
| Saturated Fat | 2.2 g |
| Trans Fat | 0.0 g |
| Cholesterol | 7.5 mg |
| | |
| --- | --- |
| Total Carbohydrates | 0.2 g |
| Dietary Fiber | 0.0 g |
| Total Sugars | 0.1 g |
| Sodium | 204.3 mg |
| Protein | 0.0 g |