The Secret Ingredient That Will Upgrade Your Instant Mashed Potatoes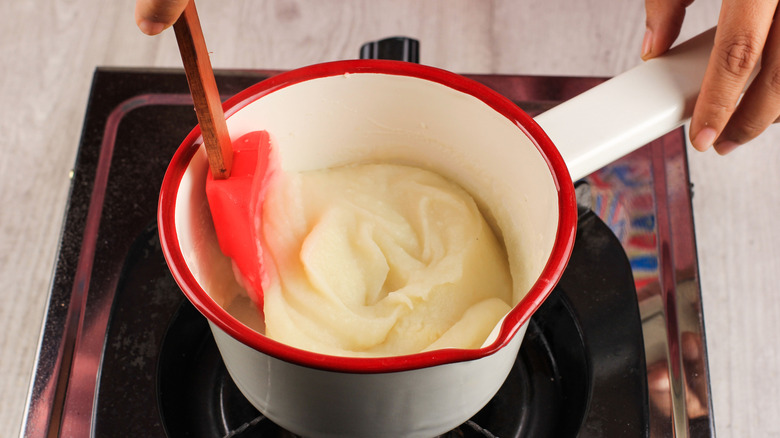 Ika Rahma H/Shutterstock
Mashed potatoes are a versatile side dish. They can pair with anything — from fried chicken to pot roast — and can be topped with anything including gravy, cheese, and bacon. They're also a key component in completing a hearty shepherd's pie. However, as easy as mashed potatoes are to make, we live in a busy world, and sometimes convenience comes first. That's why instant mashed potatoes are there to the rescue.
The first version of instant mashed potatoes was introduced in 1952 (and produced commercially in 1955) by the RT French Company, although Canadian-Dutch research scientist Edward Asselbergs would later invent dehydrated potato flakes in 1962 (via GourmetSleuth). From there, brands such as Hungry Jack's and Idahoan capitalized on the public's desire for creamy, fluffy, and buttery mashed potatoes at a moment's notice. In fact, some fast food employees (including a worker at KFC, per Newsweek) revealed that their mashed potatoes come from a simple instant potato mix.
Though, sometimes, those instant mashed potatoes may not be the same as the real deal. This isn't to say instant potatoes are inherently bad, but maybe you want to jazz them up a bit and give them a flavor of their own. Fortunately, there's one very simple secret ingredient you can add that'll give your instant potatoes that sought-after homemade taste.
This one trick will make your mashed potatoes extra creamy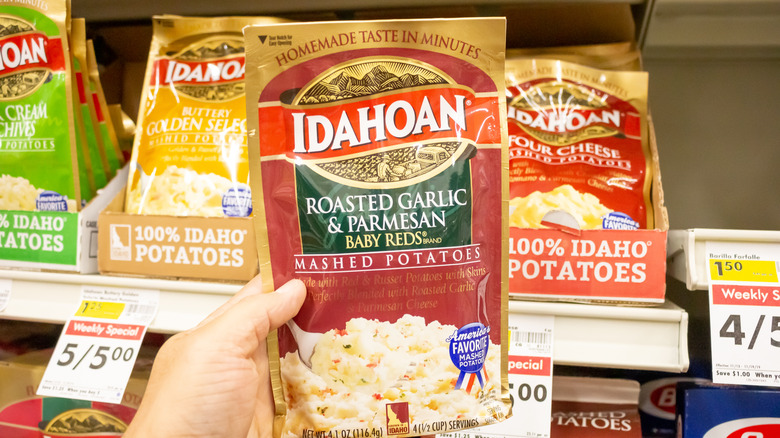 The Image Party/Shutterstock
Most of the time, instant potato recipes will tell you to simply add the package of potato flakes to boiling water. According to RealSimple, you should instead substitute water for a dairy product, such as milk, half-and-half, or even buttermilk. The addition of milk will bring richness to the spuds, making them creamier and smoother instead of a water base. 
For those who are lactose intolerant, or simply don't have enough milk to spare at the moment, RealSimple suggests adding chicken broth instead. This will give the potatoes a much more complex flavor as well, so trust your palate on how much you'll need. 
If you're feeling a little adventurous, Tablespoon suggests adding spices, herbs, and other mix-ins to help reduce the chances of getting any bland potatoes. These mix-ins can include ranch dressing mix, garlic powder, and even ramen noodle seasoning. Get creative with your taters.