Marcus Samuelsson's Unique Connection To The Met Gala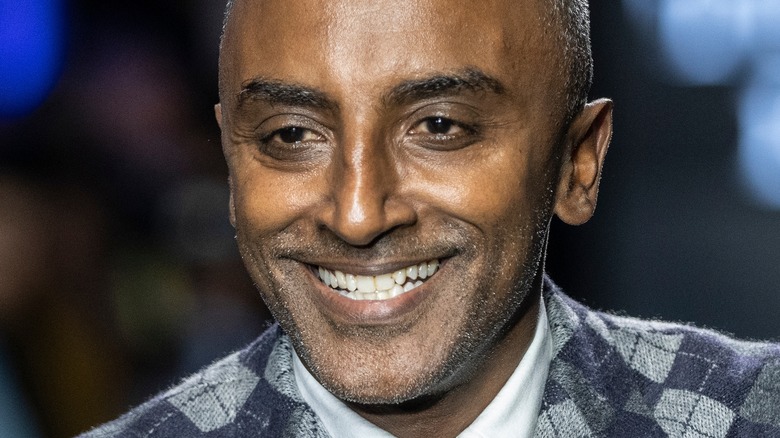 lev radin/Shutterstock
Fans of Marcus Salmuelsson most likely know him because of his cooking career. Not only is Samuelsson the chef at his succesful Red Rooster restaurant in Harlem, but he's also a James Beard Award-winning cookbook author and has appeared on shows like "Chopped," "Iron Chef," and more. What fans may not know, however, is that he's also passionate about fashion. He's been featured in The New York Times "What I Wore" column, and in 2013, he told GQ, "I dress sort of the story of my life...for me, dressing is really an extension of who I am and what I do." Samuelsson once also said, "I think you should dress yourself like you would create a recipe" (via StyleCaster). His recent appearance at the Met Gala proved just how much the worlds of food and fashioned are entwined for the chef.
This wasn't the first time Samuelsson has attended the Met Gala, but this year, he had a hand in orchestrating the event. In an Instagram post featuring himself and his wife, Maya Haile, dressed in their "Gilded Glamor" looks for the theme, Samuelsson revealed that he helped select the three chefs who created the event's menu. The Food Network star said that he wanted the menu to "represent the rich diversity of American cooking in 2022," tagging chefs Melissa King, Amirah Kassem, and Lauren Von Der Pool.
Fans couldn't get over the fashion or food
The Samulessons' glamorous outfits, which were put together by stylist Stacey Jordan, garnered a lot of positive attention from fans in the comments of the chef's post. Fans told the duo they looked gorgeous, stunning, and "fine as wine," while others hailed them as "king and queen." Even "Top Chef" star Gail Simmons couldn't contain her excitement: "You two!!" she exclaimed, adding a few heart emojis at the end for emphasis.
In a second post, Samuelsson showed off the different dishes offered at the gala, and one fan called the plating "beautiful." The food pictured certainly looks special- occasion-worthy — this year's Met Gala menu included plant-based spins on ceviche, a hamachi crudo with Sichuan chili, Samuelsson's own take on barbecue, and a dessert of chocolate cake shaped like a teacup. It sounds like the meal was a blend of fashion and flavor, which is straight out of Samuelsson's playbook.