Why Hot Ones Was Just Nominated For An Emmy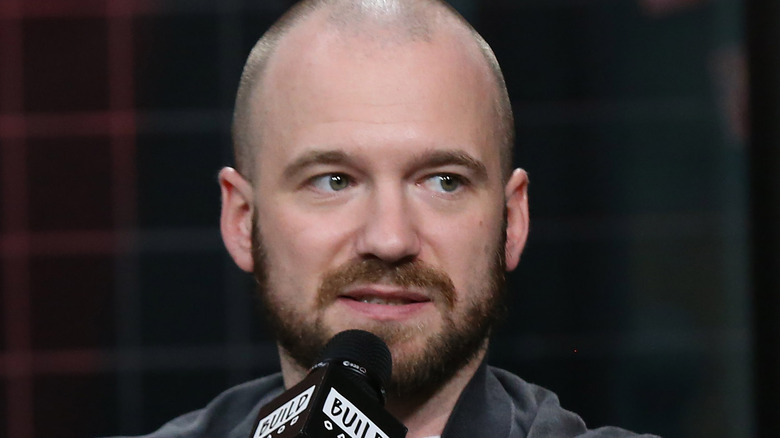 Bennett Raglin/Getty Images
When the 49th annual Daytime Emmy Awards were announced, Sean Evans felt the heat rising not just from his loyal fans, but also from the National Academy of Television Arts and Sciences. According to Deadline, "Hot Ones" was nominated for a Daytime Emmy in the Outstanding Entertainment Talk Show category. The Complex Networks show is competing against "The Drew Barrymore Show," "The Kelly Clarkson Show," "Live with Kelly and Ryan," and "Today Show with Hoda & Jenna." While the competition is fierce, only one show can tout celebrities revealing their personal thoughts as tears stream down their face because of the burning sensation in their mouth.
This year's nomination marks the second time the spicy show has received such a prestigious accolade. Although the show did not win in 2021, it prompted Sean Evans to tweet "I got nominated for an Emmy WTF!?" This year's Instagram post was a little more reserved, but fans' responses were on fire. From Drew Barrymore saying "I am so happy for you guys!" to David Chang saying "I told you," many people seem to be rooting for the non-traditional celebrity interview program to succeed. Or maybe, people just enjoy that moment of schadenfreude when they see celebrities choosing to punish themselves with extremely spicy chicken wings.
What makes Hot Ones a compelling interview show?
Touted as "the show with hot questions and even hotter wings," "Hot Ones" is far from the traditional celebrity interview where a host gushes over a star's current project. Yes, it has its PR moments, but the premise allows host Sean Evans the opportunity to dig deeper than his celebrity guest's latest blockbuster. This YouTube show holds celebrities to the proverbial (and sort of literal) fire in a way you don't typically see on shows dedicated to interviewing stars.
A recent Eater article took a deep dive into why "Hot Ones" has such a loyal following among fans and celebrities alike. The show is more than stunt journalism or shock television; as it turns out, the premise of eating increasingly spicy wings goes hand-in-hand with asking and answering thoughtful questions. The hotter the wings get, the more likely a celebrity will reveal their personal, vulnerable, and relatable side. While capsaicin might not be truth serum, "Hot Ones" proves that rising Scoville levels can have the power to make celebrities lose their filter and reveal hidden truths that fans are hungry to devour.