Gordon Ramsay Just Expanded His Restaurant Empire Into New York's Epicenter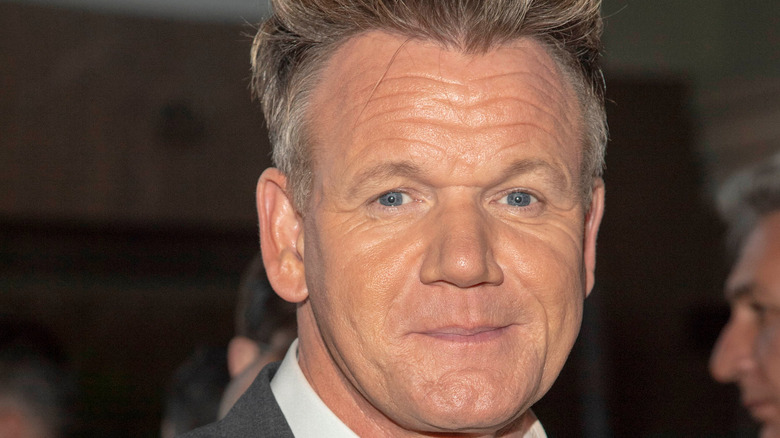 Eugene Powers/Shutterstock
Is there anything more New York than fish and chips? Well, some people might argue that pizza, bagels, a Gray's Papaya hot dog, The Halal Guys' halal cart chicken, or even a bag of honey roasted peanuts from a street vendor are decidedly more "New York" than fish and chips, but don't tell that to Gordon Ramsay. The British chef and media personality just announced that he's expanding his fish and chips concept restaurant, Gordon Ramsay Fish & Chips, by opening up a brand new location in Times Square (via Eater).
This isn't Ramsay's first fish and chips restaurant. He has two others, one in Orlando and one in Las Vegas. Those are both touristy cities, and Times Square is definitely a tourist hot spot, so it seems like it's vacationers he's after. "I love the vibrance, the energy of Times Square, and the convergence of locals and visitors from around the world," Ramsay said of his latest venture (via AM New York). It will be Ramsay's first location of the brand in New York — currently, his closest restaurants to NYC are in Atlantic City and Boston. So, what can travelers to the Big Apple and residents of the city expect when they walk through the doors of Gordon Ramsay Fish & Chips upon opening?
What is Gordon Ramsay Fish & Chips like?
Gordon Ramsay's two other Fish & Chips restaurants both share much in common, though they're located on opposite ends of the country. They're fast casual restaurants that offer dine-in and to-go ordering, and both feature menus loaded with "Ramsay's take on British-style fish & chips," according to the chef's website (via Gordon Ramsay Restaurants). That includes the chain's signature custard powder batter.
If the Times Square location is like the others, hungry fans should expect to dine on options like a Lobster & Shrimp combo platter that stars crispy fried crustaceans, plus french fries (or chips, as Ramsay would say), and a crispy cod Fishwich wrapped in naan bread. As for sauces, diners can choose from options like Gordon's Tartar and Curry & Mango. We'll be interested to see if Ramsay adds any New York-style items to his menu when the new location opens. As for the launch date, so far there's no word on when the new location will be ready for business, so in the meantime, fans might have to try Gordon Ramsay's fish & chips recipe to quell their cravings.