Why Remembering Anthony Bourdain Is So Emotional For Andrew Zimmern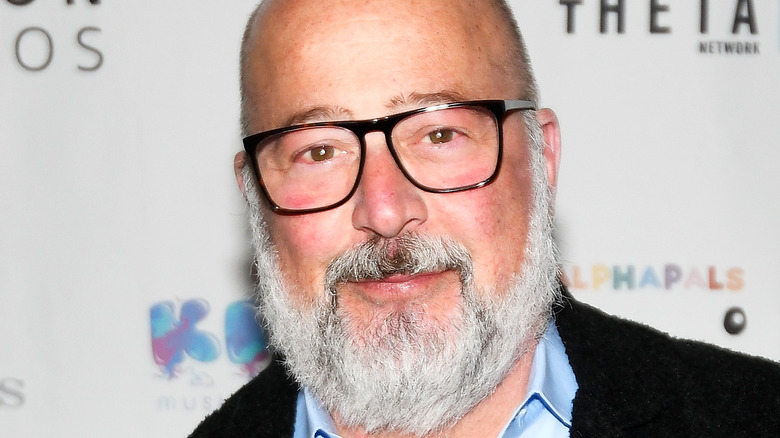 Alex Goodlett/Getty Images
Anthony Bourdain's death shocked the world four years ago and left his family, friends, colleagues, and legions of fans reeling. And while many false facts have surfaced about his death, the truth according to those who knew him was that he was, by many accounts, charming, charismatic, generous, and funny. He was larger than life and yet managed to be down to earth at the same time. Per Times of India, Laurie Woolever, his assistant of 10 years, says that people loved Bourdain because he came up through the ranks in restaurant kitchens before becoming a high-profile chef, best-selling author, and beloved TV/media star. That made him "relatable to the everyman in a way that many of his TV colleagues were not," Woolever stated.
Chef, writer, and TV personality Andrew Zimmern opened up about his relationship with Bourdain and the tragic loss of his longtime friend (and one-time rival) when he left this world too soon. "I think Tony's legacy is immeasurable," the "Bizarre Foods" star told Eater at the time. "He was not derivative; he was original," Zimmern shared. 
During an "Ask Me Anything" thread on Twitter in April, Zimmern fielded questions about his memories of Bourdain and on "Andrew Zimmern's Spilled Milk," a weekly Substack newsletter, Zimmern opened up about his dear friend once again.
Zimmern and Bourdain shared food, fatherhood, 'free-floating anxiety'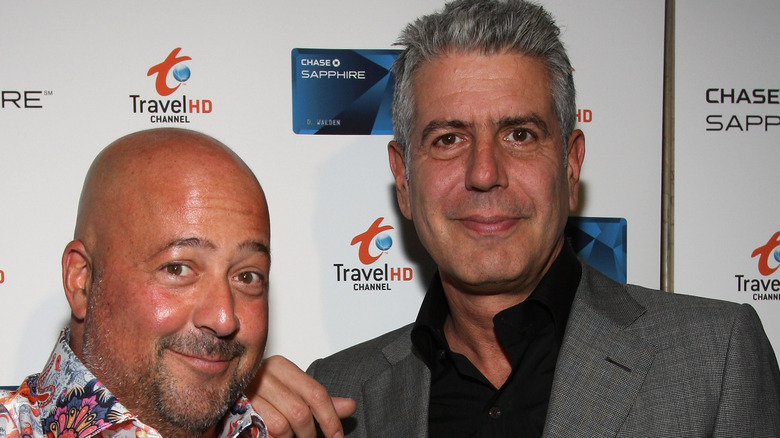 Ben Hider/Getty Images
In his tenth "Ask Me Anything" video Q&A, Zimmern responded to a subscriber named Robin, who asked Zimmern to share a cherished memory "of time you spent with him and how he influenced your life going forward."
Zimmern opened his reply by noting that Bourdain is remembered immediately for his dynamic personality and for his energy, which captivated everyone around him. Going on, Zimmern calls the "No Reservations" star smart, entertaining, and says he moved through life with insatiable curiosity. "So many great memories," he shares.
He then recounts a story of being home with his son watching reruns of "No Reservations." His son had previously met Bourdain at a food festival and became an instant fan. The phone rings and it's Bourdain, calling from home where he and his daughter are watching a "Bizarre Foods" marathon on TV. The men were struck by the fact their kids wanted to watch the other Dad on TV.
But Zimmern says the most "impactful" memories stem from the "identical lives" the two chefs lived, despite being so different, from world travel, long stretches away from home, fathers to an only child, and even the same kind of anxiety. Zimmern shares, "We had a lot of the same angst, ennui, and free-floating anxiety, I'll just put it to you that way. Great man, great, great man."
If you or anyone you know is having suicidal thoughts, please call the National Suicide Prevention Lifeline​ at​ 1-800-273-TALK (8255)​.