Herbed Rib Eye Roast Recipe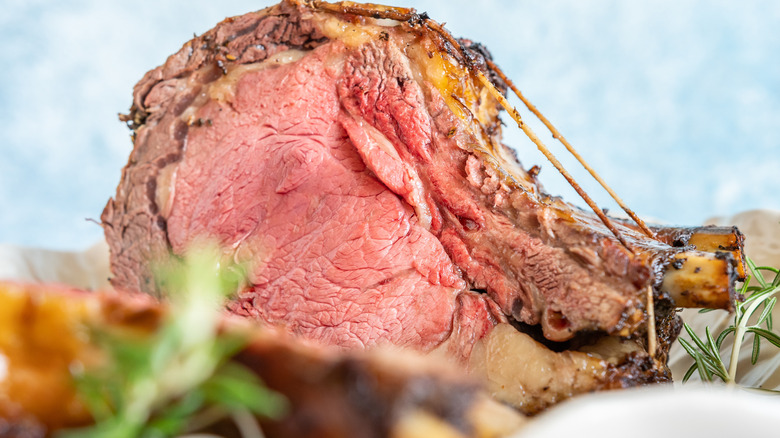 Petar Marshall/Mashed
A rib eye steak comes from the outer side of a cow's ribs and it has unique marbling, making it deliciously tender and juicy, according to Omaha Steaks. With that, it's no wonder steak lovers choose the cut time and time again. But a rib eye roast means there's that much more meat to it.
"A rib eye roast is the equivalent to several steaks," says recipe developer and food photographer Petar Marshall. "It's a beautiful cut of meat, and it makes a statement on the table." Rib eye roasts are popular for special occasions and holidays such as Easter or Christmas, but it can be enjoyed for a nice meal at any time of year. And Marshall is here to walk through just how to make it at home.
While it may look intimidating, this cut of meat can be mastered with a few easy prep steps. Marshall's roast recipe combines herbaceous flavors from fresh rosemary and thyme, paired with plenty of butter, to create a delicious exterior coating on the meat and a tasty, tender bite with every cut.
Gather the ingredients to make an herbed rib eye roast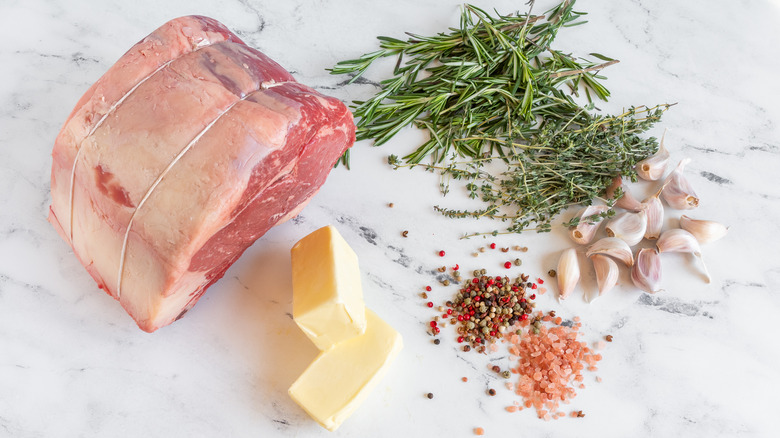 Petar Marshall/Mashed
To get started on making this herbed rib eye roast, grab all of your ingredients ahead of time. You'll need one rib eye roast, two sticks of butter, one whole nugget of garlic, fresh rosemary, fresh thyme, salt, and pepper. "I like to use freshly cracked pepper and pink Himalayan salt for my roasts," says Marshall. "But any salt and pepper will do." 
Mince the herbs and garlic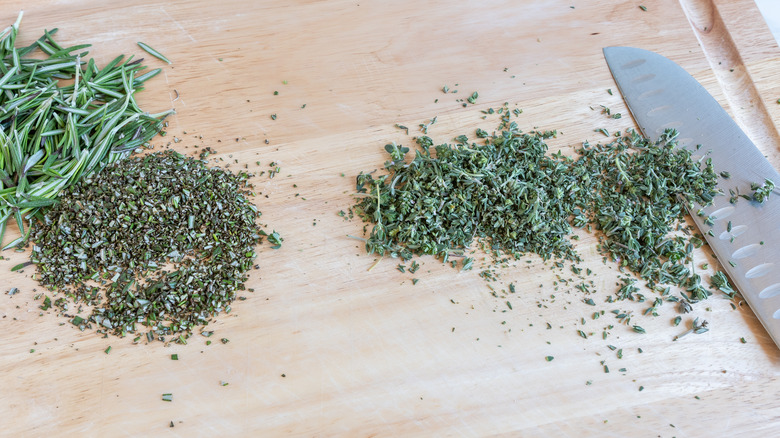 Petar Marshall/Mashed
To get started on making this roast, preheat the oven to 400 F. Then, prep your herbs and garlic. Use a sharp knife to finely mince the thyme and rosemary. Mince up the garlic as well. 
"The secret to this recipe is all in the herbed butter," says Marshall. "Using fresh rosemary and fresh thyme will create that much more flavor, in comparison to dried rosemary or thyme."
Make the herbed butter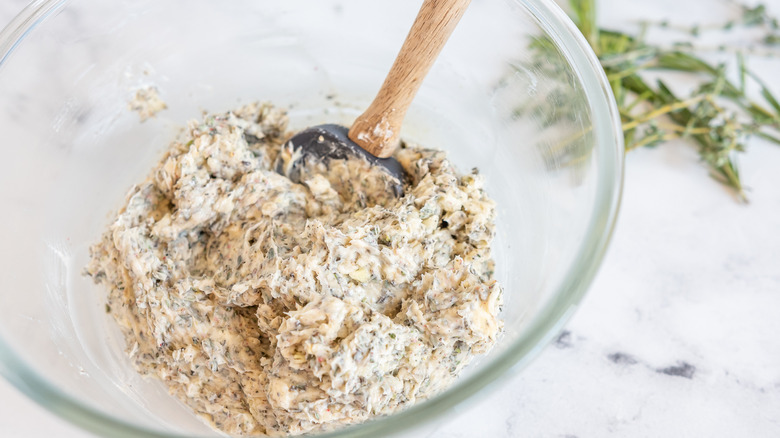 Petar Marshall/Mashed
With the herbs minced, it's time to make the butter. Put the butter in a mixing bowl and break it up with a spatula or wooden spoon. Mix in the minced herbs and garlic. Add in the salt and pepper, to taste, and stir to combine. 
Cover the roast in butter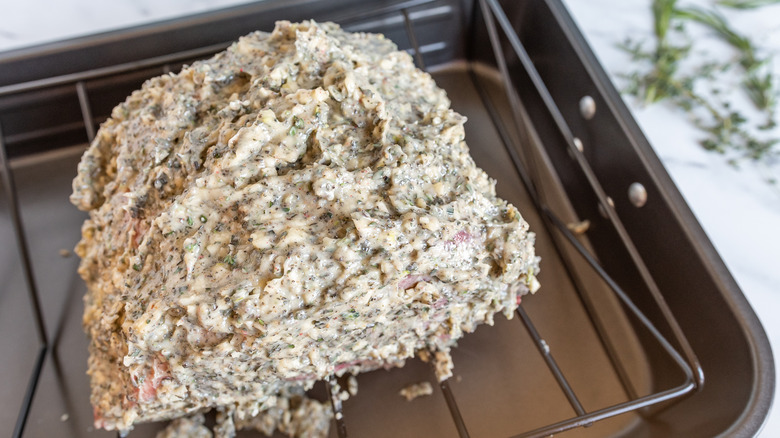 Petar Marshall/Mashed
Use your hands or a spatula to rub the meat with the herbed butter. "You want it all over the roast, creating a thick layer," says Marshall. Transfer the prepared roast to a roasting pan and place it in the oven. Cook the roast at 400 F for 1 hour. 
Let the roast rest before serving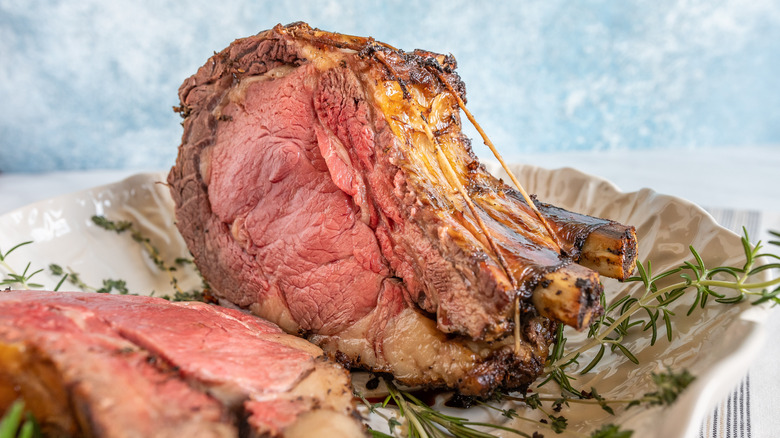 Petar Marshall/Mashed
After an hour of roasting time, turn the heat off in the oven. Keep the roast in the hot oven, and allow it to rest for 1 hour. 
Once the full 2 hours has passed, remove the roast to serve. Serve it on a platter and garnish the plate with additional sprigs of rosemary and thyme. 
Herbed Rib Eye Roast Recipe
If you're looking to make a rib eye roast, this herb-infused recipe will yield a flavorful and tender result!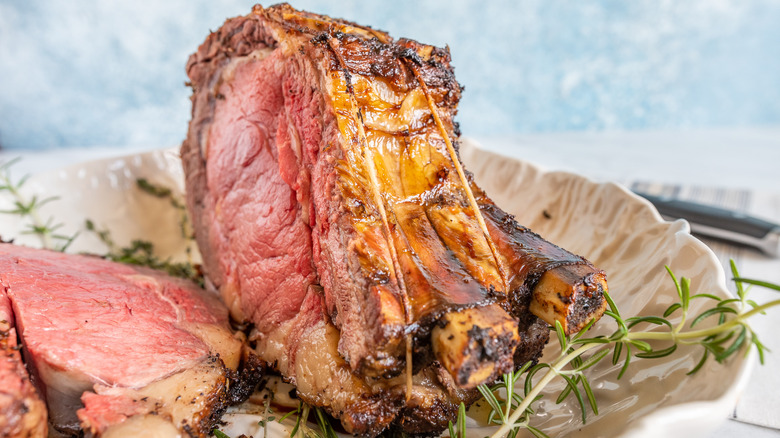 Ingredients
1 (6-pound) ribeye roast
2 sticks butter, softened
1 whole nugget garlic, minced
1 container fresh rosemary
1 container fresh thyme
salt, to taste
pepper, to taste
Directions
Preheat the oven to 400 F. Remove the roast from its packaging. Do not remove the twine.
Prepare the rosemary and thyme for the herb butter. Finely mince the herbs.
In a mixing bowl, add the sticks of softened butter. Use a spatula to break up the butter. Mix in the herbs and minced garlic, along with salt and pepper to taste.
With your hands or a spatula, rub the butter all over the roast. Set it in a roasting pan.
Roast the meat for 1 hour. Turn the heat off, and allow the roast to rest in the oven for 1 hour.
Nutrition
| | |
| --- | --- |
| Calories per Serving | 1,429 |
| Total Fat | 121.2 g |
| Saturated Fat | 59.0 g |
| Trans Fat | 6.9 g |
| Cholesterol | 389.4 mg |
| | |
| --- | --- |
| Total Carbohydrates | 2.6 g |
| Dietary Fiber | 0.6 g |
| Total Sugars | 0.1 g |
| Sodium | 1,158.3 mg |
| Protein | 84.2 g |