How To Enhance Store-Bought BBQ Sauce, According To Bobby Flay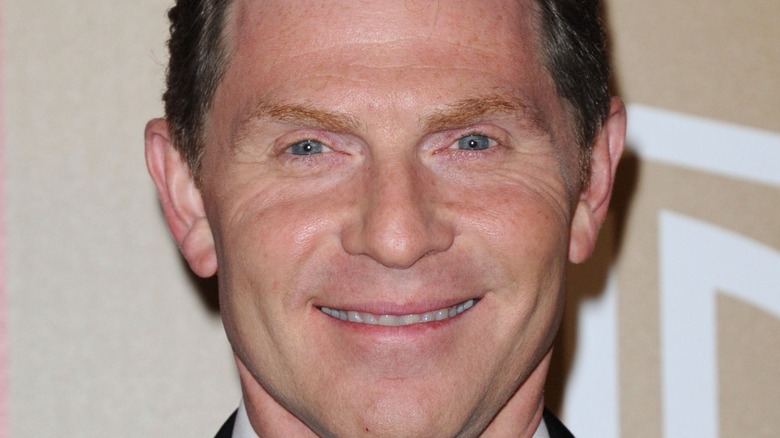 DFree/Shutterstock
Nothing jazzes up a bland dish like a squirt of your favorite barbecue sauce. Whether your burger needs a boost or your wings lack flavor, the sauce works as a convenient condiment that you can keep on hand for emergencies.
When it comes to bbq sauce, no one's whipped up more batches than Bobby Flay. The celebrity chef is a team captain on the popular show "BBQ Brawl," according to the Food Network. He's also starred in a smattering of shows on the television network, including "Beat Bobby Flay," "Brunch at Bobby's," and "Throwdown With Bobby Flay," Flay is a guru in the realm of grilling and a household name in the culinary world. With decades of experience under his belt, there are few people who would say Bobby Flay can't cook. Flay dropped some knowledge on his fans via Twitter, giving away his secret to making a store-bought barbecue sauce taste like it was created by a grill master.
Bobby Flay's secret sauce
Bobby Flay revealed his method for amplifying store-bought barbecue sauce in a video clip tweeted by Food Network. In the video, he recommended starting with a high-quality sauce and said to stick with a traditional variety with a tomato base that can be found in any grocery store. Then, he brings the sauce to a simmer and reveals that the secret to the perfect semi-homemade sauce comes down to three ingredients that ramp up the flavor.
The first thing he adds is Worcestershire sauce, a common ingredient in most bbq sauces you can find on the shelf. A few splashes will bring out the "umami" flavor. After that, Flay adds a kick to the sauce with chipotle pepper puree. This will enhance the bbq sauce with a smokey element and give the impression that you prepared smoked sauce. Then, Flay said, an acidic ingredient is necessary to balance out the flavor. He adds lime juice, but vinegar will work if you don't have any.
Once those ingredients are incorporated, Flay simmers the sauce for 10-15 minutes, and the result is a barbecue sauce that tastes homemade but requires roughly half the time and effort.