Gatorade VP Explains How Propel Fitness Water Has Changed Since You Were A Kid - Exclusive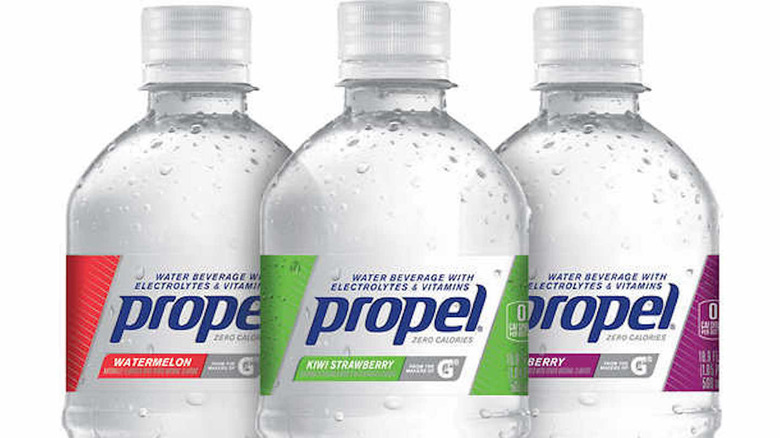 Gatorade/Propel
Working out doesn't have to be all work and no play. Why not enjoy your exercise regimen, from the first movements to the final stretch, and the hydration in between? That's certainly Propel's attitude about it. "We really believe Propel is about empowering exercisers, both in body and in mind," said Anuj Bhasin, VP of Gatorade Fitness Brands (which includes Propel). That attitude is exactly what has launched the 20-year-old brand to success. You may remember the classic blue bottles of Propel that so many of us had stocked in our fridge growing up. The brand has come a long way since then, and not just when it comes to the logo design. In an era where enhanced fitness waters are a dime a dozen, Propel is "so excited about its success" as it enjoys "its seventh year of consecutive double-digit growth."
So what's Propel's secret? It lies in the brand's commitment to innovation and increasing inclusivity. "We want the brand to be for anyone who's passionate about exercise ... [a] brand that brings a really positive spirit to our consumers," said Bhasin. And Propel has continued to evolve in an effort to achieve that goal. In an exclusive interview, the brand executive explained exactly how Propel has changed since you were a kid, evolving from merely a tasty, nostalgic water beverage to a trendy, holistic fitness aid.
Propel keeps evolving to be the fitness water of your dreams
Propel may be just one fitness water brand among the many that you'll find on grocery store shelves, but the brand has grown and changed a lot since the days it was setting trends for flavored water. "Propel has really evolved from when it launched to become a leader in not just functional fitness solutions, but also in developing broader wellness solutions for exercisers," says brand VP Anuj Bhasin.
That starts with the most optimal fitness formula. Propel is proud to "offer our consumers a product that's specifically formulated for fitness, to help them get the most out of their active lives, and out of their workouts," said Bhasin. Specifically, he noted that "Propel is the only fitness water that has a Gatorade level of electrolytes ... to help you replace what you lose in sweat." Basically, Propel aims to give exercisers "everything that they need, and nothing that they don't, when they're working out ... while also delivering an incredibly great tasting product."
With a winning formula in place, Propel has continued to look for ways to expand their product offerings. "We've been extending the brand and innovation to more holistically help exercises, and we've moved into adding an immune support lineup with vitamin C and zinc," Bhasin told Mashed. He added that Propel has recently "launched a one-liter [bottle]," and is also "really pushing hard into the on-the-go space with powder." No matter what form or flavor you prefer, Propel is here to help you get the most out of your movement.
Visit PropelYourJOWO.com to learn more about Propel's campaign, and to find information about how to enter Propel's #ShowYourJOWO TikTok challenge for a chance to win $10,000.