Stoli Wants You To Raise A Glass To Cocktails For Ukraine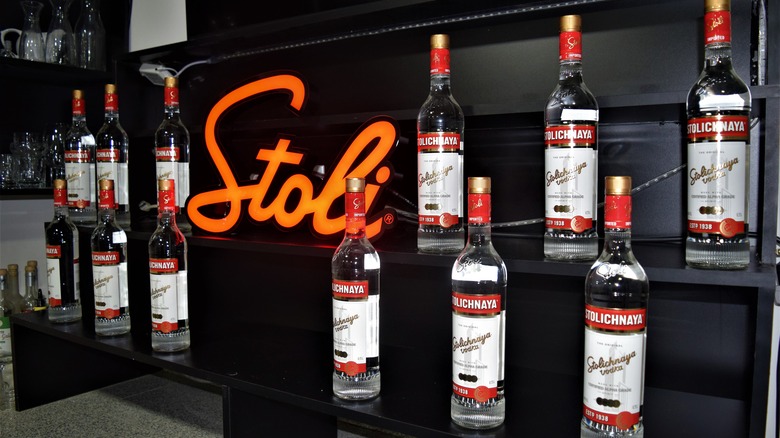 ScarletRE/Shutterstock
Break out the martini glasses and cocktail shakers because Stoli Vodka and Chef José Andrés are showing their yellow and blue in support of Ukraine. Per a press release, the makers of Stoli created a limited-edition vodka bottle to support Ukraine with proceeds being donated to Andrés' non-profit, World Central Kitchen. If you are unfamiliar with the work of WCK, the organization's mission is to serve chef-made meals to people and communities who are serving their country, like the military who were guarding the U.S. Capitol during Joe Biden's swearing in (via U.S. Veterans Magazine), or those affected by natural disasters or humanitarian crises. 
According to Eater, the genesis of the nonprofit can be traced back to when Andres visited the region of Haiti devastated by an earthquake in 2010. He worked with another organization to create better cooking and living conditions for this country, and found the work so satisfying, he eventually created the World Central Kitchen to meet some of the most basic needs of people around the world and at home in the U.S. The nonprofit's site notes they've served over 70 million meals, 6 million of which have been served up in Ukraine, Poland, Moldova, Hungary, Romania, Slovakia, and Spain.
Fast-forward to Russia's invasion of Ukraine, and Andres is working to help those fleeing this war-torn region. Enter the partnership with Stoli. 
Cocktails for a cause
The limited edition vodka bottle is expected to raise $1 million for Chef Andres and his organization by August 24, which just so happens to coincide with the Independence Day of Ukraine. This holiday, established in 1991, marks the country's freedom after 70 years of being part of the Soviet Union (via EuroNews). Stoli's bottle uses the colors of Ukrainian national flag, along with a dove carrying an olive branch, the symbol of peace. Additionally there is a hashtag scrolled across the bottle that reads: #LiberateUkraine. But that's not all the newly rebranded vodka company is doing to raise relief funds. 
According to Stoli's announcement they are also launching what they refer to as a charitable cocktail program called "Cocktails for Ukraine." This cocktail for a cause program is reaching out to bars and restaurants asking them to participate by gifting World Central Kitchen $1 for every drink that is ordered and made with Stoli vodka. So, if you are planning to have a cosmopolitan or clinking dirty martinis with buddies at your next happy hour, you may want to see if your bar of choice is participating.
However, if you prefer to make your drinks in the privacy of your own home, you can play mixologist by purchasing the brightly colored bottle at select stores in the United States. You can also donate directly to the organization through their website.