A Trader Joe's Dessert Board Has Become Eye Candy For Redditors
Dessert charcuterie boards are trending, providing a fun way to experiment with food and offering a variety of treats that those of us with a sweet tooth can appreciate (via Better Homes & Gardens). Unlike traditional charcuterie boards that typically contain foods such as cold cuts, cheese, crackers, and nuts, dessert boards employ the same idea but use items such as cookies, cakes, and chocolates, which can be "homemade, semi-homemade, store-bought, or a mix of both" (per Easy and Delish). 
These sweet and decadent boards might be ideal for festive occasions such as Valentine's Day, Christmas, or potluck dinners, and it's exactly what one Redditor made "for a friend's birthday party." This perfectly put-together dessert board consists of Trader Joe's products that are neatly arranged in a wide-rimmed tray. The colorful arrangement has become eye candy for Reddit users, and the top-rated commenter dared to say that dessert boards are much better than traditional charcuterie boards, following it up with a bunch of heart-eye emojis. We might just agree.
Redditors want all the details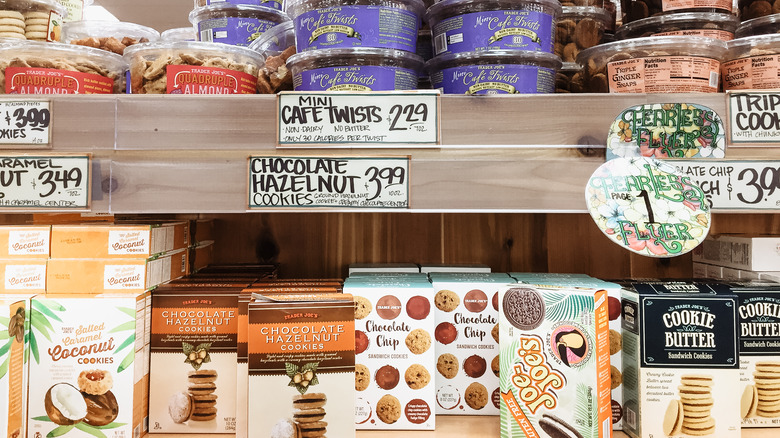 Corinna Haselmayer/Shutterstock
Many who posted to the thread were interested in getting the list of Trader Joe's items used in the dessert board. The original poster responded with: "Black and white cookies, chocolate ganache cake, brownie bites, peanut butter coated cocoa marshmallows, chocolate-covered peanut butter pretzels, dark chocolate mints, Ritter Sport with hazelnuts, toffee pretzels, (and) sea salt caramel balls." There are also some holiday leftovers such as mint meringues, as well as fresh fruit such as strawberries, blackberries, raspberries, and red cherries.
One Redditor thought that the board was so nice that it could easily be a part of their wedding. Others wanted to know how much it cost in its entirety. The original poster guessed that the cost would be "about $60" if making it from scratch. However, if you already have some of the items at home, it won't cost nearly as much.
According to Reluctant Entertainer, who had already made dessert boards with Trader Joe's items, making a sweet board is not that hard — it "comes together quickly with easy pantry items," so there's nothing to stop you from making one yourself. And if you're up for a challenge, a list of the best desserts you've never heard of will probably help you in the quest to create a unique dessert board.