Costco Shoppers Can't Get Enough Of This Fan-Favorite Chocolate Treat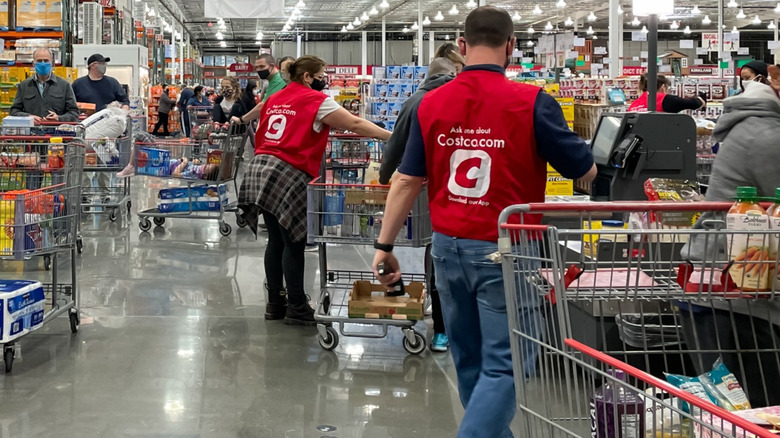 Jiujiuer/Shutterstock
When you are having a rough day, sometimes it can help to have a little pick-me-up to boost you out of your rut. For many people, the best afternoon pick-me-up is their favorite snack. And many Costco shoppers were recently delighted to find out that their favorite sweet pick-me-up is back on store shelves. The brand's fan-favorite Kirkland dark chocolate coconut cashews have recently made their reappearance, and quite a few fans are excited to find that this tasty snack has returned.
Each roasted cashew is coated with sweet vanilla creme and then layered with rich dark chocolate before being rolled in a layer of toasted coconut for the finishing touch (via Vitacart). This snack delivers a rich, coconut flavor that some people find reminiscent of a Samoa cookie, and many Costco shoppers just can't get enough. One shopper was so excited about the return of the flavorful treat that they made an Instagram post celebrating their arrival. "Dark chocolate toasted cashews!" @costco_doesitagain captioned a picture of the popular treat.
Fans online are raving about the cashews' return
Costco fans online are incredibly excited about the return of these "so good" snacks. "These are amazing. I should've bought two jars," one Instagram user wrote. "Too good, don't buy or you will eat them all!" another user joked, while a third advised, "These are so good in yogurt!" Even shoppers who haven't yet tried these dark chocolate coconut cashews for themselves were intrigued just by the description alone. One user confessed they "haven't seen or tasted them but you can't go wrong with these flavors!"
And while the flavors certainly seem to be a hit, this snack might also deliver a few health benefits. Dark chocolate contains high amounts of antioxidants, which can help lower bad cholesterol and even reduce the risk of heart disease, according to Healthline. Cashews also pack a healthy punch of protein, fiber, and good fats, as well as essential antioxidants like polyphenols and carotenoids (via Healthline), while coconut delivers healthy vitamins and minerals like iron, B6, magnesium, zinc, and selenium, per Everyday Health. 
Like all snacks, these nuts should probably be enjoyed in moderation, but when it comes to tasty pick-me-ups, there are certainly worse things to enjoy than dark chocolate coconut cashews.