The Best Butter For Baking, According To Alton Brown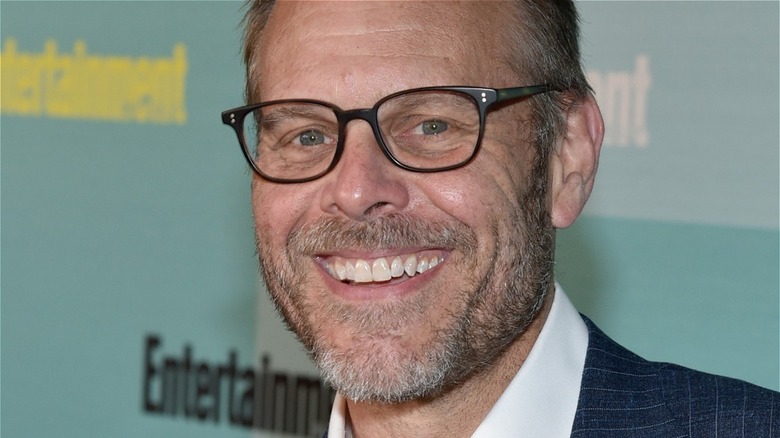 John Shearer/Getty
Bored by the cooking shows airing on the Food Network, Alton Brown tapped into his theater and filmmaking background to develop a show of his own. Speaking to Bitter Southerner, Brown remembered brainstorming what would make a better cooking show on television, listing Julia Child, Mr. Wizard, and Monty Python. Fans of his first show, "Good Eats," know that he found inspiration in that dream team by combining the knowledge of Julia Child, the science of Mr. Wizard, and the comedy of Monty Python.
Brown's culinary accolades are numerous, with nearly 10 cookbooks to date, two James Beard Foundation awards, and numerous Food Network hosting gigs, including the popular "Iron Chef" and "Cutthroat Kitchen." Moreover, this bow-tie-wearing food nerd's knowledge goes well beyond the kitchen, with a directorial credit for the R.E.M video, "The One I Love;" a pilot's license; "Spongebob Squarepants" voice-over credit, and more (via Delish).
Aside from Brown's hosting duties, he can be found dishing cooking tips on "The Late Show with Stephen Colbert" in a segment called "Precise Advice with Alton Brown," where the chef answers viewers' food questions. During a recent four-minute Q&A session, Brown addressed a myriad of curiosities, from whether or not culinary school is necessary to become an excellent chef to which type of butter is best for baking. Brown's answers were not only well spoken, but also hilarious (just watch the entire video to find out why Brown would eat a "rotten cat" spread out on toast).
Is pricier butter better for baking?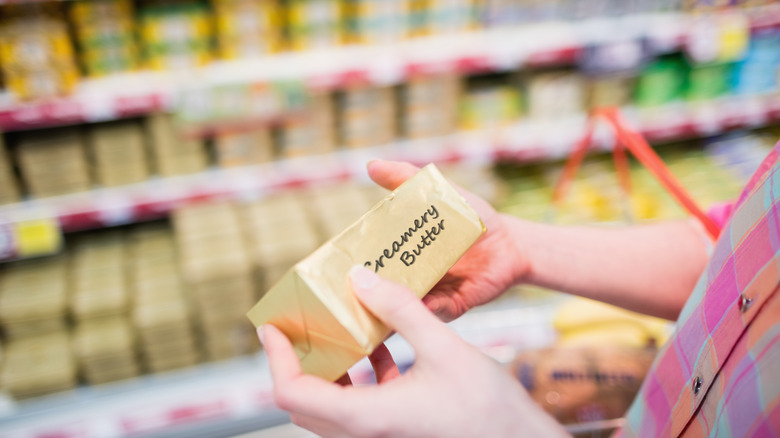 wavebreakmedia/Shutterstock
In a recent "Precise Advice" segment, Brown addressed whether home cooks should spend money on fancy, higher-priced butter when baking. In the thoroughly explanatory nature he is known for, Brown explained that more expensive butter is often better indeed, adding that cheaper generic brands can have up to 12% more water in them, which isn't factored into most recipes. 
Not all the pros agree with Brown in this case: According to King Arthur Baking, more water from AA unsalted butter can actually be good if you're baking croissants or biscuits, where steam from the additional moisture results in a flaky texture. However, if simple buttered bread is on the menu, a low-water, high-fat (and higher-price) European butter might be the most rich and satisfying. Users on Food52 also sing the praises of European-style butter for browned butter in cookies, as they say it sputters less due to its lower water content.
Brown went on to address unsalted versus salted butter, adding that unless specified, most baking recipes are written for unsalted butter. This makes it the most convenient choice at the store, but if you only have salted butter while you're creating a recipe that calls for unsalted, just use less additional salt in the recipe. At the end of the day, baking is all about experimentation. Whether you decide to use Brown's recommended high-quality butter for baking a loved one's birthday cake or slathering on a warm slice of sourdough, it sounds like spending the extra dough is worth its weight in butter.