What You Didn't Know About The Steak 'N Shake Race Car
If you're a fan of the movie "Talladega Nights," then we probably don't have to explain the importance of "shake and bake" when it comes to racing, but you may not know there's also a connection between restaurant chain Steak 'n Shake and race car driving. It turns out Steak 'n Shake once sponsored a real-life hotrod. According to PR Newswire, in 2015 the home of Steakburger sponsored the No. 15 Indy car driven by Graham Rahal and co-owned by Indianapolis 500 winner Bobby Rahal, David Letterman, and team-owner Mike Lanigan.
With their headquarters within a 15-minute drive from the Indianapolis Motor Speedway, it makes sense the restaurant chain would want in on the action of the Greatest Spectacle in Racing. The Steak 'n Shake car was painted red and wrapped in corporate trademarks including the restaurant chain's logo, with its classic black-and-white wings, looking very appropriate for a day at the race. Steak 'n Shake was scheduled to sponsor six of the Verizon IndyCar Series races that year, according to PR Newswire, including the Indianapolis 500, where IndyCar reports the No. 15 car finished fifth that year. However, there is something even more surprising about the restaurant chain's sponsorship.
Steak 'n Shake paid more than a million dollars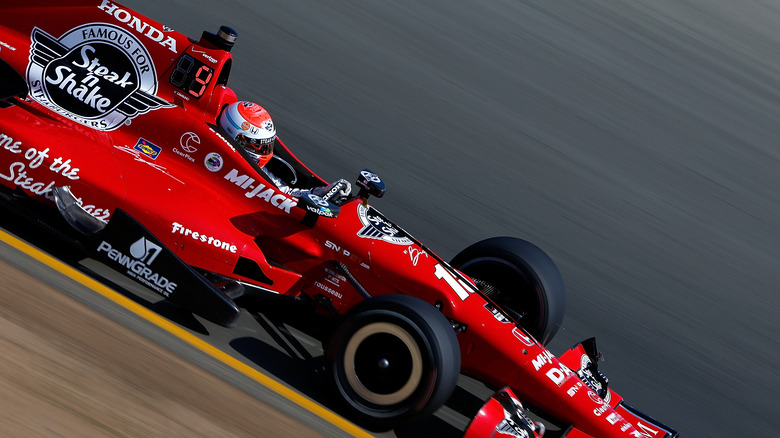 Jonathan Ferrey/Getty Images
A lot of hand-dipped milkshakes went into the money Steak n' Shake paid to sponsor the No. 15 Indy car driven by Graham Rahal in 2015. According to IndyStar, the impressive amount Steak 'n Shake contributed for their sponsorship was over a million buckaroos. To secure the deal, Rahal Letterman Lanigan Racing reportedly included selling points such as the team being local, the Rahals being fans of the restaurant, and David Letterman's vocal affection for the brand, witnessed by viewers of his late-night show (via Facebook).
Racing enthusiasts have no doubt noticed other cars that have been sponsored by restaurant chains. In fact, Nascar has enjoyed a whole host of restaurant-themed race cars. Sponsorships for stock cars have included a long list of fast-food joints like McDonald's, Long John Silver's, KFC, Bojangle's, and Hardee's. Wendy's even partnered with Nascar driver Noah Gragson to promote the launch of their $5 Biggie Bag on the side of his car at Talladega (via Beard Motorsports). Not only did the paint scheme of Gragson's car feature the price of the deal, but Wendy's red pigtails were on full display on the hood of the No. 62 Chevrolet.