Tillamook Executive Shares The Most Popular Type Of The Company's Cheese - Exclusive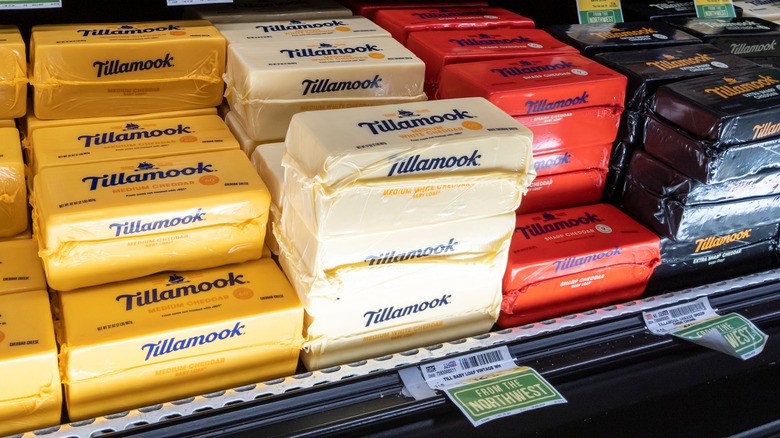 Colleen Michaels/Shutterstock
About 80 farmer families work to provide the milk for Tillamook, supplying what gets turned into their selection of dairy products. It's been that way since Tillamook started in Tillamook, Oregon in 1909. In its more than 100 years in business, the company has added a variety of dairy options to its production line, including ice cream, sour cream, yogurt, and butter. And of course, Tillamook has continued to offer block after block of delicious cheese.
Tillamook's line of cheeses spans classics such as medium and sharp cheddar, Swiss, and Colby Jack, along with Farmers' Collection cheeses like Hickory Smoked Cheddar and Spicy Habanero Jack. But with so many types of tasty cheeses in Tillamook's repertoire, each with different flavor characteristics and aging times, we wanted to know which kinds people are buying the most. We certainly found out — in an exclusive interview with Mashed, Kate Boltin, Tillamook's Vice President of Brand Marketing, shared all about Tillamook's most popular cheeses.
Everybody loves Tillamook cheddar cheese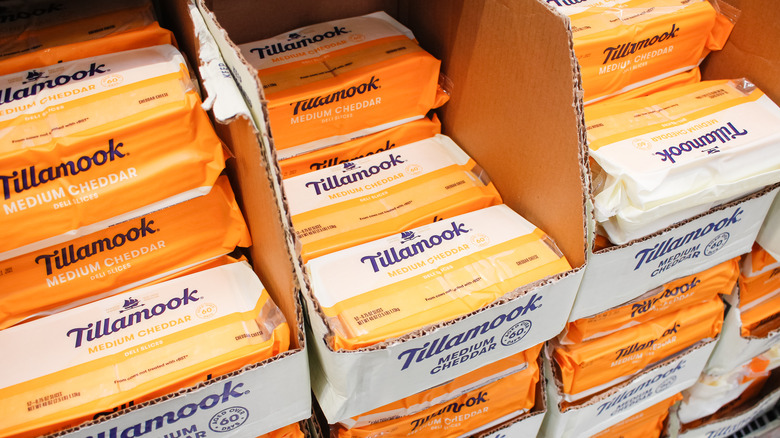 The Image Party/Shutterstock
Certainly, there's a time and a place — and a perfect recipe — for using different Tillamook options such as Pepper Jack, Swiss, and Colby Jack. But more often than not, consumers are all about Tillamook's cheddar cheese.
When asked about the type of Tillamook cheese that sells the most, Kate Boltin said that it's "cheddar, hands down." However, the selection of sharpness seems to depend on the consumer's location.
"Different parts of the country prefer different sharpnesses," she explained. "East Coast consumers prefer sharper cheddar, whereas [with] West Coast consumers, we sell more medium." The classic Tillamook medium cheddar seems to be purchased more often on the West Coast. As for the East Coast consumer? They're buying more sharp cheddar and extra sharp cheddar. But no matter which sharpness is being purchased, it still all goes back to a consumer's love for Tillamook cheddar cheese. With all the options out there for including cheddar in your cooking, it's no wonder that's a top seller!
Learn more about Tillamook on Instagram. Follow along with Jenny Slate as she hosts the Partnership for Creamier Ice Cream.