Classic Chicken Tortilla Soup Recipe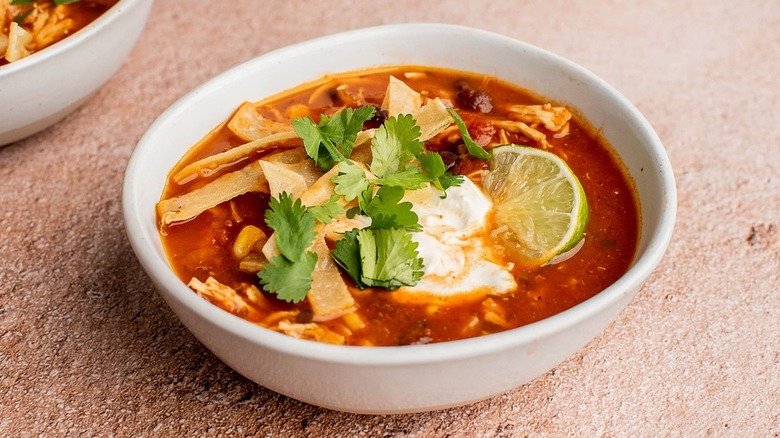 Michelle McGlinn/Mashed
The hearty, spicy flavors of a classic chicken tortilla soup are enough to warm you up from the inside, out. But you don't have to reserve your soup cravings for the cold winter months. This tortilla soup recipe is the perfect light option for a summer evening, especially when served with fresh avocado, lime, a dollop of sour cream (or plain Greek yogurt), and a cold Mexican beer. And the best part about this classic recipe is just how easy it is to make.
"I love that this recipe tastes a lot more complicated than it is...It takes less than 30 minutes to cook, so it's so easy to make," says recipe developer Michelle McGlinn. "This is a very classic chicken tortilla soup recipe — the only ingredient I added to be special was the chipotle seasoning. I love chipotle and the seasoning is super easy to add instead of paprika or cayenne. If you love chipotle, you could actually add a few canned chipotles in adobo sauce to make a truly smoky, spicy soup." So whether it's the dead of winter or the middle of summer, there's a place in your dinner rotation for this simple and tasty soup recipe. As long as you have about 30 minutes to whip up a meal, you can delight your family with spicy, Mexican flavor .
Gather your ingredients for classic chicken tortilla soup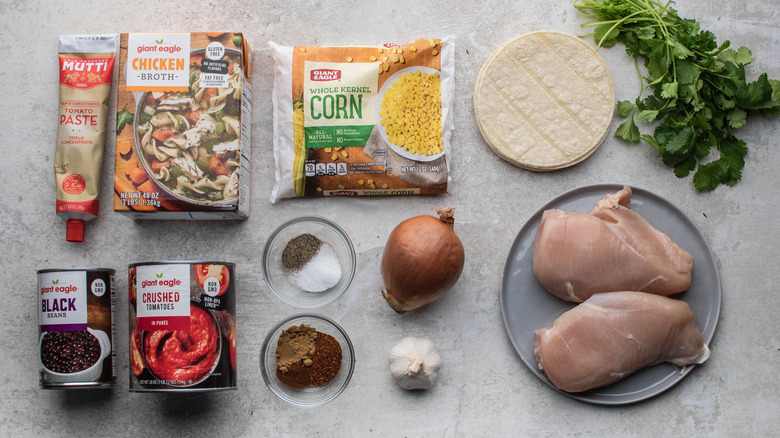 Michelle McGlinn/Mashed
The ingredient list for this classic chicken tortilla soup is fairly long, but the actual process for making the soup is simple. All you need is corn tortillas, a yellow onion, garlic cloves, tomato paste, a can of crushed (or diced) tomatoes, a pound's-worth of chicken breast, chili powder, chipotle powder, cumin, salt, pepper, fresh cilantro, frozen corn, canned black beans, and chicken broth. You'll also want fresh limes and sour cream for serving. 
Of course, there are lots of additions and substitutions you can make. As McGlinn mentioned, you could add canned chipotles in adobo sauce for a smokier flavor, but you could also spice things up with jalapeños. "Chipotle seasoning is just dried, smoked jalapeños. You could add fresh jalapenos for a similar spice level," McGlinn suggests. Or if you don't like chipotle or you don't have the spice on hand, she says you could sub in paprika or cayenne pepper ("Paprika for mild, cayenne for hot," McGlinn adds). You could also elect to use canned corn in place of frozen, or shredded rotisserie chicken in place of the chicken breasts. There's a lot of flexibility with the recipe, depending on your personal preferences and what you have on hand.
Make the tortilla strips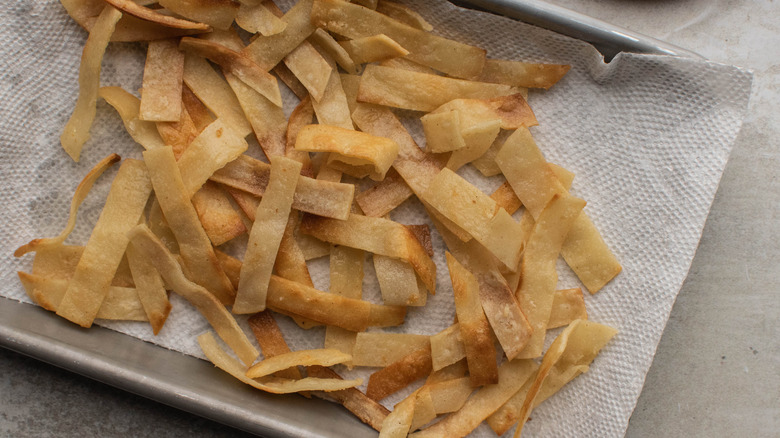 Michelle McGlinn/Mashed
You can make this soup using just one pot by making your tortilla strips in your soup pot before making the actual soup. Simply cut the tortillas into ¼-inch wide strips, about 2-inches long. Heat a small amount of oil in your soup pot (a Dutch oven would work, too) over medium heat. When the oil is hot, add the tortilla strips and cook them, stirring frequently with a spatula, until they're golden and crispy. This should take about 3 to 4 minutes. Then, transfer the strips to a paper towel-lined plate to let them cool. 
Of course, McGlinn adds that you can save a little time by cooking them in a separate skillet as your soup cooks, but you'd have to dirty a second pan. So it really comes down to whether you want to clean two dishes, or one. Or, if you'd rather not mess with the fuss at all, you can skip the homemade strips and use store-bought chips or strips, instead. "I have used tortilla chips to scoop up my soup and I've used the pre-made tortilla strips in a pinch. Neither are very expensive and can save you time," McGlinn admits. "However, if you have the tortillas on hand — I always do — it's so easy to make your own and you can add salt or flavor them however you'd like. I think sprinkling them with Tajin would be awesome." 
Sauté the onions then add the remaining ingredients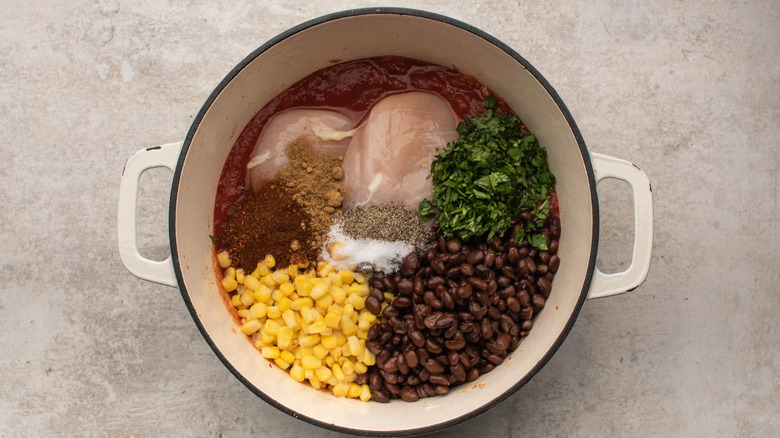 Michelle McGlinn/Mashed
With your tortilla strips set aside, add the diced onion to your soup pot and saute it until it's softened, about 3 minutes. Add the garlic and continue cooking until it releases its fragrance, about a minute. Stir in the tomato paste, using the back of a spoon to incorporate it well with the onions and garlic. 
Once these little details are taken care of, you can add almost all of the remaining ingredients — the crushed tomatoes, chicken breasts, all the seasonings, cilantro, corn, and beans. Stir well to make sure the seasonings get incorporated throughout the pot. Finally, add the chicken broth, making sure it covers the chicken completely. Give everything another good stir, turn up the heat, and bring the pot to a boil. Once boiling, turn the heat down to medium, put the lid on the pot, and let the soup cook for 20 to 25 minutes, until the chicken is cooked through and tender. 
Shred the chicken and return it to the pot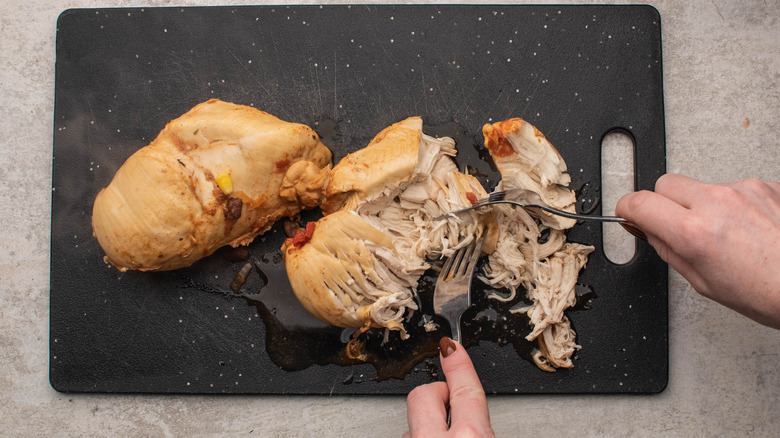 Michelle McGlinn/Mashed
Once the chicken has cooked through, carefully remove the chicken breasts from the pot and set them on a cutting board. Use two forks to shred the chicken, but if the chicken doesn't shred easily, return it to the pot to cook for another 5 to 10 minutes. "The beauty of making shredded chicken is that it's very easy and so tender. Most chicken tortilla soups will have shredded chicken, likely because the chicken you'd find in tacos is often shredded. It's so tender and flavorful that way, and cooking it whole is really the best way to achieve the shredded quality," McGlinn says. But she adds that if you're looking to save some time, you can simply use a pre-cooked grocery store rotisserie chicken, shred it, and add it to the soup to heat.
Simmer the soup before serving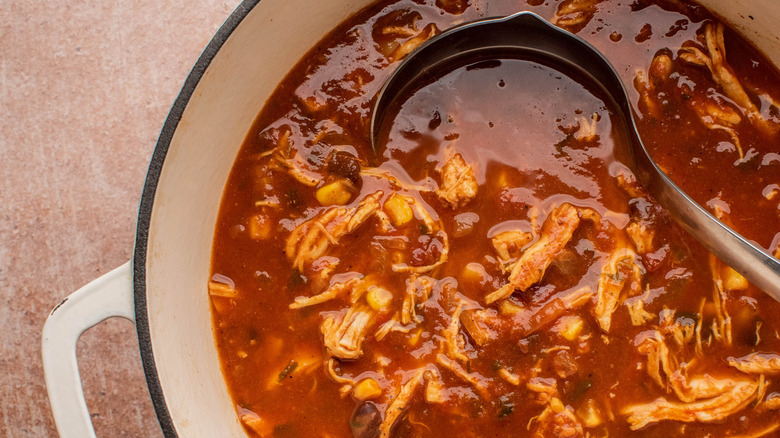 Michelle McGlinn/Mashed
With the chicken shredded, simply return the protein to the pot and stir to combine. Allow the dish to simmer for another 5 minutes, so the chicken warms through and absorbs the seasonings. When the flavors are well-combined, it's ready to serve! Simply scoop into bowls and top with sour cream, cilantro, fresh lime wedges, and the tortilla strips.
"Chicken tortilla soup is like a taco in a bowl. You can serve it similarly — rice and beans, elote, guacamole, and a margarita! I actually think chicken tortilla soup is really good with cornbread. I love being able to soak up soup with a good bread side," McGlinn suggests. However you decide to serve it, McGlinn has one final tip — squeeze the lime juice into the soup before diving it. The extra acid offers a sharp tang of flavor that can't be beat. 
Classic Chicken Tortilla Soup Recipe
Have you ever wanted to try a taco in soup form? If so, give this classic chicken tortilla soup recipe a spin!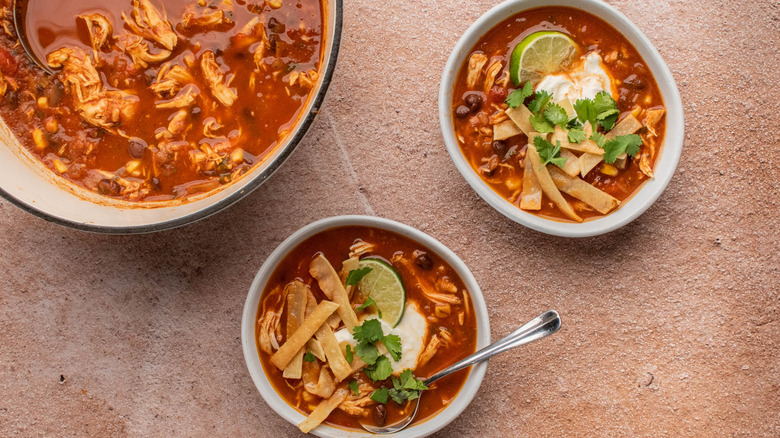 Ingredients
8 corn taco tortillas
½ yellow onion diced
2 garlic cloves, minced
1 tablespoon tomato paste
1 (28-ounce) can crushed tomato
1 pound chicken breasts, or 2 large chicken breasts
1 tablespoon chili powder
½ tablespoon chipotle powder
½ tablespoon cumin
½ tablespoon salt, or more to taste
½ tablespoon pepper, or more to taste
¼ cup cilantro, plus more for topping
1 cup frozen corn
1 can black beans
24 ounces chicken broth
Optional Ingredients
1 lime, cut into wedges, for serving
sour cream, for serving
Directions
Cut tortillas into roughly ¼-inch wide strips, about 2 inches long.
Heat a thin layer of oil in a soup pot or Dutch oven over medium heat. Once hot, add tortilla strips and cook until golden and crispy, about 3 to 4 minutes. Move the strips around the pot with a spatula often to avoid burning or browning. Remove from pot and drain on a paper towel lined sheet pan or plate.
Add the onion to the pot and sauté until softened, about 3 minutes. Add garlic and cook until fragrant, about 1 minute. Add tomato paste and stir well to combine, using the back of the spoon to incorporate.
Once the tomato paste is incorporated, add the crushed tomatoes, chicken breasts, seasonings, cilantro, corn, and beans. Stir to incorporate the seasonings into the ingredients.
Add the chicken broth, ensuring the broth covers the chicken completely. Stir again to combine, incorporating the tomatoes into the broth. With the chicken completely covered, bring to a boil, then reduce the heat to medium-low and cover. Cook for 20 to 25 minutes, or until chicken is cooked through and very tender.
Carefully remove the chicken from the pot and shred using two forks. Chicken should shred very easily; if it is tough, return to the pot and cook for another 5 to 10 minutes.
Once the chicken is shredded, return to the soup and combine. Simmer the soup with the shredded chicken for 5 minutes so chicken is warmed through and absorbs the seasonings.
To serve, top with sour cream, cilantro, lime, and tortilla strips. Squeeze the lime into the soup before eating!
Nutrition
| | |
| --- | --- |
| Calories per Serving | 580 |
| Total Fat | 15.7 g |
| Saturated Fat | 4.1 g |
| Trans Fat | 0.1 g |
| Cholesterol | 77.7 mg |
| | |
| --- | --- |
| Total Carbohydrates | 72.3 g |
| Dietary Fiber | 16.9 g |
| Total Sugars | 14.4 g |
| Sodium | 1,629.4 mg |
| Protein | 42.7 g |