Papa Murphy's Newest Menu Addition Is A Win For Vegans
It's been traditionally difficult for vegans to eat pizza, as the specialty dish is completely covered in cheese. However, more chains have become accommodating to customers with dairy-free and plant-based diets over the years, with restaurants such as Blaze Pizza offering dairy-free cheese for those who either don't eat regular cheese or want to reduce their dairy intake.
Now, Papa Murphy's has added a new plant-based option for its patrons to choose from. Like Blaze Pizza, the Washington-based pizza chain allows its customers to select their choice of dough and toppings. But its new plant-based menu addition allows its customers to further customize their pizza to their liking. Previously, vegans could easily substitute cheese and other dairy-based sauces to create their own plant-based pizza at the chain (via Veg Knowledge). However, vegans no longer have to miss out on a classic pizza at Papa Murphy's because it just added a dairy-free cheese topping to its menu, per Chew Boom.
Papa Murphy's is using Violife vegan cheese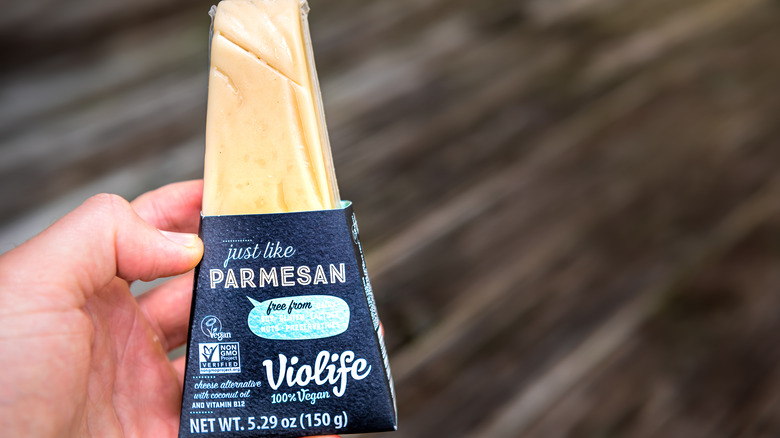 Andriy Blokhin/Shutterstock
This means that vegans can order most of their favorite pizzas from Papa Murphy's, with the slight modification of using vegan cheese instead of traditional cheddar or mozzarella. The chain will be using Violife cheese, according to Chew Boom. The non-dairy creamery has been an innovator in bringing dairy-free cheese to pizza chains, with restaurants such as Pizza Hut experimenting with their plant-based cheese in the past (via Violife).
A dairy-free cheese alternative has been long-awaited at Papa Murphy's, as the chain announced that it would partner with Violife back in October 2021. According to VegOut Mag, vegan cheese was tested at a select number of locations before it was launched nationwide. Vegans have become crafty in finding ways to make their own traditional Take 'N' Bake Pizzas dairy-free, with some adding their own plant-based cheese at home before baking (via Vegan & Raw Food Blog). However, after months of waiting, customers can now get dairy-free cheese on their Papa Murphy's pizza.