Easy Beef Au Jus Recipe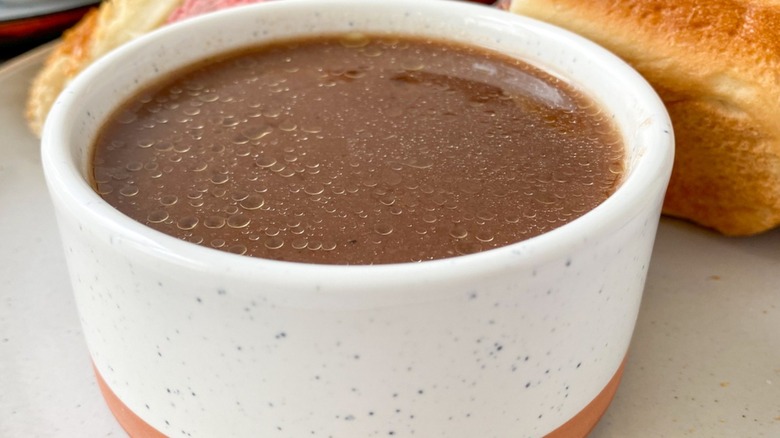 Hayley MacLean/Mashed
When we serve a roast "au jus," that typically means with the pan juices that have come out of it while it is cooking. It may seem funny to have a recipe for something that is basically a cooking byproduct, but if, you're making a French dip sandwich with deli roast beef and you'd rather not, as recipe developer Hayley MacLean puts it, "go through the process of making a whole roast for the drippings," then this recipe makes for a handy shortcut.
MacLean says the "secret ingredient" she uses in this recipe is bone broth, which she prefers to plain broth. She tells us "the bone broth in this recipe not only adds extra collagen and protein," something she feels will give the end product a consistency more like that of traditional au jus, but says the "extended time it takes to simmer and break down the bones" gives it vitamins, minerals, and other nutrients. Plus, this trendy alternative to soup stock is pretty popular with celebrities. If you can't find bone broth or would prefer not to splurge on a potentially pricey product, you'll get a fairly similar flavor from beef broth or stock.
Gather the ingredients for this easy beef au jus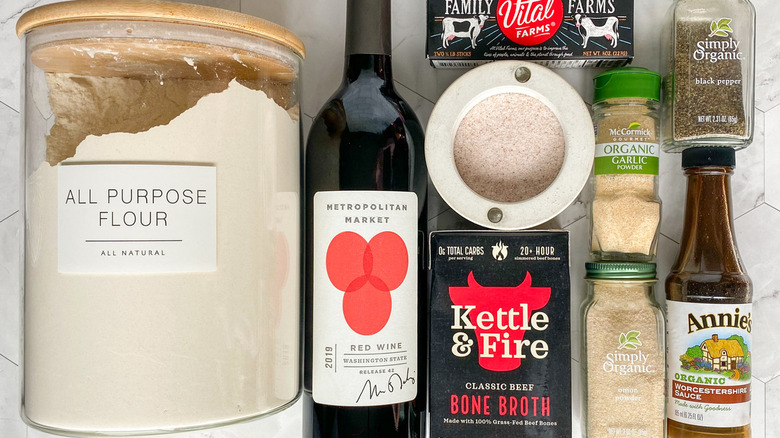 Hayley MacLean/Mashed
To make this beef au jus, you'll need the aforementioned broth or stock, for starters. You'll also need some butter (MacLean uses unsalted), flour, and a small amount of wine — red, of course. MacLean explains that red wine "has the perfect balance of bitterness and sweetness to bring out the richness of the beef flavor."
For flavoring the au jus further, you'll use Worcestershire sauce, salt, pepper, onion powder, and garlic powder. "Adding some fresh or dried thyme, tarragon, or oregano to this would bring out a whole new level of earthy flavors" as well, she says.
Melt the butter and brown the flour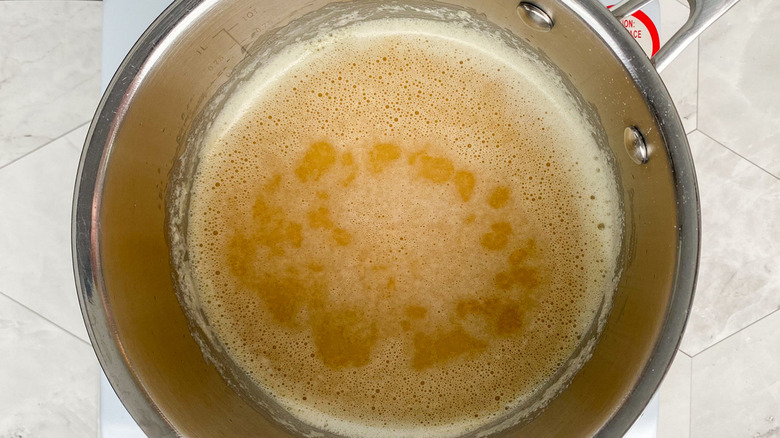 Hayley MacLean/Mashed
You're going to start off by melting the butter in a saucepan over medium heat. Once it has melted, whisk in the flour. Cook the mixture for a few minutes, stirring all the while, until it is light brown. What you have here could be considered a thin roux — a traditional roux includes equal parts flour and fat, but this one only uses half as much flour as butter so it remains liquidy rather than forming a paste. After all, an au jus shouldn't be thick like a gravy.
Add the rest of the ingredients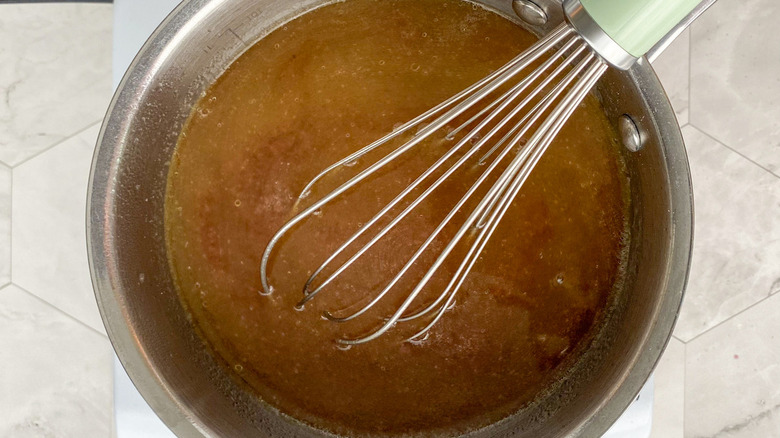 Hayley MacLean/Mashed
Pour the wine into the butter and flour combo and cook it for a minute or two, something MacLean says will allow the alcohol to cook out (so it's perfectly okay to serve to kids). Once that's done, add the remaining ingredients and whisk to combine.
Simmer the jus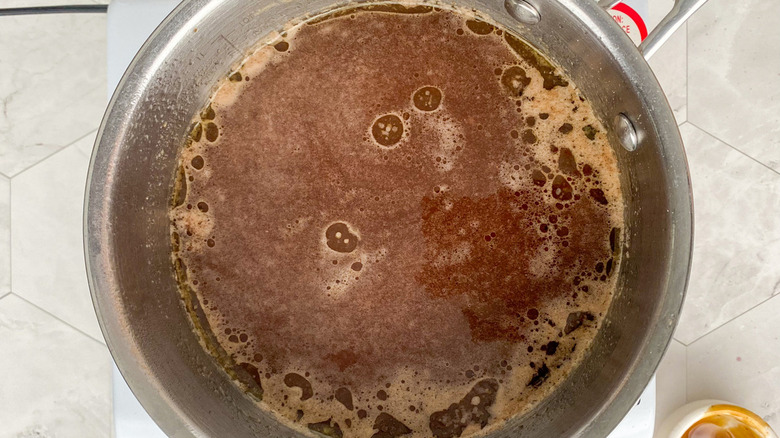 Hayley MacLean/Mashed
Heat the sauce until it's simmering, then keep cooking it until it has thickened up a bit — about 3 to 4 minutes. You may need to lower the heat so it doesn't scorch, stick to the bottom, or bubble over. When your au jus has reached your desired consistency, taste and season with salt and pepper as needed.
"It has so many possibilities," MacLean says of this concoction, so you needn't limit yourself to French dips alone. Among her suggestions are using this au jus as the base for a gravy, mixing it with vegetables or rice, using it on instant ramen, or even mixing it with cream cheese to make a spread for crackers.
Easy Beef Au Jus Recipe
While an au jus is typically prepared with the drippings from a beef roast, this quick version uses a special ingredient to create a flavorful sauce in minutes.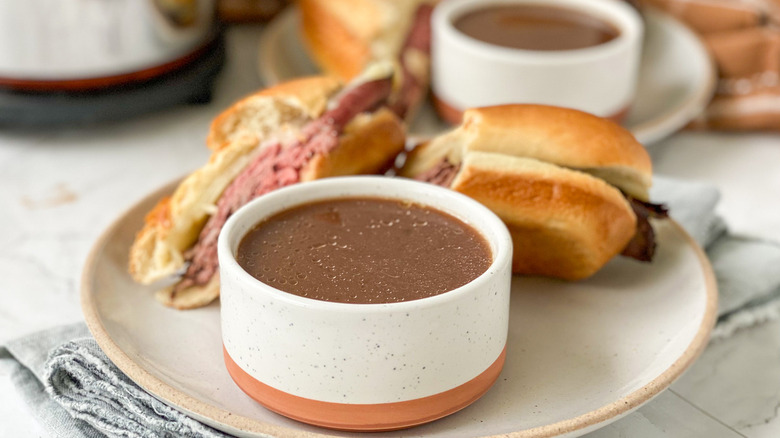 Ingredients
4 tablespoons unsalted butter
2 tablespoons all-purpose flour
¼ cup red wine
2 cups beef bone broth
1 tablespoon Worcestershire sauce
½ teaspoon onion powder
½ teaspoon garlic powder
Salt and pepper, to taste
Directions
In a saucepan, melt the butter over medium heat.
Whisk the flour into the butter until smooth. Continue to cook for a few minutes, stirring constantly, until the roux is light brown in color.
Stir the red wine into the roux and cook for 1 to 2 minutes.
Stir the broth, Worcestershire sauce, onion powder, and garlic powder into the mixture.
Bring the sauce to a simmer and cook, lowering the heat if necessary, until slightly thickened, about 3 to 4 minutes.
Season with salt and pepper to taste.
Nutrition
| | |
| --- | --- |
| Calories per Serving | 136 |
| Total Fat | 11.6 g |
| Saturated Fat | 7.3 g |
| Trans Fat | 0.5 g |
| Cholesterol | 30.5 mg |
| | |
| --- | --- |
| Total Carbohydrates | 5.2 g |
| Dietary Fiber | 0.3 g |
| Total Sugars | 0.6 g |
| Sodium | 352.8 mg |
| Protein | 0.7 g |