The Real Reason You Keep Ruining Your Lasagna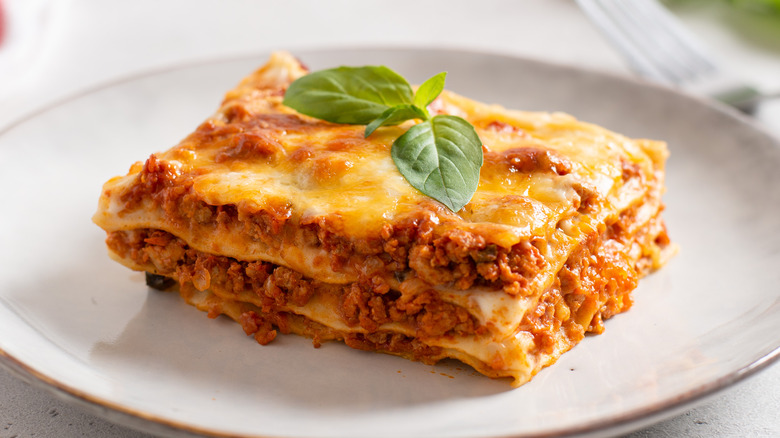 Dina Photo Stories/Shutterstock
Lasagna falls into the category of baked pasta recipes (or casseroles, to some), which includes the delicious crew of manicotti (pronounced "mani-gawt" in New York), baked ziti, mac and cheese, and other yummy derivatives. Although you may only think of lasagna as a cold-weather meal, there are many reasons to consider it a year-round favorite — beyond those layers and layers of gooey goodness.
Busy families appreciate lasagna for how well it freezes and reheats, for one. Taste of Home goes into detail about this process, but the crux is to assemble your lasagna and freeze it before baking; this way, it will be like baking it for the first time. (When sealing the tray, please think of the covering as a hazmat suit, enveloping the entire thing in food-grade plastic wrap and removing as much air as possible, then wrapping it again in foil. All these steps will prevent freezer burn, and the lasagna can be baked just like that!)
A typical 9x13-inch tray of lasagna can feed eight people, according to Parade, making it an excellent option for parties and large families. For the average family, that's more than two meals. Prep wisely and make two trays of lasagna at once, using one for tonight and freezing the other (for yourself or a friend in need of some comfort). With a solid argument for lasagna being in your rotation, the question becomes how we can make this cozy dish even better? Here's the easy-to-correct thing we've been doing wrong.
Don't overbake your lasagna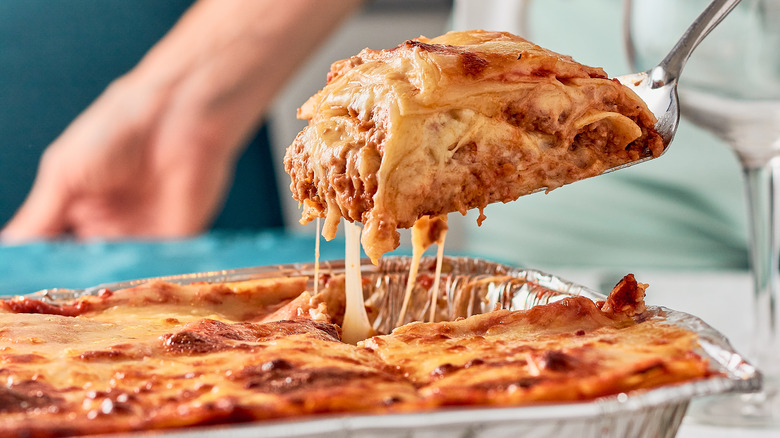 kobbymendez/Shutterstock
Among the mistakes everyone makes when making lasagna, like not salting the pasta water enough or making the sauce too runny, Real Simple adds a few more corrections to the list. It's recommended that cooks replace store-bought ricotta with homemade béchamel sauce for the creamy layer, as well as boil actual lasagna noodles versus the no-cook option, just like grandma did. However, these suggestions take extra work, while another tip requires no additional cooking.
Real Simple stresses the importance of underbaking your lasagna. This may sound strange at first, but understand this: An undercooked lasagna can always be returned to the oven to soften up. Plus, the pasta continues to cook once you pull it out of the range, so that time should be factored in. Italians have been stressing cooking pasta al dente forever, and lasagna is no different. Cook times will vary for each recipe — but it's much easier to fix an underbaked dish with a few more minutes in the oven than it is to rescue a squishy-on-the-inside, burnt-on-the-outside overbaked lasagna.
Ready to test the underbaking method for yourself? We suggest Samin Nosrat's Big Lasagna, which seems to have gotten a lot of families through the quarantine of 2020 with a 10-pound tray of homemade comfort food. Take the time to make the sauce, set the table, surround yourself with people, and try this special dish — even in the summer.