Easy Thai Iced Tea Recipe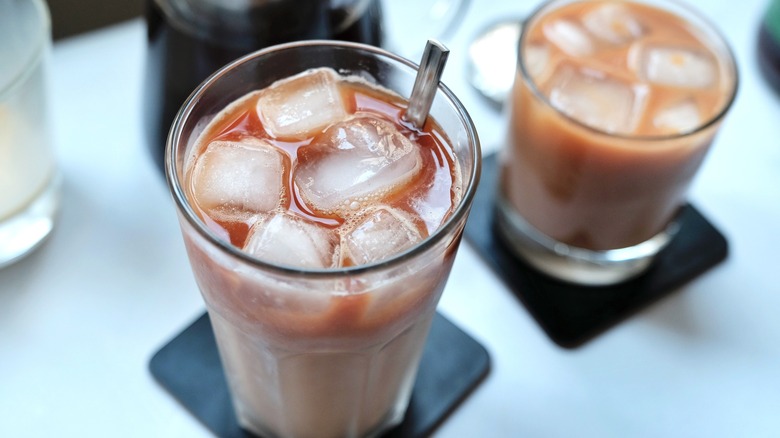 Eric Ngo/Mashed
When you're looking for a refreshing afternoon pick-me-up that's a little sweet and a little spicy, you may want to try your hand at making this easy Thai iced tea recipe. If you're not familiar with Thai iced tea, recipe developer Eric Ngo likens it to black tea. "The flavor of Thai tea includes earthy and nutty undertones," Ngo explains. "Similar to a strong black tea flavored with [different] spices." But this recipe wouldn't be nearly as indulgent without the addition of evaporated milk. "I consider evaporated milk to be a special ingredient, it's much more creamy compared to regular milk," Ngo says. "Adding evaporated milk [waters your Thai tea down less] while giving it a thicker, creamy texture." 
And if you're surprised by the somewhat orange tint to your tea, Ngo explains that that's due to orange food coloring that's added to help extend the life of the tea, and to make it more appealing. So, if you're ready to skip the Starbucks run and whip up your own sweet and creamy iced tea concoction, grab these four essential ingredients and get started — it only takes about 10 minutes to make four servings. 
Gather your ingredients for Thai iced tea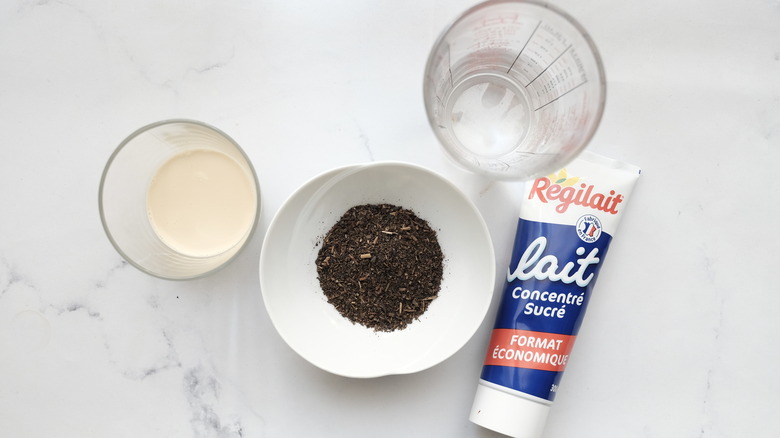 Eric Ngo/Mashed
All you'll need to make your iced Thai tea is Thai tea leaves (if they're not at your local grocery store, try Trader Joe's, Amazon, or Asian groceries), water, sweetened condensed milk, and evaporated milk. Yes, you'll need both types of milk! It's the combination that results in the extra-creamy consistency of this iced Thai tea.
Infuse the tea leaves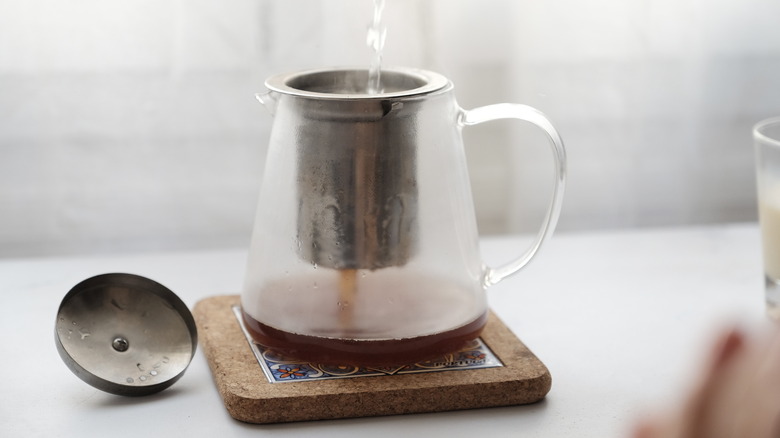 Eric Ngo/Mashed
Since you're using loose-leaf tea, you'll want an infuser for this recipe. "I used a pretty standard tea kettle with an infuser. One can also use the ball [infusers], but I don't recommend pouring water directly over the leaves," Ngo says. So go ahead and bring your water to a boil and when it's ready, pour the hot water over the tea leaves. Allow it to sit and infuse for 15 minutes. 
Mix the milks together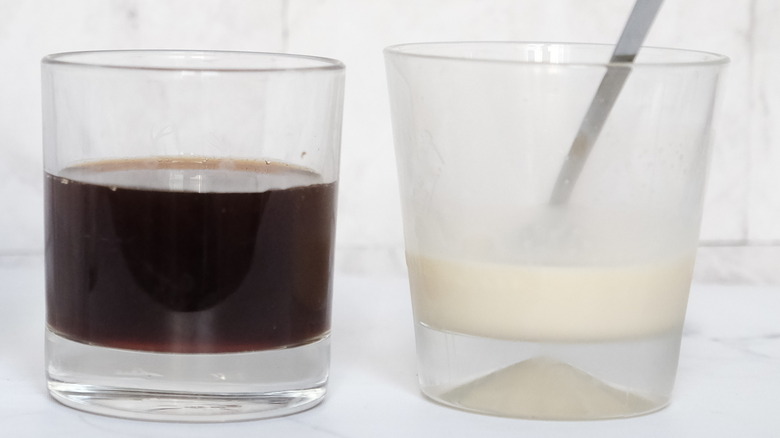 Eric Ngo/Mashed
As the tea infuses, go ahead and mix the evaporated milk into the sweetened condensed milk in a glass. Of course, if you're craving Thai tea and you don't have evaporated milk on hand, you can make a few substitutions. "Evaporated milk is used for that extra creaminess in the drink, but it can be substituted with whole fat milk or heavy cream," Ngo says. And if you happen to be lactose intolerant or if you're cutting back on dairy, you can skip the milk altogether, although you'll likely want to sweeten it with something else. "It's recommended to use a simple syrup to sweeten the drink," Ngo adds. 
Pour the tea over ice and stir in the milk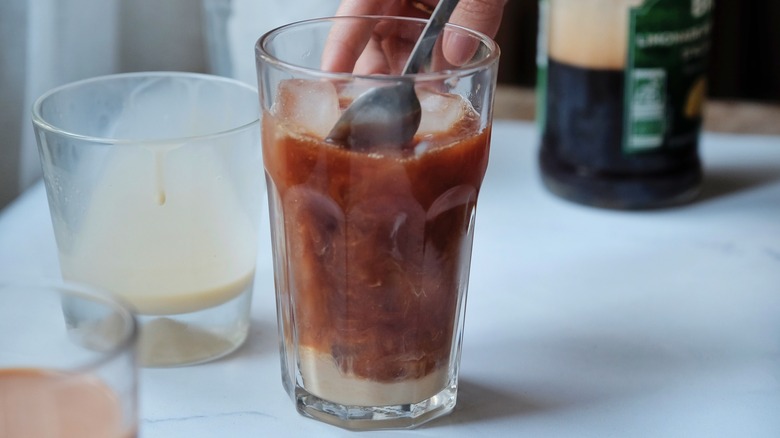 Eric Ngo/Mashed
Once the tea is ready, simply pour it over a glass of ice, add the sweet milk mixture, and stir. Ngo suggests adding just a little of the milk at a time, until you achieve your preferred color and taste preference. You can even make the tea in advance and store it in the fridge until you're ready to mix it up. And as for the best time to enjoy it? "This drink is delicious on a warm summer day. Serving this with grass jelly or tapioca pearls make this a good afternoon treat!" 
Easy Thai Iced Tea Recipe
Thai iced tea is kind of like black tea, but with much more sweetness and creaminess — try it out with this easy recipe.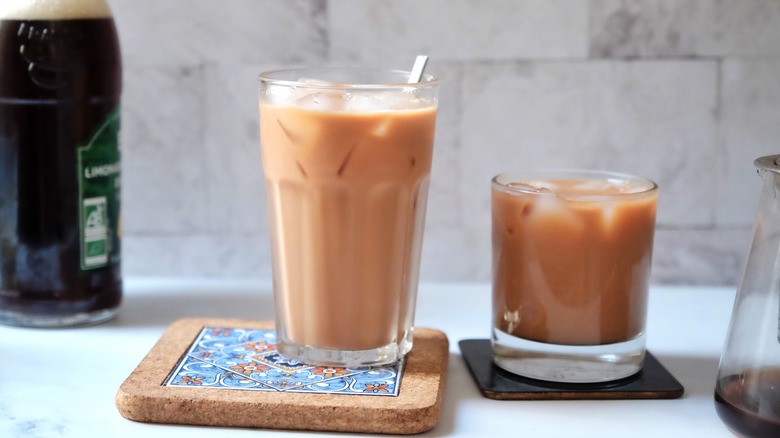 Ingredients
1 cup water
4 tablespoons Thai tea leaves
4 tablespoons sweetened condensed milk
2 tablespoons evaporated milk
Directions
Bring the water to a boil and pour it over tea leaves, allowing it to infuse for 15 minutes.
Mix the sweetened condensed milk with the evaporated milk.
Add the sweet milk mixture to the Thai tea and stir.
Fill a glass with ice, and pour in the Thai tea and serve.
Nutrition
| | |
| --- | --- |
| Calories per Serving | 72 |
| Total Fat | 2.3 g |
| Saturated Fat | 1.4 g |
| Trans Fat | 0.0 |
| Cholesterol | 8.8 mg |
| | |
| --- | --- |
| Total Carbohydrates | 11.2 g |
| Dietary Fiber | 0.0 g |
| Total Sugars | 11.2 g |
| Sodium | 35.4 mg |
| Protein | 2.0 g |