Classic Painkiller Cocktail Recipe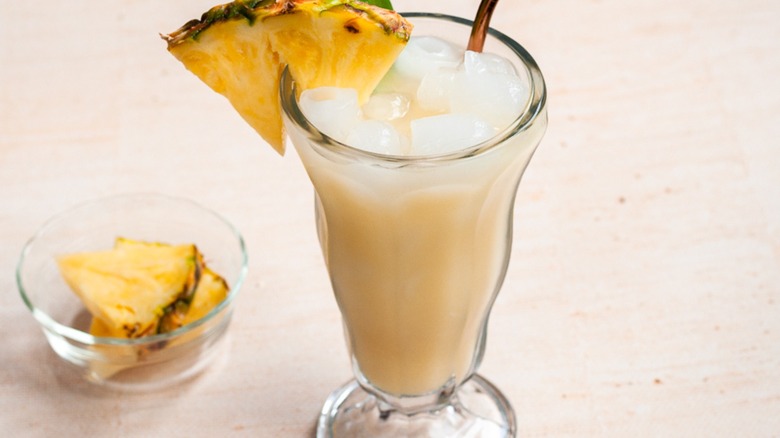 Christina Musgrave/Mashed
The Painkiller is a classic tiki cocktail, and the irony of the name is not lost on anyone who has over-indulged in it. In moderation, however, the drink is a mini tropical vacation in a glass — or, better yet, a tiki mug. And, fun fact about this cocktail: it's actually the #1 drink (Google-wise, at least) in the state of Massachusetts.
Recipe developer Christina Musgrave says she stuck pretty close to the original recipe as trademarked by Pusser's Rum, except, as she tells us, "I did add in an option for coconut milk instead of coconut cream for a lighter version of the cocktail." She also kept toward the lighter end of the ABV range, as Pusser's own recipe allows for up to double the amount of rum used here. (Not recommended, unless you've got plenty of ibuprofen-type painkillers on hand.) Musgrave also opts for a different garnish, as Pusser's goes with a sprinkling of nutmeg, an orange slice, and a cherry, whereas she uses a piece of pineapple. Most importantly, as Pusser's would no doubt point out, Musgrave's recipe leaves the choice of dark rums up to you, so making a Painkiller can remain relatively painless.
Gather the ingredients for a Painkiller cocktail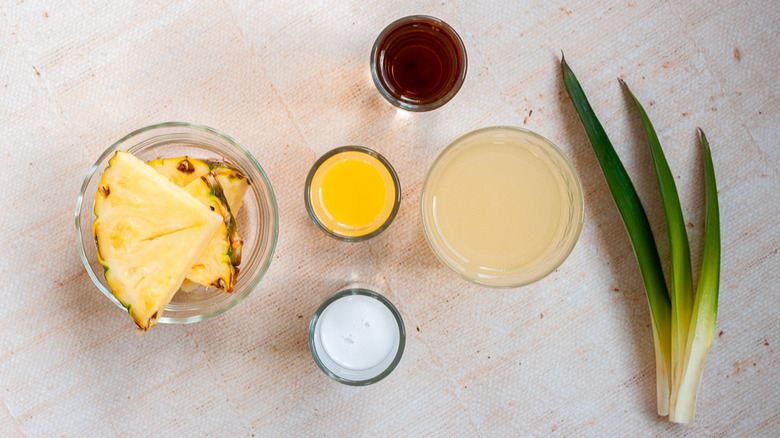 Christina Musgrave/Mashed
To make this drink, you need dark rum, and if you want it to be 100% authentic, then you'll specifically want Pusser's dark rum (but we won't tell if you use whatever is in your liquor cabinet). You will also need both pineapple and orange juice, along with either coconut cream or coconut milk (the former is sweeter, and the latter is a lighter option.) Finally, you'll want some pineapple wedges for garnish, and maybe even some pineapple leaves for an extra tropical touch.
Fill up your shaker with the ingredients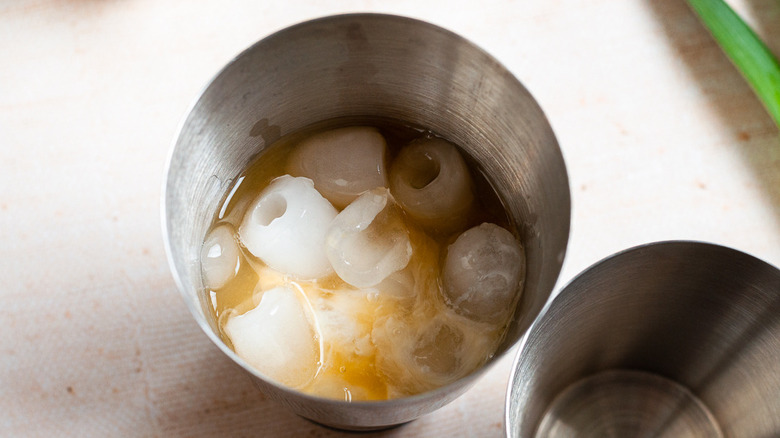 Christina Musgrave/Mashed
Musgrave insists that you really need a cocktail shaker to make a proper Painkiller since, as she says, "Shaking it with the ice allows everything to blend together properly. It will not taste correctly if it's stirred." But you could easily improvise by using a couple of cups or even a jar — just make sure that the ingredients get properly shaken up!

Fill your shaker, large cup, or jar with ice, then pour in the rum, the juices, and the coconut milk or cream. Cover the shaker or whatever other implement you're using, then shake, shake, shake that drink for 15 seconds. (One Mississippi, two Mississippi ... ) Once you're done shaking it, you should have yourself a perfectly blended Painkiller.
Pour the Painkiller over ice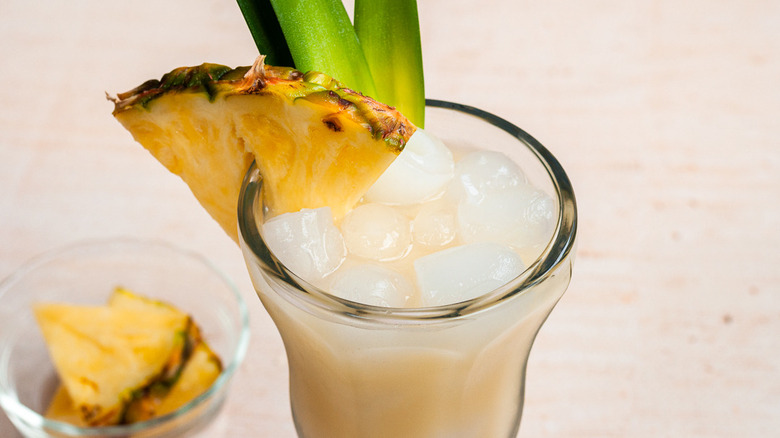 Christina Musgrave/Mashed
Musgrave tells us "any tall glass works for this cocktail," but if you've got a cool tiki mug, now would be a great time to use it. Fill the glass or mug with ice, then pour in the Painkiller. Musgrave also says, "It does not matter if the ice is cubed or crushed," and Pusser's doesn't specify what type of ice is used in their drink recipe, either, so the ice choice is entirely up to you.
As for the garnishes, you could stick with Musgrave's original suggestion, though she also allows that "you can use an orange wedge in place of a pineapple wedge." You could even do like Pusser's and add a cherry to go with the orange. Musgrave also suggests using pineapple leaves in the drink, but if you have any paper umbrellas on hand, you could use one of these instead. Cheers to a sweet, easy, classic cocktail!
Classic Painkiller Cocktail Recipe
This classic painkiller combines dark rum, pineapple and orange juice, and coconut milk for a tropical, sweet, and delicious cocktail experience.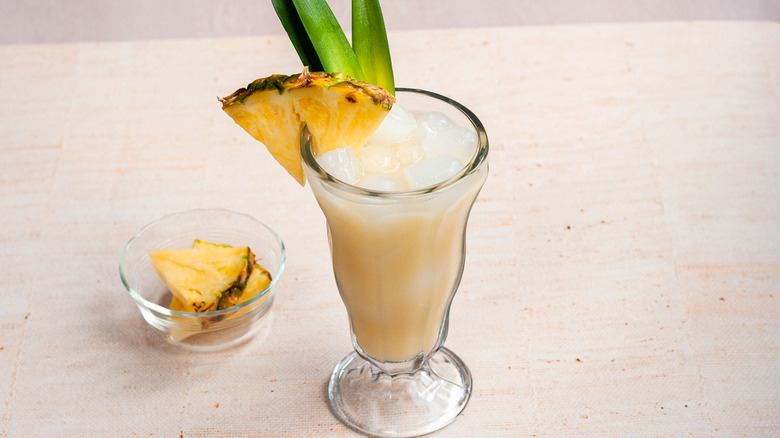 Ingredients
2 ounces dark rum
4 ounces pineapple juice
1 ounce orange juice
1 ounce coconut cream or coconut milk
Optional Ingredients
pineapple wedge, for garnish
pineapple leaves, for garnish
Directions
Fill a shaker with ice.
Add rum, pineapple juice, orange juice, and coconut cream (or milk) to the shaker.
Shake the drink for 15 seconds.
Pour the drink into a glass filled with ice.
Garnish the Painkiller with a pineapple wedge and pineapple leaves.
Nutrition
| | |
| --- | --- |
| Calories per Serving | 297 |
| Total Fat | 10.0 g |
| Saturated Fat | 8.7 g |
| Trans Fat | 0.0 |
| Cholesterol | 0.0 mg |
| | |
| --- | --- |
| Total Carbohydrates | 19.4 g |
| Dietary Fiber | 0.9 g |
| Total Sugars | 13.7 g |
| Sodium | 4.3 mg |
| Protein | 1.6 g |