How To Transform Your Charcoal Grill Into A Smoker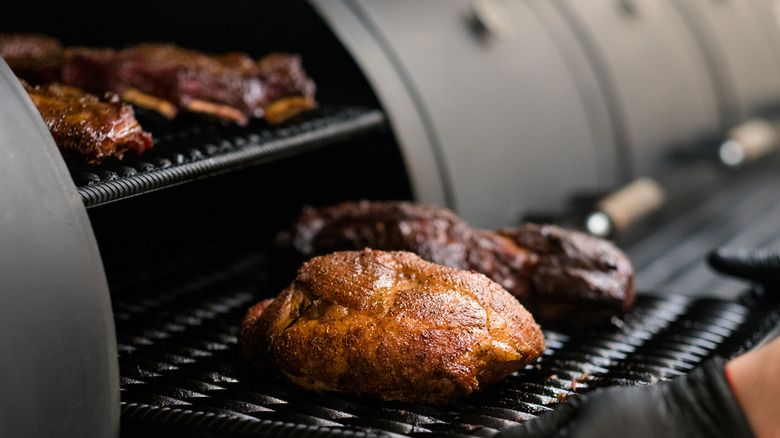 Golubovy/Shutterstock
There's nothing as satisfying as taking a bite into a piece of smoked chicken drenched in sweet and smokey barbeque sauce. Any backyard barbeque can be improved upon by adding a rack of smoked baby back ribs to the table. Succulent, juicy, flavorful — these are all words you can use to describe any piece of smoked meat. 
There's a wide variety of ways to smoke meat, be it chicken, beef, turkey, or pork, but the most common and straightforward method is simply using a smoker. But in the event that you don't have a smoker, you needn't give up on your dreams of smoked pulled pork or smoked wings. There are a lot of ways one can smoke meat without using a smoker. Livestrong, for example, gives a detailed step-by-step method on how to use your oven as a makeshift smoker. If you're skilled with tools, Wide Open Eats offers a list of do-it-yourself projects to make your own homemade smoker from anything from file cabinets to wooden pallets. You can also turn your charcoal grill into a smoker using what is known as "the snake method," as seen on TikTok.
What is the snake method?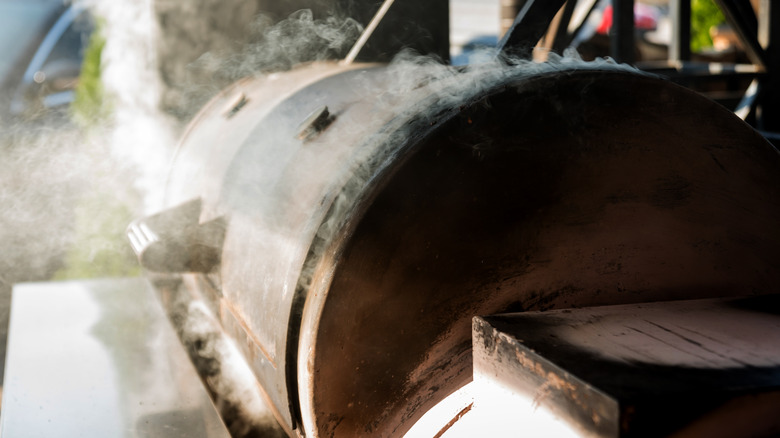 Roman Zaiets/Shutterstock
According to Weber Grills, who posted this hack on their TikTok account, the "snake method" is a specific way of arranging your briquettes. The first step of the "snake method" is to set the grill temperature to a "low and slow heat." The second step involves arranging two rows of briquettes into a  "snake" shape, arranging another two rows above the first two rows. On top of the second row of the snake, add 3 wood chunks of your preference. You then use a chimney starter to light 6 to 8 briquettes, placing these hot coals at the head of the snake. 
In the center of the barbecue grill, add a foil pan filled with water before adding a second rack on top of the charcoal snake, the wood chunks, and the foil pan. All that's left to do is place your meat of choice on the rack, lower the lid, and adjust the lid's vents as needed. According to comments, this method seems to work surprisingly well. "Love the snake method! Also helps to use hot water. Weber is the best." stated one user. "Been doing this for years and works great," said another. "This will allow more consistent temp and smoke over longer time," a TikToker wrote. If you're more of a Hank Hill sort of person and prefer gas over charcoal, FIX Tech Guides offers a comprehensive method on how to use your propane grill as a smoker (via YouTube).